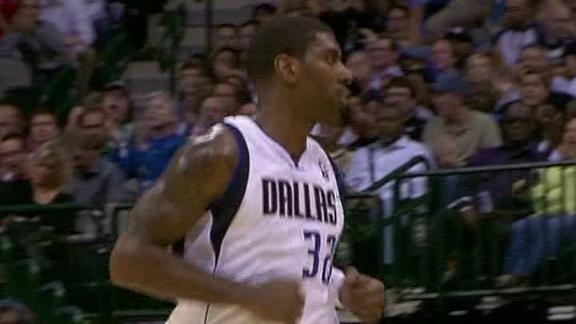 nba.com

Nov 5, 2012

Shawn Marion has left the Dallas Mavericks' game against the Portland Trail Blazers because of a strained left knee.

Share Tweet

deadspin.com

Nov 5, 2012

The Charlotte Bobcats won their opener the other night, which is an occasion in and of itself. Sure, things returned to normal the next night when they lost to the Mavericks by 27, but Bobcats fever is spreading, so much so that no less than alt-rock pi…

Share Tweet

Mavericks Embrace a Different Style

nytimes.com

Nov 5, 2012

With Dirk Nowitzki injured, and a number of new players on the floor, the Dallas Mavericks are emphasizing speed.

Share Tweet

Mark Cuban heckles former Mavericks center Brendan Haywood, now on the Bobcats but still cashing Mark's checks

yahoo.com

Nov 5, 2012

At first glance, you kind of want to rip Dallas Mavericks owner Mark Cuban for heckling opposing players. Mark's in his mid-50s, now, and has been associated with the NBA as a team owner for nearly 13 years. He doesn't exactly have to show up to his ben…

Share Tweet

Mayo Leads Mavs

Nov 5

O.J. Mayo drains six three-pointers, scoring 32 points, to lead Mavericks to 114-91 win over Trail Blazers.