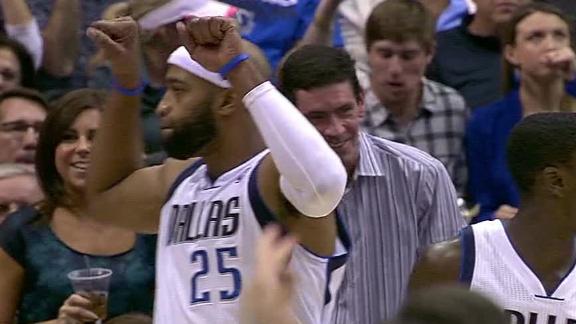 Raptors' Lowry inactive; Brand not with Mavs

Updated Nov 7, 2012

Share Tweet

Toronto point guard Kyle Lowry is not active for Wednesday night's game against the Dallas Mavericks after leaving the Raptors' last game with a sprained right ankle.

Source:

nba.com

Dirk Nowitzki sings 'Born in the USA,' unencumbered by knowledge of lyrics (VIDEO)

Updated Nov 7, 2012

Share Tweet

"You know, it's been way too long since 'We Are the Champions.' What the world needs now is Dirk, sweet Dirk." - the Dallas Mavericks' excellent in-arena video production team, getting back on the "cool" side of Dan Devine's ledger after "Whoop 'Em Mave

Source:

yahoo.com

TrueHoop TV: Silver Lessons

Nov 7

New breed analysts have valuable lessons that apply in politics and sports.

Mavs Cruise Past Raptors

Nov 7

Vince Carter scores 17 off the bench as the Mavericks improve to 4-1 with 109-104 win.