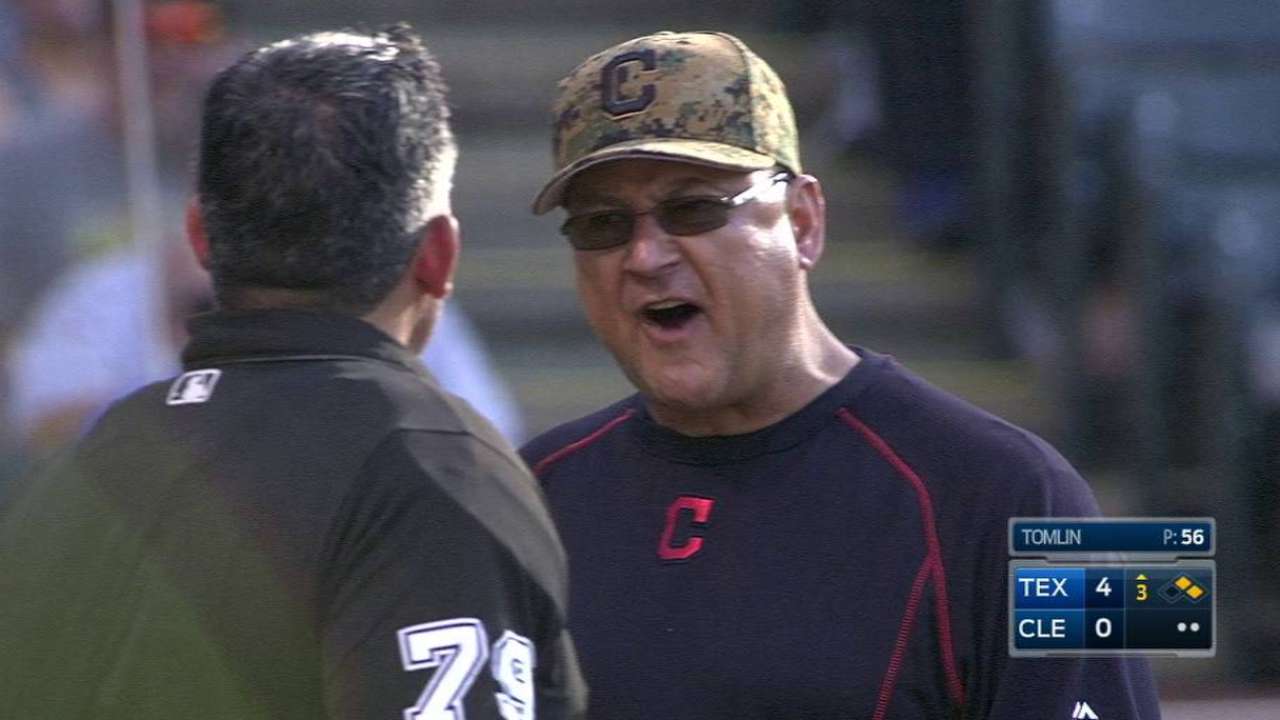 Rangers strike fast as Holland cruises past Tribe

MLB.com

3 hours ago

A perfect combination of superb pitching and an offensive onslaught led the Rangers to a 9-2 win over the Indians in Monday's series opener at Progressive Field. Cleveland starter Josh Tomlin took his first defeat of the season.

Share Tweet

Ramirez learning quirks of LF wall in Cleveland

MLB.com

7 hours ago

Hours before Monday's game against the Rangers, Indians bench coach Brad Mills stood alone in left field, baseballs strewn throughout the outfield grass. Mills would pull a ball out of a bag, hit it off the left-field wall and study the way it caromed. …

Share Tweet

Ezekiel Elliott finds things are moving faster during OTAs

profootballtalk.com

8 hours ago

The Cowboys took running back Ezekiel Elliott with the fourth overall pick of the draft, so it's not going out on too much of a limb to say that they want him to be their starter come the regular season. The only things standing in the way of that happe…

Share Tweet

nytimes.com MLB.com

May 29 (yesterday)

Prince Fielder and Mitch Moreland are two prominent power sources for Texas, and that's why they've stayed in manager Jeff Banister's lineup through some long droughts.

Share Tweet

Ronald Leary sends unmistakable message to Cowboys

profootballtalk.com

May 29 (yesterday)

Cowboys guard Ronald Leary, who has lost his starting job to La'El Collins, wants out of Dallas. The Cowboys have made it clear they want fair value in return for Leary, which means (duh) they won't be inclined to trade him unless they get fair value. L…

Share Tweet

yahoo.com nytimes.com MLB.com

May 29 (2 days ago)

Welcome to The Walk Off, the nightly MLB recap from Big League Stew. Here we'll look at the top performers of the night, show you a must-see highlight and rundown the scoreboard. First, we start with a game you need to know about. The Texas Rangers rota…

Share Tweet

Yu, Adrian! Pair leads Rangers past Pirates

MLB.com

May 28 (2 days ago)

Yu Darvish struck out seven and allowed one run through five innings in his first start back from Tommy John elbow reconstruction surgery, and Adrian Beltre passed a milestone RBI mark, as the Rangers beat the Pirates, 5-2, Saturday night at Globe Life …

Share Tweet

Cowboys say they turned down trade offers for McFadden, Morris

profootballtalk.com

May 28 (3 days ago)

After spending the fourth overall pick in the draft on running back Ezekiel Elliott, the Cowboys fielded calls about whether they wanted to trade one of their veteran backs. But they said no. That's the word from Cowboys Executive Vice President Stephen…

Share Tweet

nytimes.com

May 28 (3 days ago)

Clint Hurdle and his Pittsburgh players and coaches tipped their caps as a show of respect toward Jeff Banister before the Texas manager's first game against the organization he called home for 29 years.

Share Tweet

Profar to play second base in Odor's absence

MLB.com

May 27 (3 days ago)

Jurickson Profar is back with the Rangers for the first time since 2013, and manager Jeff Banister will use him as the team's starting second baseman while Rougned Odor serves his seven-game suspension.

Share Tweet

yahoo.com nytimes.com MLB.com

May 27 (3 days ago)

Just because Jose Bautista was serving a suspension Friday night doesn't mean he couldn't contribute for the Blue Jays. Sure, Bautista, whose one-game ban for his role in the Blue Jays-Rangers brawl was upheld by the league, wasn't allowed to play in To…

Share Tweet

Tolleson takes leave to be with ailing father

MLB.com

May 27 (3 days ago)

Rangers pitcher Shawn Tolleson is taking a family emergency medical leave to be with his father Mark, who is dealing with cancer.

Share Tweet

thehockeynews.com

May 27 (4 days ago)

Today's announcement of the Czech Republic World Cup roster made official what we had already known: Jaromir Jagr would not be suiting up for the national squad. And hey, that's fair – the man is an icon and he needs some rest as he continues a marvelou…

Share Tweet

ESPN.com

May 27 (4 days ago)

Dwight Freeney not option for Cowboys yet, might be too late

Share Tweet

Cowboys won't just give Ronald Leary away

profootballtalk.com

May 27 (4 days ago)

The Cowboys are happy to explore the possibility of trading guard Ronald Leary, but they're not going to just give him away. The former starting guard, whose place was taken by La'El Collins last year, has been staying away from OTAs in hopes of finding…

Share Tweet

yahoo.com

May 27 (4 days ago)

Reminder: Bryan Rust went as Phil Kessel's hot dog for Halloween so we should all love him pic.twitter.com/3WIIybK9IV— Auston Miketthews (@50_MissionCap) April 23, 2016 No. 1 Star: Bryan Rust, Pittsburgh Penguins Just as everyone predicted, rookie Bryan…

Share Tweet

Randy Gregory's long-term prognosis with Cowboys

May 25

ESPNDallas columnist Jean-Jacques Taylor and NFL Nation reporter Todd Archer discuss what Randy Gregory needs to do to have a long future with the Cowboys, plus a Dez Bryant-Russell Westbrook comparison.

Romo looking sharp after strong offseason

May 25

ESPN Cowboys reporter Todd Archer says Tony Romo is looking great and has had a solid offseason so far leading into OTAs.

Cowboy fan's epic yearbook quote

May 25

A Cowboys fan from Houston has an incredible yearbook quote that reads #DEZCAUGHTIT.

Will Romo be limited in Cowboys' OTAs?

May 24

Todd Archer doesn't think there will be anything holding back Tony Romo as OTAs get under way.