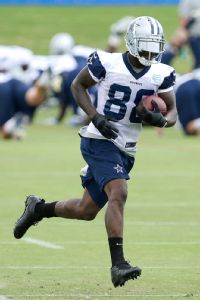 dallasnews.com
ESPN.com
Updated 3 hours ago
Dez Bryant is a flamboyant talent on the field. And he readily accepts criticism from the Cowboys coaching staff off it. "If it's not right, tell me it's not right because I want to do my best to fix it,'' Bryant said. "I've always been that way. "I wan…
Upvote
Share
Tweet
dallasnews.com ESPN.com

21 minutes ago

Dallas Cowboy Tony Romo tosses the football around during the team's morning practice at Valley Ranch on August 18, 2014 in Irving, Texas. (David Woo/The Dallas Morning News)

Upvote Share Tweet

Versatile Durant gives Cowboys options

ESPN.com

4 hours ago

Justin Durant said he learned soon after arriving in the NFL that versatility equates to a long career. That approach has earned Durant, who played some strongside linebacker last season, a starting job with the Dallas Cowboys. It'll take another week o…

Upvote Share Tweet

MLB.com nytimes.com

5 hours ago

The Nick Martinez Fan Club showed ready to cheer for the local boy, and he followed through with seven strikeouts over six two-run innings in a 5-4 victory over the Marlins on Wednesday afternoon at Marlins Park.

Upvote Share Tweet

yahoo.com nytimes.com ESPN.com

5 hours ago

Want to buy an NFL franchise? Better liquidate grandma's AT&T stock. Forbes has come out with its annual list of the NFL's most valuable franchises, and there are some familiar names at the top. The Dallas Cowboys and New England Patriots top the li…

Upvote Share Tweet

DeMarco Murray wasn't confident in his backups last season, but that's changed

dallasnews.com

5 hours ago

IRVING – DeMarco Murray had doubts when he would come out of games last year. The Dallas Cowboys lead running back wasn't sure if his replacements could successfully carry the load. Murray no longer has those concerns. What he's seen throughout the offs…

Upvote Share Tweet

profootballtalk.com ESPN.com

6 hours ago

Cowboys cornerback Orlando Scandrick is going to work harder during his suspension than he had to during training camp. Scandrick, who was suspended four games for violating the league's PED policy, said he intends to be ready when he walks back in the …

Upvote Share Tweet

dallasnews.com ESPN.com

6 hours ago

IRVING — After three consecutive 8-8 seasons, Jason Garrett has decided to change the Cowboys' routine. The team will now work on Tuesday, which has traditionally been a day off in the NFL. Under the new schedule, healthy players won't have to report to…

Upvote Share Tweet

Dwayne Harris says Dallas Cowboys can duplicate 2013 success in return game

dallasnews.com

7 hours ago

IRVING — Dwayne Harris has returned only one punt this preseason and no kickoffs. But one of the league's best specialists isn't concerned about his lack of work in the Cowboys' two exhibition games, vowing to be ready for Week 1. "I get enough return r…

Upvote Share Tweet

Holland not quite ready to rejoin Rangers' rotation

MLB.com

8 hours ago

The Rangers see Derek Holland making progress in his recovery from offseason knee surgery. They still don't see him ready to return to the Major Leagues.

Upvote Share Tweet

Former Dallas Cowboy Andre Gurode says workout partner Josh Brent "working his butt off" to return to NFL

dallasnews.com

9 hours ago

IRVING _ Today is alumni day at Valley Ranch. About two dozen former Cowboys watched the morning practice. One of those ex-players is five-time Pro Bowl offensive lineman Andre Gurode, who has become a workout partner and mentor of sorts for former Cowb…

Upvote Share Tweet

Pipeline preview: Frisco, San Antonio set for battle

MLB.com

10 hours ago

Top prospect from the Rangers' and Padres' organizations will meet in Texas League matchup on Wednesday when Joey Gallo and Double-A Frisco take on Austin Hedges and San Antonio.

Upvote Share Tweet

ESPN.com dallasnews.com

11 hours ago

IRVING, Texas -- Dallas Cowboys running back Joseph Randle, a fifth-round pick who rushed for 164 yards as a rookie last season, opened his conversation with a reporter by declaring that this would be the only time he spoke to the media this season. Tol…

Upvote Share Tweet

ESPN.com

12 hours ago

IRVING, Texas -- Dallas Cowboys cornerback Brandon Carr is looking forward to making his preseason debut Saturday against the Miami Dolphins. He's not so sure he's looking forward to seeing the officials. Through three preseason weeks, officials are cal…

Upvote Share Tweet

Jones: Big Debate Over Drafting Manziel

Aug 20

Skip Bayless and Stephen A. Smith discuss Cowboys owner Jerry Jones' comments about almost taking QB Johnny Manziel in the first round of the NFL draft in May.

Jerry Jones Denies Manziel Draft Card Dispute

Aug 19

Tim MacMahon discusses Cowboys owner Jerry Jones' assertion that there wasn't a draft day dispute with his son, Stephen, involving Johnny Manziel's draft card.

Romo Recovering; Defense Has To Follow

Aug 19

Dallas Cowboys reporter Todd Archer discusses quarterback Tony Romo's recovery and the poor play of the defense and how much of that is due to injuries.

Stanton Lifts Marlins In 10

Aug 19

Giancarlo Stanton's RBI single in the 10th inning gave the Marlins a 4-3 win over the Rangers.