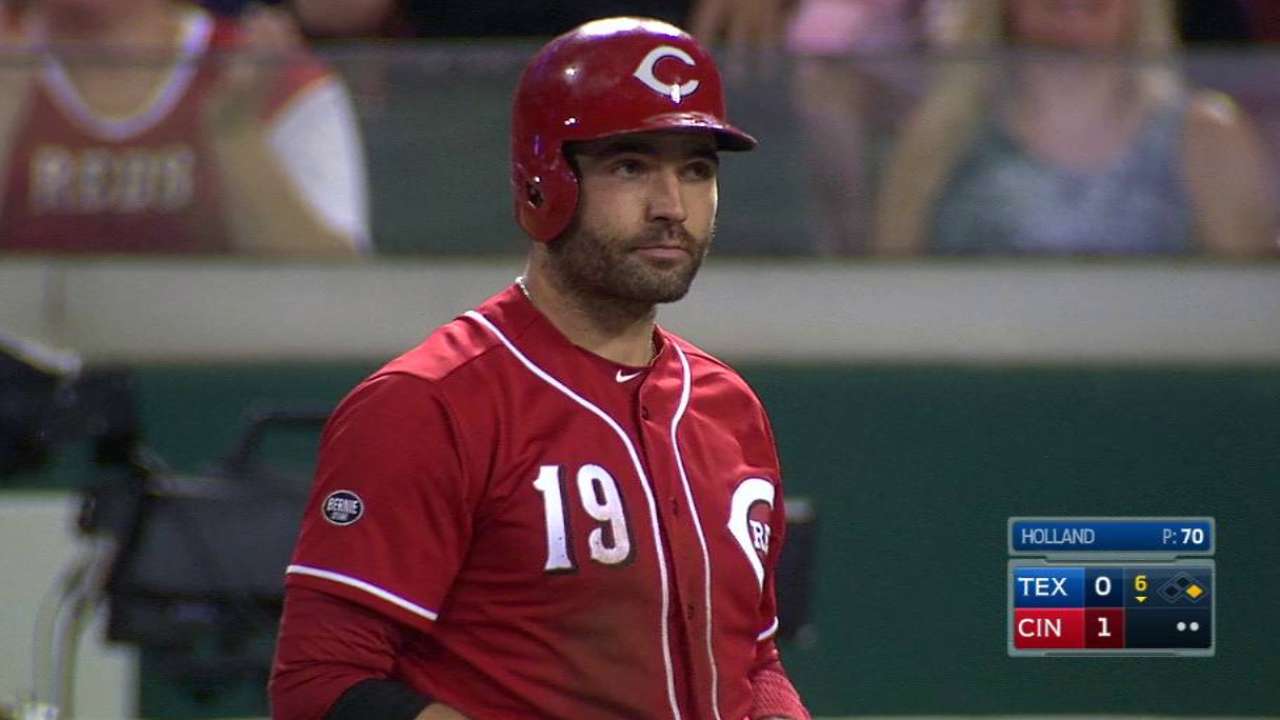 MLB.com
nytimes.com
Updated 5 hours ago
Dan Straily, in a tight pitching matchup with left-hander Derek Holland, pitched six scoreless innings and the Reds held on for a 3-0 victory over the Rangers at Great American Ball Park on Tuesday.
Share
Tweet
Gomez expected to join Rangers on Thursday

MLB.com

7 hours ago

Outfielder Carlos Gomez went 4-for-13 with a double and a triple in three games with Triple-A Round Rock, and will likely join the Rangers on Thursday in Arlington.

Share Tweet

Jeremy Mincey announces retirement

profootballtalk.com

8 hours ago

Former Cowboys, Broncos and Jaguars defensive end Jeremy Mincey announced his retirement Tuesday. Mincey, who played the last two seasons for the Cowboys, posted a picture on Instagram along with a thank-you letter in which he announced that he's finish…

Share Tweet

nytimes.com ESPN.com yahoo.com MLB.com

9 hours ago

The Texas Rangers placed Josh Hamilton on unconditional release waivers Tuesday, though they hope his surgically rebuilt left knee is healthy enough to allow him to try for a spot with the team next season.

Share Tweet

profootballtalk.com ESPN.com

13 hours ago

The Cowboys have brought running back Ezekiel Elliott back deliberately from the hamstring injury he suffered in training camp, but it looks like the final step to declaring him back to fully active status is imminent. Elliott has been a full participan…

Share Tweet

thehockeynews.com

13 hours ago

A core muscle injury that required mid-July surgery to repair put Dallas Stars captain Jamie Benn's status for the World Cup in question, and Tuesday came the news that Benn is officially out of the tournament. Hockey Canada has announced that Benn, 27,…

Share Tweet

nytimes.com profootballtalk.com

14 hours ago

Dallas Cowboys receiver Dez Bryant will miss the next preseason game after sustaining a concussion in practice.

Share Tweet

ESPN.com

17 hours ago

Cowboys' Bryant suffers concussion in practice

Share Tweet

profootballtalk.com

17 hours ago

Cowboys rookie quarterback Dak Prescott has been the star of the NFL preseason. And while it's easy for the Cowboys to get excited — their bar for backup quarterbacks has been sufficiently lowered — most are taking Prescott's gaudy preseason numbers wit…

Share Tweet

profootballtalk.com

19 hours ago

The Dolphins gave running back Arian Foster his first playing time of the preseason against the Cowboys last week, but it was a limited appearance. Foster was in for nine snaps and got the ball on two of them without finding much running room. Foster lo…

Share Tweet

Randy Gregory gets a Cowboys locker, but Rolando McClain doesn't

profootballtalk.com

19 hours ago

The Cowboys seemingly have one of everything at their new practice facility. But they don't have a locker for Rolando McClain, which could be a good sign about his future with the team. According to David Moore of the Dallas Morning News, the Cowboys ha…

Share Tweet

Lance Dunbar cleared for practice

profootballtalk.com

Aug 22 (yesterday)

The Cowboys are expected to have Ezekiel Elliott in the lineup for the first time this preseason when they play the Seahawks on Thursday night and they have another running back on the field for practice for the first time this year as well. Lance Dunba…

Share Tweet

Additions solidify Rangers' claim atop AL

MLB.com

Aug 22 (yesterday)

Prior to the Aug. 1 non-waiver Trade Deadline, the Rangers were a good team. Since then, they've become arguably the best team in the American League.

Share Tweet

Cowboys' pass-rush question remains, but is backup QB answered?

ESPN.com

Aug 22 (yesterday)

Cowboys' pass-rush question remains, but is backup QB answered?

Share Tweet

Jeffress makes strides while taking on epilepsy

MLB.com

Aug 22 (yesterday)

Rangers reliever Jeremy Jeffress believes his long and harrowing battle with seizures and juvenile epilepsy began at 15 with a freak accident on a basketball court.

Share Tweet

MLB.com

Aug 21 (2 days ago)

The Texas Rangers are in low-risk, high-reward mode with the signing of Carlos Gomez. Gomez was available because he had been released by the Astros. His performance for the Houston club was clearly sub-standard. Still, there are knowledgeable people ar…

Share Tweet

Cowboys open new practice facility

profootballtalk.com

Aug 21 (2 days ago)

After spending training camp in Oxnard, California, the Cowboys arrived home to a new practice facility after closing down Valley Ranch when the offseason program ended in June. It's The Star in Frisco, and it cost more than $260 million to build. "We a…

Share Tweet

Forsythe Homers in Return, Rays Beat Rangers 8-4

nytimes.com

Aug 21 (2 days ago)

The AL West-leading Texas Rangers stumbled again on the road against Tampa Bay.

Share Tweet

Good chance Cowboys part ways with McClain

Jul 30

ESPN Cowboys reporter Todd Archer explains why it wouldn't be surprising if Dallas parted ways with Rolando McClain, considering the salary cap and his 10-game suspension for violating the league's substance abuse policy.

Cowboys anticipating Romo will be full training camp participant

Jul 30

Todd Archer shares what the Cowboys are expecting from Tony Romo and Dez Bryant during training camp.

Cowboys can't rely on McClain

Jul 29

Darren Woodson questions Rolando McClain's desire to be an NFL player and thinks the Cowboys should move in a different direction.

The Cowboys' substance abuse blame game

Jul 27

Jemele Hill and Michael Smith debate who is to blame for the Cowboys' defensive roster dwindling over substance abuse suspensions. Should Jerry Jones carry the blame over signing risky players or are the players just as responsible?