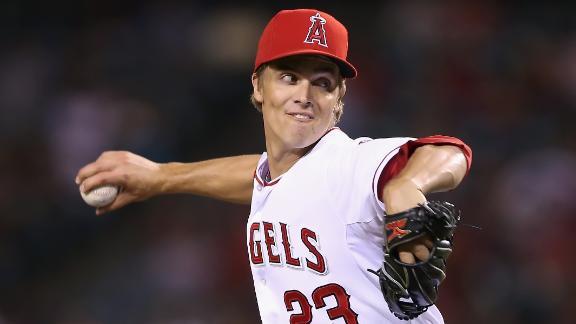 Texas Rangers general manager Jon Daniels said he met with Josh Hamilton's agent, Mike Moye, but that nothing has changed in terms of negotiating a deal with the former American League MVP.
Share
Tweet
IRVING - Brandon Carr plays conversations over and over in his head. He gropes for moments that may provide a clue. There are none. Carr wasn't Jovan Belcher's closest friend when the two were together in Kansas City. That was linebacker Derrick Joh

Share Tweet

J.A. Adande examines the Clippers' win over the Mavericks

Share Tweet

IRVING - According to many experts who watch the NFL on a consistent basis, DeMarcus Ware is still considered the premier pass rusher in the league. But Dallas' outside linebacker is on pace to achieve his lowest sack total since 2009, when he collect

Share Tweet

IRVING - Cowboys starting running back DeMarco Murray is wearing three steel turf toe plates inside his shoe to help protect his left foot from further injury. Murray said he wore the steel plates in his left cleat Sunday against Philadelphia. It was th

Share Tweet

IRVING - Cowboys nose tackle Jay Ratliff was one of four players who didn't practice Wednesday at Valley Ranch. Ratliff has been inactive the last two games with a strained groin. He was dressed and had his helmet Wednesday morning for the early part

Share Tweet

Lamar Odom on the lockout year spent in Dallas: 'Basketball just wasn't there for me at that time'

yahoo.com

Dec 5, 2012

Lamar Odom won't have to visit Dallas on Wednesday night, he won't be faced with the indignity of playing his former team in Texas until late March, but he and his Clippers will face the Mavericks in Los Angeles on Wednesday and the press has already st…

Share Tweet

dallasnews.com profootballtalk.com ESPN.com

Dec 5, 2012

IRVING - The Cowboys have finally placed starting center Phil Costa on the season-ending injured reserve list. They replaced Costa on the 53-man roster with offensive tackle Darrion Weems, who had been on Denver's practice squad. Costa suffered a disl

Share Tweet

5-on-5: Nuggets-Hawks, Mavs-Clippers

5-on-5: Breaking down the four teams heading into ESPN's doubleheader

Share Tweet

Breaking Down the 'Boys: Bengals doing something Cowboys, rest of NFL should mimic

Jonathan Bales is a special contributor to SportsDayDFW.com. He's the founder of The DC Times and writes for DallasCowboys.com and the New York Times. He's also the author of 

Share Tweet

Yet again, defense will decide it for Dallas

Last year, when the Dallas Cowboys finished 1-4 and lost the NFC East to the New York Giants, blame fell on the defense. They couldn't stop anybody. They blew fourth-quarter leads in key games against the Cardinals and Giants. Opposing fullbacks hurdled…

Share Tweet

National survey: Tony Romo finishes last in 'favorite NFL quarterback' voting, trailing Tebow, Roethlisberger and Vick

Tony Romo trailed all NFL QBs listed -- including Eagles QB Michael Vick -- when voters were asked to list their favorite NFL QBs in a recent survey. (Michael Ainsworth / Staff Photographer)

Share Tweet

IRVING - The Oakland Raiders snatched Cowboys running back Jamize Olawale off the practice squad Wednesday. Olawale, a rookie who played at North Texas, has yet to play in an NFL regular-season game. But he did have a strong showing against the Raiders

Share Tweet

IRVING - Cowboys nose tackle Jay Ratliff was back on the practice field Wednesday morning at Valley Ranch for the first time in two weeks. Ratliff had his helmet and appeared dressed for practice. He's been inactive the last two games with a strained

Share Tweet

The Cowboys' release of cornerback Terence Newman last spring was a quiet an unceremonious end for a former No. 5 overall pick who spent nine seasons in Dallas. On Tuesday, Bengals cornerback Newman spoke to Dallas-area media for the first time since hi

Share Tweet

All-NFC East Team: Week 14 update

Certain things creep up on you when you do an exercise like this one every week. You really have to look at it fresh, or else you might miss a trend. Did you know, for instance, that Tony Romo leads this division in passing yards this year, and by quite…

Share Tweet

CNNSI.com

Dec 5, 2012

Zack Greinke is the only true No. 1 starter on the market and there are only two teams still in the running for his services. Tom Verducci weighs the merits of the Dodgers and Rangers.

Share Tweet

Winter Meetings: Free Agent Update

Dec 5

ESPN's Keith Law on where big name free agents such as Zack Greinke, Josh Hamilton and Nick Swisher may land.

Winter Meetings Afternoon Report

Dec 5

Jon Sciambi, Jim Bowden and Jayson Stark take a look at some of the remaining free agents such as John Hamilton and Zach Greinke and discuss where they may land.

Countdown Daily AccuScore: DAL-CIN

Dec 5

Prim Siripipat goes inside the numbers for the Cowboys-Bengals

TrueHoop TV: Scoring 30K

Dec 5

Henry Abbott on Kobe Bryant surpassing 30,000 points in his career.