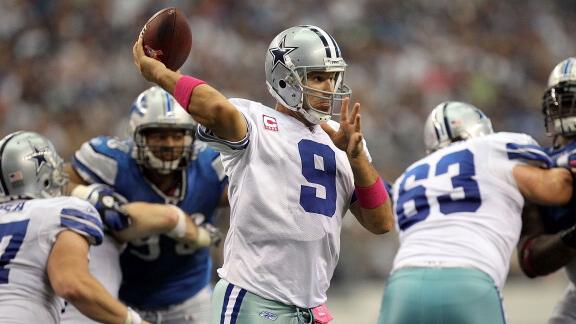 dallasnews.com
profootballtalk.com
ESPN.com
Updated Feb 12, 2013
Don't tell Troy Aikman that the Dallas Cowboys keep falling short of the postseason because they don't have the talent or franchise quarterback. The Pro Football Hall of Famer said Tuesday that having the talent and a quarterback capable of winning a
Share
Tweet
CNNSI.com

Feb 12, 2013

DALLAS (AP) -- Delonte West hasn't joined the Texas Legends more than two weeks after the NBA Development League team acquired his rights.

Share Tweet

On Tuesday, Cowboys executive vice president Stephen Jones deferred to head coach Jason Garrett when asked if a decision had been made about who would call the offensive plays next season. "At some point Jason will address that," Jones said. A few ho

Share Tweet

MLB.com

Feb 12, 2013

General manager Jon Daniels said the Rangers are still looking outside the organization for a possible utility infielder who can play shortstop, but candidates may be reluctant to sign with the club because playing time is limited behind its incumbent A…

Share Tweet

ESPN.com dallasnews.com

Feb 12, 2013

Sparked by two alcohol related incidents, just six weeks apart, Dallas Cowboys officials met with representatives for Mothers Against Drunk Driving after the Super Bowl.

Share Tweet

Monte Kiffin: Cowboys defenders should study Seahawks' 2012 defense

How will the Dallas Cowboys' new 4-3 defensive scheme look next season? Monte Kiffin says watch film of the 2012 Seattle Seahawks if you want an example. During a Monday interview on 105.3 The Fan [KRLD-FM] Cowboys defensive lineman Jason Hatcher said h

Share Tweet

Jason Garrett: New offensive assistant coaches can 'really help us break through'

The Dallas Cowboys offense is on the right track according to head coach Jason Garrett. So, why did the franchise feel the need to make so many coaching changes on that side of the ball? Since the conclusion of the 2012 season the Cowboys have hired fou…

Share Tweet

dallasnews.com ESPN.com

Feb 12, 2013

Last month, Anthony Spencer's representative said the Dallas Cowboys free agent outside linebacker would "love to stay in Dallas." That would be his "first choice," agent Jordan Woy said. The Cowboys would like to hold on to him, too, according

Share Tweet

CNNSI.com

Feb 12, 2013

TAMPA, Fla. (AP) -- Alex Rodriguez will not report to spring training with the Yankees' position players and will work on his rehabilitation from hip surgery in New York.

Share Tweet

Beware, Mavericks: DeShawn Stevenson wants to play his 'last two, three seasons' in Dallas

yahoo.com

Feb 12, 2013

In the months following the end of the 2011 NBA lockout, the defending champion Dallas Mavericks were faced with an enormous luxury tax bill, a capped-out team, an enticing 2012 free agent class, and enough trading options to make a shakeup of the champ…

Share Tweet

Breakfast links: Cowboys cap woes

ESPN.com

Feb 12, 2013

You already knew today was Abraham Lincoln's birthday. Heck, since this is the NFC East blog you may also have known it was Robert Griffin III's birthday. But did you know it was Charles Darwin's? Or for that matter, DeMarco Murray's? That's right. You …

Share Tweet

ESPN.com

Feb 12, 2013

Josh Smith had 26 points and 13 rebounds, Devin Harris made a key steal in the final minute and the Atlanta Hawks beat the Dallas Mavericks 105-101 Monday night.

Share Tweet

NFL32OT: Cowboys Aim To Keep Romo

Feb 12

Episode 267: Kevin Connors and Chris Mortensen discuss the Cowboys aim of signing Tony Romo to a long-term deal. Packers Greg Jennings breaks down what he looks for in a quarterback. The NFL32 crew discuss Michael Vick fitting in Chip Kelly's offense

State of the Franchise

Feb 12

Willie McGinest and Heath Evans break down the state of the Dallas Cowboys, Chicago Bears, Philadelphia Eagles and the Pittsburgh Steelers.

The future of Dallas Cowboys quarterback Tony Romo

Feb 12

Ian Rapoport has the latest on the status of Dallas Cowboys quarterback Tony Romo's contract.

Dallas Hot Button: Should the Mavericks trade Shawn Marion?

Feb 12

This week's burning question for the Dallas Hot Button: Should the Dallas Mavericks trade Shawn Marion? Tim Legler weighs in on the "go for it" side of the equation.