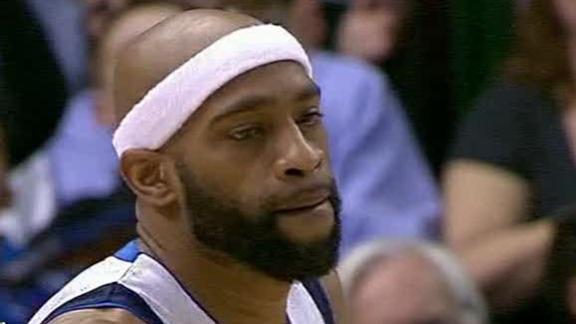 Sabin: Why Cowboys fans eager to see new faces will have to wait until draft

Updated Feb 20

Share Tweet

Click here to read Rainer Sabin's entire column. INDIANAPOLIS - The salary cap is indeed a complicated subject and one that has caused worry among Cowboys fans, who sense the team's activity in free agency will be limited because of financial constr

Updated Feb 20

Share Tweet

INDIANAPOLIS - A confluence of factors - Poor performance, a hefty contract and the Cowboys' dicey cap situation - seemed to make right tackle Doug Free a target for termination this off-season. Free will cost $10,02 million against the cap next s

Updated Feb 20

Share Tweet

INDIANAPOLIS - On Tuesday, Cowboys executive vice president Stephen Jones said that he wouldn't rule out the possibility of the team slapping the franchise tag on one of it impending free agents. The only player who would be worthy of that designation

Sources:

dallasnews.com ESPN.com

Updated Feb 20

Share Tweet

Don't misunderstand the Dallas Cowboys' position on wanting to give Tony Romo a contract extension. It's not only being discussed because the Cowboys will gain valuable and much-needed salary cap space. Stephen Jones, the team's executive vice pre

Sources:

dallasnews.com profootballtalk.com

A's hope to find gems among non-roster invitees

Updated Feb 20

Share Tweet

Brandon Moss hit 21 home runs in 84 games last year. Evan Scribner's three scoreless innings in the middle of Game 162 helped unseat the Rangers and make American League West champions out of the A's. Jim Miller was just as much of a cog out of the bull…

Source:

MLB.com

Mock draft roundup: Missouri DT Sheldon Richardson remains popular projection for the Dallas Cowboys

Updated Feb 20

Share Tweet

Missouri defensive tackle Sheldon Richardson fits the mold of what the Dallas Cowboys need in order to run Monte Kiffin's 4-3 defensive scheme. He's an interior linemen who has outstanding athletic ability for a man standing 6-4 and weighing nearly 30

Cowboys free agent targets: keeping their own. No. 3, S Danny McCray

Updated Feb 20

Share Tweet

No. 3 Danny McCray Position: Safety Height: 6-1 Weight: 222 Years Pro: 3 Years with Cowboys: 3 2012 recap: McCray saw his most extensive use in his three seasons with the club. In fact, the argument can be made he was used too much. McCray is the team's

The Dallas Cowboys' least likely free agents to return: No. 3 OG Derrick Dockery

Updated Feb 20

Share Tweet

The NFL's free agency period begins March 12, and most fans want to know who the Dallas Cowboys will look to add to the 2013 team in an effort to get the Cowboys back into the playoffs for the first time since 2009. However, the Cowboys also have some t

Stephen Jones: 'Too many schemes' caused Cowboys to remove Rob Ryan, replace him with Kiffin

Updated Feb 20

Share Tweet

INDIANAPOLIS - The biggest moves the Cowboys made this off-season took place in a span of four days in January. First there was ouster of Rob Ryan as defensive coordinator. Then there was the hiring of Monte Kiffin as Ryan's replacement. More than a m

Updated Feb 20

Share Tweet

In discussions about the chances of impending free agent Anthony Spencer remaining in Dallas, the focus is usually on a long-term deal for a player who would be moving to defensive end with the Cowboys next season. After franchising Spencer last year, i…

Source:

profootballtalk.com

NFC East links: Kelly, Reid comparisons

Updated Feb 20

Share Tweet

Dallas Cowboys Improving the offensive line is a must for the Cowboys, writes ESPN Dallas' Jean-Jacques Taylor. Taylor: "The Cowboys could use a guard, center or tackle. Take your pick. It doesn't matter." The Dallas Morning News takes a tour …

Source:

ESPN.com

Hot Button: Importance Of Bill Callahan

Feb 20

Calvin Watkins explains how Bill Callahan has already become the most important coach on the Cowboys this season.

Trade Options For Dwight Howard

Feb 20

Tom Penn uses the NBA Trade Machine to try to find a landing spot for Dwight Howard.

Becoming Explosive

Feb 20

Explosion is a key element NFL scouts look for at the Combine. How do players improve upon this intangible trait? ESPN.com visits Strength and Conditioning Coach Tom Shaw's training facility to find out

Mavs Win Second Straight

Feb 20

Six Mavericks score in double-figures in win over Magic.