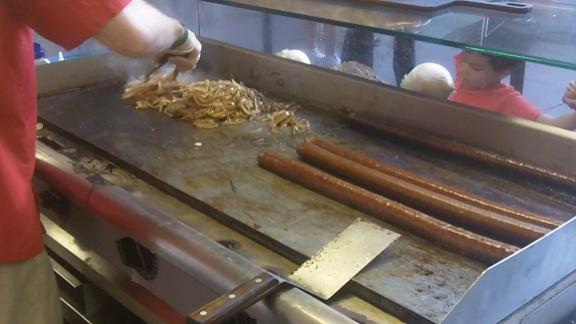 Updated Jun 12
Share
Tweet
Jason Kipnis had a home run among his three hits and the Cleveland Indians got a series-clinching 5-2 victory over the Texas Rangers on Wednesday night.
Updated Jun 12

Share Tweet

SAN ANTONIO (AP) -- The NBA's Competition Committee is recommending an expansion of instant replay to include late-game reviews of block/charge plays, the first time the league is considering reviewing judgment calls by a referee.

Source:

CNNSI.com

Dallas Cowboys starters WR Miles Austin, DT Jay Ratliff and DL Jason Hatcher get day off to rest; two rookies shine in Day 2 of

Updated Jun 12

Share Tweet

IRVING - Dallas Cowboys coach Jason Garrett said he gave wide receiver Miles Austin, defensive lineman Jason Hatcher and defensive tackle Jay Ratliff the day off Wednesday to rest. Dallas Cowboys defensive tackle Jay Ratliff (90) jokes with nose tackle

Updated Jun 12

Share Tweet

IRVING - Dallas Cowboys starting running back DeMarco Murray missed some of the Cowboys' early off-season practices during organized team activities because of a slight hamstring strain. But he's full speed now for the Cowboys' three-day mandatory

Updated Jun 12

Share Tweet

IRVING - Dallas Cowboys cornerback Morris Claiborne was back practicing Wednesday after sitting out Tuesday, the Cowboys' first day of their three-day mandatory mini-camp this week at Valley Ranch. Claiborne came down with a migraine headache Tuesday

Cowboys WR Dez Bryant making his mark at mincamp, says he is as 'comfortable and confident' as he's ever been

Updated Jun 12

Share Tweet

IRVING — Since the last phase of the Cowboys' off-season program began last month, receiver Dez Bryant has stood out from the rest of the players on the roster. He has routinely made difficult catches while toying with cornerbacks Brandon Carr and Mor

Kyle Orton on Dallas Cowboys offense: 'We got so many good players at the special positions'

Updated Jun 12

Share Tweet

IRVING — With Tony Romo sidelined while he recovers from off-season back surgery to remove a cyst, Kyle Orton has been getting all of the first team reps under center for the Dallas Cowboys. Getting in time throwing to starters like Jason Witten, Dez Br

Will the Cowboys run more in 2013?

Updated Jun 12

Share Tweet

Gary Horton's post on planned scheme changes for the Dallas Cowboys in 2013 is interesting throughout, and if you have the Insider subscription I recommend reading it. And if you don't, I recommend getting the Insider subscription and then reading it. I…

Source:

ESPN.com

Updated Jun 12

Share Tweet

Your browser does not support iframes. A sinkhole formed Tuesday next to the pitcher's mound at Rangers Ballpark when the pipe that's used to water the infield burst. The game went on as planned, but pre-game batting practice was canceled while the grou…

Source:

yahoo.com

Cowboys LB DeMarcus Ware talks about being lactose intolerant

Updated Jun 12

Share Tweet

June is National Dairy Month and Dallas Cowboys linebacker DeMarcus Ware made an appearance on Fox San Antonio to talk about his experience being lactose intolerant and still getting in the nutrients that dairy foods provide. Cowboys sports dietitian Am…

PFT Live: Packers talk with Tyler Dunne, Cowboys talk with Clarence Hill

Updated Jun 12

Share Tweet

Another day, another Mt. Rushmore. The Packers are up next in our series and Tyler Dunne of the Milwaukee Journal Sentinel will be on hand to help fill out the four faces that stand out the most among a crowded group of hopefuls in Green Bay. We'll also

Source:

profootballtalk.com

Updated Jun 12

Share Tweet

Cowboys quarterback Tony Romo is no stranger to criticism. This offseason alone, he's heard it explicitly from Donovan McNabb after signing his new contract and implicitly from Cowboys owner Jerry Jones when Jones pointed out things he wanted to see Rom

Source:

profootballtalk.com

Updated Jun 12

Share Tweet

Cowboys coach Jason Garrett finally got around to admitting that Bill Callahan was calling plays Tuesday, months after owner Jerry Jones decided he would and a week after Callahan himself acknowledged the switch but Garrett refused to. But Garrett stres…

Sources:

profootballtalk.com dallasnews.com

Jason Garrett: Big adjustment for rookie WRs? Going against press coverage corners like Brandon Carr, Morris Claiborne

Updated Jun 12

Share Tweet

IRVING — Wide receiver is one of the toughest positions to make the transition from college to the pros. Many receivers don't start hitting their stride until their third season in the league. So what's the big difference between playing college foo

Adrian Beltre's son warms up with the team

Jun 12

Adrian Beltre's son warming up with the Rangers today before Wednesday Night Baseball

Dallas Cowboys QB Tony Romo disses media

Jun 12

Dallas Cowboys QB Tony Romo recently said "You guys don't matter" to members of the media. Find out why "NFL Total Access" analysts Warren Sapp, Darren Sharper and Heath Evans disagree.

T.O. Wants To Play In 2013

Jun 12

Brian Dawkins breaks down what Terrell Owens has to offer if he is signed by an NFL team.

Carlisle's Vision Of The Game

Jun 12

The Mavericks coach is the president of the coach's association and a key member of the NBA's competition commitee. What does he think about some Hoopideas?