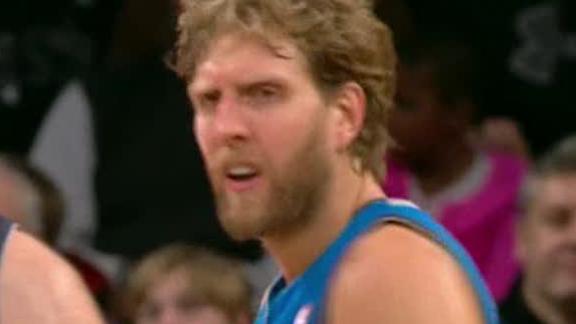 ESPN.com
nytimes.com
Updated Mar 1, 2013
Dirk Nowitzki and former Nets guard Vince Carter each scored 20 points, and the Dallas Mavericks avoided another late collapse by holding off Brooklyn 98-90 on Friday night.
Share
Tweet
NFL Combine sets viewership record, is more Combine-related coverage on the way?

NFL Network's coverage of the league's Scouting Combine in Indianapolis this week attracted a record 7.25 million viewers. That was up 11 percent from last year's 6.51 million. At any given moment, 268,000 viewers were tuned in. Here's Mark Quenze

Share Tweet

Daniels promoted to president of baseball ops

MLB.com

Mar 1, 2013

General manager Jon Daniels earned the title "president of baseball operations" in addition to his role as general manager after the Rangers announced his promotion Friday, following two days of owners meetings.

Share Tweet

SURPRISE, Ariz. (AP) -- Texas Rangers right fielder Nelson Cruz has been cleared of more serious issues after team doctors diagnosed a muscle strain in his chest.

Share Tweet

The Dallas Cowboys announced Thursday that cornerback Brandon Carr was one of five players to restructure his contract in order to help the franchise get under the NFL's $123 million salary cap. Carr, who signed a five-year, $50.1 million deal last year

Share Tweet

Breaking Down the 'Boys: Could Damontre Moore offer value for Cowboys?

Jonathan Bales is a special contributor to SportsDayDFW.com. He's the founder of The DC Times and writes for DallasCowboys.com and the New York Times. He's also the author of 

Share Tweet

ESPN.com

Mar 1, 2013

Welcome to Eight in the Box, an NFL Nation feature that will appear each Friday during the offseason. This week's topic: How each NFC East team needs to address the quarterback position. Dallas Cowboys: The Cowboys would like to sign starting quarterbac

Share Tweet

Sifting through Thursday's Cowboys news

ESPN.com

Mar 1, 2013

As you know by now, the Dallas Cowboys restructured quite a number of player contracts Thursday in a successful effort to get themselves under the salary cap. The reworking of deals for DeMarcus Ware, Miles Austin, Brandon Carr, Jason Witten and Ryan Co…

Share Tweet

Mavs Hang On To Top Nets, 98-90

Mar 1

Dirk Nowitzki leads Mavericks to win.

Recipe for Greatness

Mar 1

Restaurateur and "Fresh Off the Boat" author Eddie Huang on how to build a championship team, experiencing Linsanity as a Taiwanese New Yorker, and why the Barclays Center is the "Epcot" of Brooklyn.