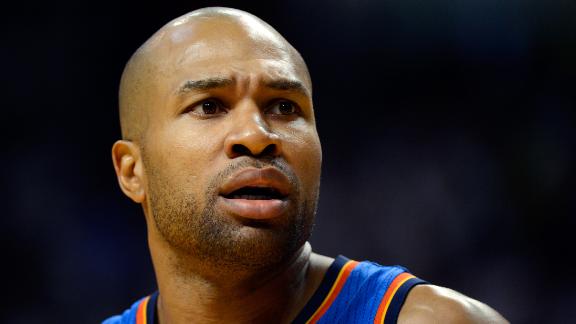 The shorthanded Dallas Mavericks will sign 16-year veteran point guard Derek Fisher on Thursday, coach Rick Carlisle said after team's 101-78 loss to Chicago on Wednesday night.
Share
Tweet
THE FACTS: After letting a 27-point lead turn into a one-point loss Monday against Milwaukee, the Chicago Bulls made a big lead stand up Wednesday in a 101-78 win over the Dallas Mavericks at the United Center. Luol Deng led the Bulls with 22 points, an…

Share Tweet

Cowboys vs. Redskins still a rivalry to revel in — Turkey Day game is Fox's most watched show of fall

  Turns out the Cowboys ugly duckling Thanksgiving Day game against the Washington Redskins produced a swan of a performance for Fox. The game, which drew an average of 28.7 million viewers nationally, ranked not only as the most-watched show of the tel…

Share Tweet

Why have Cowboys gotten off to such slow starts?

The Cowboys have gotten off to slow starts in the majority of their games this season. But it has reached epic proportions in the last two games. The Cowboys have trailed Cleveland and Washington by a combined score of 41-3 at the end of the first half …

Share Tweet

dallasnews.com profootballtalk.com ESPN.com

Nov 28, 2012

It's unlikely that Orlando Scandrick will play again this season. The only reason the club has not placed him on injured reserve is that he might be able to return if the Cowboys make the playoffs. So, who fills Scandrick's crucial slot corner role? V

Share Tweet

Rangers trying to resolve catching mystery

MLB.com

Nov 28, 2012

The Rangers' catching situation remains the biggest mystery surrounding the club this winter and it could be their most dire situation as the Winter Meetings approach.

Share Tweet

dallasnews.com profootballtalk.com

Nov 28, 2012

DeMarco Murray was able to participate in practice for the first time in more than six weeks, raising hope that the running back could return for Sunday night's game against Philadelphia. Dallas Cowboys running back DeMarco Murray (29) pictured during t

Share Tweet

IRVING — The Philadelphia Eagles cut defensive end Jason Babin on Tuesday, leaving the two-time Pro Bowler available to be claimed by another franchise. The Jacksonville Jaguars won the claim on Wednesday, according to multiple reports. When the news of

Share Tweet

IRVING - In recent weeks, Cowboys quarterback Tony Romo has operated behind an offensive line that was re-worked because of a knee injury that forced center Ryan Cook to miss two consecutive games. With Cook sidelined, Mackenzy Bernadeau slid over from

Share Tweet

CNNSI.com

Nov 28, 2012

BALTIMORE (AP) -- The Baltimore Orioles have acquired infielder Danny Valencia from the Boston Red Sox for cash.

Share Tweet

Hail to the pup: Well-trained dog pulls for Redskins, shuns Cowboys

yahoo.com

Nov 28, 2012

Here at Shutdown Corner, we pride ourselves in bringing you the full range of NFL media, from insightful interviews to cogent analysis to, well ... this: That there is Dexter the dog (named for Redskins great Dexter Manley, not murderous TV character De…

Share Tweet

Breaking Down the 'Boys: An offensive strategy that is disappearing from the Cowboys' playbook

Jonathan Bales is a special contributor to SportsDayDFW.com. He's the founder of The DC Times and writes for DallasCowboys.com and the New York Times. He's also the author of 

Share Tweet

Cowboys DE Jason Hatcher, WR Kevin Ogletree expected to practice Wednesday; Philadelphia QB Michael Vick, RB LeSean McCoy won'

IRVING - Cowboys defensive end Jason Hatcher and wide receiver Kevin Ogletree have passed their concussion tests and are expected to practice Wednesday, coach Jason Garrett said. Hatcher suffered a concussion in Thursday's loss against Washington. Ogl

Share Tweet

The 5 Worst Blowouts In The NBA Over The Last 30 Years

dimemag.com

Nov 28, 2012

The Oklahoma City Thunder laid the smackdown on the Bobcats on Monday night, winning 114-69, and negating the positive work new head coach Mike Dunlap had done with the Bobcats to start the season. The Thunder's 45-point rout of the Bobcats was highligh

Share Tweet

ESPN.com

Nov 28, 2012

In spite of throwing four touchdown passes in his nationally televised victory over the Dallas Cowboys on Thanksgiving, Washington Redskins quarterback Robert Griffin III did not win the NFC Offensive Player of the Week award for the second week in a ro…

Share Tweet

dimemag.com

Nov 28, 2012

The Lakers and Pacers tilt last night in L.A. was so bad it was almost comical. There was Dwight Howard missing clutch free throws and laughing about it. There was Joey Crawford making awful calls left and right. There was Indiana fumbling away nearly e…

Share Tweet

Bulls Charge Past Mavericks, 101-78

Nov 28

Bulls cruise to win over Mavericks.

Blogger Blitz: Garrett Safe For Now

Nov 28

NFC East blogger Dan Graziano talks about why Jason Garrett is not in danger of losing his job

Countdown Daily AccuScore: PHI-DAL

Nov 28

Prim Siripipat goes inside the numbers for the Eagles-Cowboys

Cowboys Better Off Without Jerry Jones?

Nov 28

Stephen A. Smith, Rob Parker and Skip Bayless debate whether the Cowboys would be better off without Jerry Jones.