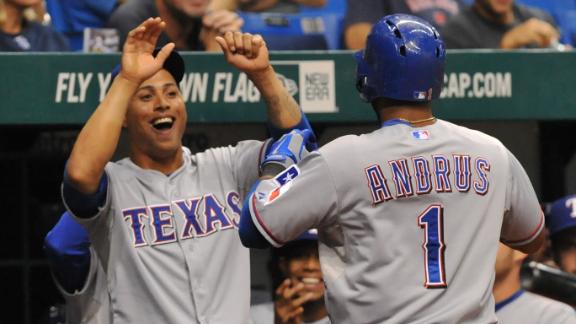 J.J. Wilcox got some work with the first team in Thursday's practice. Is this a sign that the rookie safety is moving closer to a spot in the starting lineup? "Well, you're only one snap away when you're a backup,'' … [visit site to read more]

Share Tweet

Cowboys TE Jason Witten passes Shannon Sharpe to rank No. 2 on NFL's all-time list

Jason Witten has been so good for so long that significant milestones seem to pass quietly. The Cowboys tight end had a modest three catches for 12 yards in the loss to Kansas City. But that was enough to make him No. 2 on the NFL's all-time list for re…

Share Tweet

Bill Callahan took his turn Thursday to address the Cowboys aversion to the run in the first two games of the season. Balance is not a 50-50 proposition. The offensive coordinator made it clear the Cowboys want to take advantage of mismatches and defens…

Share Tweet

ESPN.com dallasnews.com

Sep 19, 2013

IRVING, Texas -- Defensive end Anthony Spencer and receiver Dez Bryant were listed as limited participants on the Dallas Cowboys' official injury report after Thursday's practice. They both sat out Wednesday's practice. Spencer continues to deal with so…

Share Tweet

Lance Dunbar works on keeping the ball

IRVING, Texas -- Dallas Cowboys backup running back Lance Dunbar has fumbled in the preseason and now the regular season. He picked up one carry in the Week 2 loss to the Kansas City Chiefs and gained 12 yards. Later, Dunbar caught a short pass from qua…

Share Tweet

NFL reduces safety Barry Church's fine by $2,000 for throwing football into the stands following his first career TD

IRVING — Dallas Cowboys safety Barry Church can look back at his first NFL touchdown with better memories now. The NFL reduced Church's fine by $2,000 for throwing the football into the stands following his 27-yard fumble return for a touchdown in the s…

Share Tweet

Dallas Cowboys head coach Jason Garrett and Dallas Cowboys running back DeMarco Murray (29) make their way off the field after losing to the Kansas City Chiefs at Arrowhead Stadium in Kansas City on Sunday, September 15, 2013. The Kansas City Chiefs def…

Share Tweet

Fox analyst Daryl Johnston on Dallas Cowboys sticking to running game: 'At some point, you've just got to go out and take your l

IRVING — Daryl Johnston was a central figure in some of the most successful ground attacks the Cowboys ever had. So it's not surprising the former Dallas fullback and current Fox analyst believes his former team needs to show a greater commitment to run…

Share Tweet

Cornerback Morris Claiborne continues to tell himself his dislocated shoulder no longer bothers him. Sometimes, he even believes it. "I was trying not to think about it,'' Claiborne said after Wednesday's practice. "Even if it was hurting, I was trying …

Share Tweet

The Dallas Cowboys and St. Louis Rams will meet for the second time in three seasons at AT&T Stadium. The Cowboys won convincingly, 34-7, in 2011, but this Rams team is different. ESPN Rams reporter Nick Wagoner and Cowboys reporter Todd Archer brin…

Share Tweet

IRVING, Texas – Brian Waters hadn't played in more than a year, so when the newly signed guard made his Dallas Cowboys debut Sunday in Arrowhead Stadium against the Kansas City Chiefs, he got a quick lesson on what he'd missed. He lined up for a field g…

Share Tweet

Tony Romo likely to take painkilling shot before facing Rams

profootballtalk.com

Sep 19, 2013

Cowboys quarterback Tony Romo injured his ribs in the season opener against the Giants, but remained in the game and started again in last week's loss to the Chiefs. Romo took a painkilling shot to help him cope with the injury for that game and he said…

Share Tweet

Less than two weeks to go in season No. 6 of the Juice! Stop by daily for news from the action, along with great photos, stats, video highlights and more. After falling into a tie atop the wild card standings with the Texas Rangers on Tuesday night, the…

Share Tweet

Preview: St. Louis Rams vs. Dallas Cowboys

Sep 19

NFL Films previews the Week 3 matchup between the St. Louis Rams and the Dallas Cowboys.

Countdown Daily Prediction: STL-DAL

Sep 19

The NFL Live crew make their picks for St. Louis at Dallas.

Inside Edge: Rams at Cowboys

Sep 19

ESPN NFL Insider Mike Sando delivers some stats to help you make your pick for St. Louis at Dallas.

The Future of Coaching

Sep 19

Economist Tyler Cowen foresees a world in which NBA coaches work very closely with incredibly intelligent computers. In fact, he says, it's happening already.