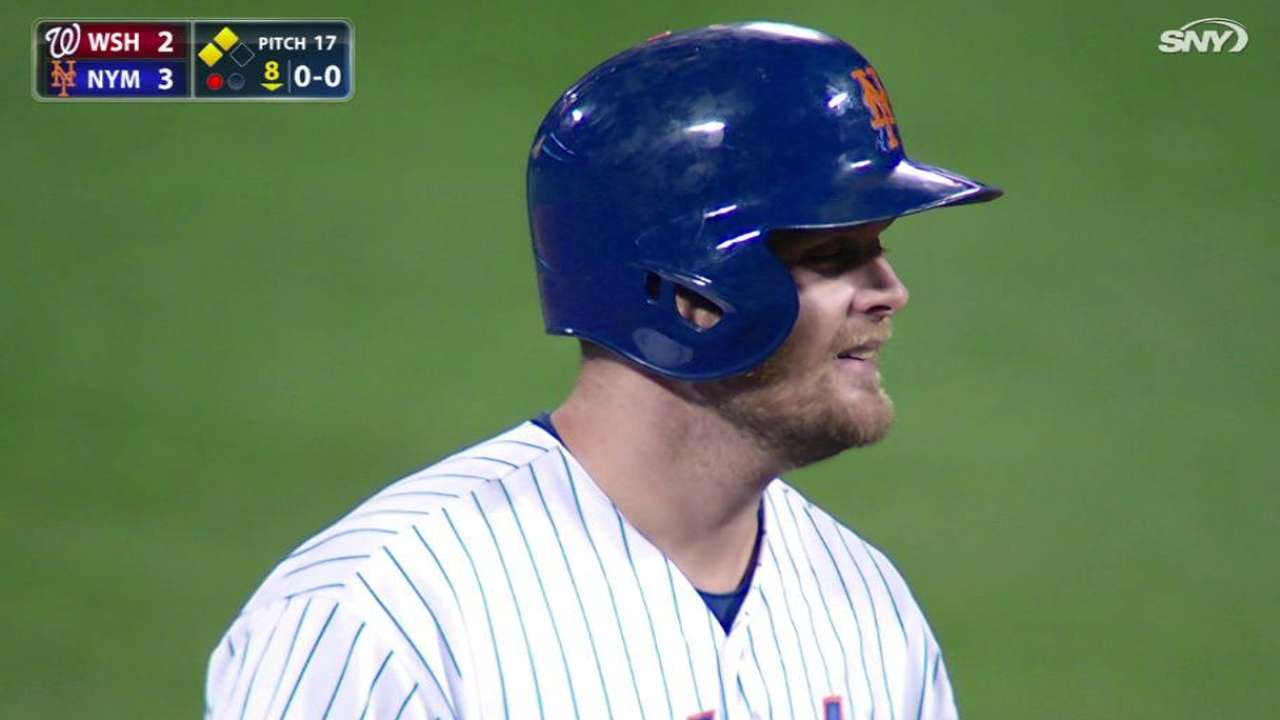 MLB.com
Updated 8 hours ago
A billboard greeted fans coming off the Grand Central Parkway on Saturday, trumpeting Yoenis Cespedes' arrival in Queens. But it was an old face, Lucas Duda, who almost single-handedly lifted the Mets to a come-from-behind 3-2 win over the Nationals, mo…
Share
Tweet
nytimes.com

12 hours ago

Lucas Duda homered twice and hit a tiebreaking double in the eighth inning after newcomer Yoenis Cespedes was walked intentionally, leading the New York Mets to a come-from-behind 3-2 victory over the Washington Nationals on Saturday night in front of t…

Share Tweet

yahoo.com

17 hours ago

Washington Nationals star Bryce Harper plays baseball with a passion that constantly drives him to be the best player on the field. But there's also a growing concern that Harper's passion too often manifests itself into rage, which has proven detriment…

Share Tweet

Sean Payton: No contact with Redskins on Junior Galette

Share Tweet

Redskins CB DeAngelo Hall Returns From 2 Achilles Operations

nytimes.com

18 hours ago

No one around the Washington Redskins harbors doubt about whether DeAngelo Hall has the know-how and competitive spirit necessary to come back from two — count 'em, two! — operations on a torn Achilles tendon.

Share Tweet

thehockeynews.com yahoo.com

20 hours ago

It took an arbitrator to determine the terms, but Marcus Johansson has officially re-signed with the Washington Capitals to a one-year, $3.75 million contract. Johansson, 24, produced the best offensive season of his young career in 2014-15, scoring 20 …

Share Tweet

ESPN.com profootballtalk.com

21 hours ago

Redskins CB Bashaud Breeland says on Twitter he's learned from mistakes

Share Tweet

Harvey gaining steam with improved command

MLB.com

Aug 1 (yesterday)

The Mets lined up their rotation after the All-Star break to make sure that their top three starters -- including Matt Harvey, who has said he relishes taking the mound in big games -- would get the opportunity to pitch in two crucial series against the…

Share Tweet

nytimes.com yahoo.com

Aug 1 (yesterday)

Flores, who on Wednesday cried on the field because he thought he had been traded during the Mets' game against the Padres, hit his first career walk-off home run to help the Mets beat Washington on Friday.

Share Tweet

nytimes.com

Jul 31 (yesterday)

Wilmer Flores gave Mets fans one more reason to fall for him — this time with his bat as well as his heart.

Share Tweet

nytimes.com

Jul 31 (yesterday)

The union had been expected to ask Judge Richard Berman of United States District Court in Manhattan to delay any suspension until he could rule on its merits.

Share Tweet

NHL.com

Jul 31 (yesterday)

ARLINGTON, Va. - Forward Marcus Johansson avoided arbitration by agreeing to a $3.75 million, one-year contract with the Washington Capitals. The team announced that it re-signed Johansson on Friday. The 24-year-old Swede had a career-high...

Share Tweet

thehockeynews.com

Jul 31 (yesterday)

For the past week, the Toronto Blue Jays have owned the sports news cycle thanks to the club's big time acquisitions of Troy Tulowitzki and David Price ahead of the MLB trade deadline. There's one problem, though: there's a possibility that neither trad…

Share Tweet

washingtonpost.com

Jul 31 (yesterday)

Fresh off a 1-2-3 ninth inning for his first save with his new team Thursday, Nationals closer Jonathan Papelbon joined Grant Paulsen and Danny Rouhier on 106.7 The Fan on Friday to discuss his move down I-95. The former Phillie said coming to D.C. was …

Share Tweet

Redskins, RG III can benefit from more play-action

ESPN.com

Jul 31 (yesterday)

Redskins, RG III can benefit from more play-action

Share Tweet

Newseum celebrates Nats fandom with new exhibit as much as it celebrates the Nats

washingtonpost.com

Jul 31 (yesterday)

It was as much about friends as it was about the baseball. Thursday night at the Newseum, about a thousand people waited in a line wrapped around Pennsylvania Avenue and 6th Street NW to get a look at "Nationals at 10: Baseball Makes News" the museum's …

Share Tweet

Talent trumps character in Redskins signing of Galette

Jul 31

ESPN NFL Insider Phil Savage discusses Junior Galette's one-year deal with the Redskins.

Culliver displays traits the Redskins coveted

Jul 30

The Redskins wanted an aggressive corner and that's what they have in Chris Culliver, as evidenced in a one-on-one matchup with Desean Jackson.

Redskins looking forward to establishing running game

Jul 30

Redskins QB Robert Griffin III discusses Washington's plan to run the ball and get RB Alfred Morris more involved, and how establishing the run will help play-action.

Redskins commit to LB Kerrigan

Jul 29

ESPN analyst Ryan Clark discusses the work ethic of Ryan Kerrigan and its role in the linebacker's five-year extension.