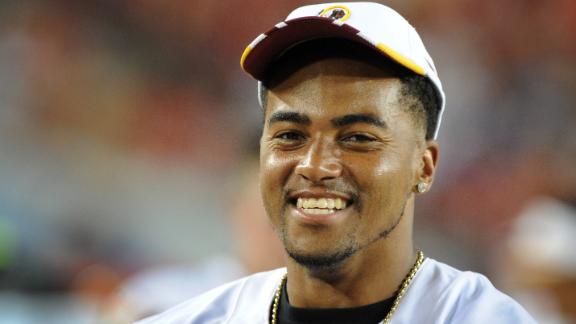 Eagles rule out Mychal Kendricks

profootballtalk.com

13 minutes ago

The Eagles may give first-round pick Marcus Smith some playing time this weekend. Smith has been working at inside linebacker at practice this week, which was seen as a sign that the team was pessimistic about Mychal Kendricks's chances of playing again…

Upvote Share Tweet

PHOTO: Teammates Sign Robert Griffin III's Cast

redskins.com

30 minutes ago

The Washington Redskins understand the importance of teamwork, and that's both on the field as well as off it. As he recovers from a dislocated ankle injury, quarterback Robert Griffin III received signatures from his coaches and teammates on the cast t…

Upvote Share Tweet

Why Robert Griffin III turned his 'Know Jesus Know Peace' t-shirt inside out

washingtonpost.com

2 hours ago

Redskins quarterback Robert Griffin III dislocated his ankle on Sunday afternoon. Because of that painful and very serious injury, Griffin wound up watching the second half of his team's victory over the Jaguars from the training room, wearing athletic …

Upvote Share Tweet

redskins.com

3 hours ago

(AP Image) Washington Redskins rookie wide receiver Ryan Grant's play continues to catch the eye of his coaches and teammates. Running sharp route and showing similar composure to his seasoned veteran teammates, Grant has proven to be a great addition t…

Upvote Share Tweet

redskins.com

4 hours ago

Each day, Washington Redskins players interact with fans on social media, giving them a sneak peek at their passions and happenings off the field. For those of you who aren't on Twitter or Instagram, or simply want to skim without having to go through y…

Upvote Share Tweet

Redskins wake-up call

ESPN.com

8 hours ago

ASHBURN, Va. -- The Washington Redskins will practice at 11:10 a.m. Friday followed by an open locker-room session. Here are three areas of interest: DeSean Jackson. He casually caught a couple of passes in individual drills Thursday, but none of the ba…

Upvote Share Tweet

nytimes.com

14 hours ago

Hester set an N.F.L. record with his 20th career return touchdown, Julio Jones caught two scoring passes and the Atlanta Falcons beat the Tampa Bay Buccaneers.

Upvote Share Tweet

MLB.com

15 hours ago

The Nationals have been moving steadily in the right direction, especially since Mike Rizzo took over the entire baseball operation in 2009. He was given his current title -- president of baseball operations and general manager -- last year.

Upvote Share Tweet

Gonzalez, Harper Lead Nationals Past Marlins, 6-2

nytimes.com

16 hours ago

Gio Gonzalez allowed two runs in seven innings, Bryce Harper had three hits, and the Washington Nationals kept up their push for home-field advantage in the NL playoffs by beating the Miami Marlins 6-2 on Thursday night.

Upvote Share Tweet

Verizon Center hat trick display was a long time in the making

washingtonpost.com

17 hours ago

The Capitals announced Thursday a new exhibit at Verizon Center, featuring all the hats thrown onto the ice after Caps hat tricks dating back to 2008, plus a list of all the hat tricks in franchise history. This was no spontaneous idea, as the Capitals …

Upvote Share Tweet

redskins.com

18 hours ago

Washington Redskins mega fan and NBA All Star Kevin Durant on Thursday showed off the game ball he received from Redskins owner Dan Snyder. Durant was in attendance at last Sunday's game to see the Redskins dominate in all facets of their 41-10 victory …

Upvote Share Tweet

washingtonpost.com

19 hours ago

It's been an exciting day for Kevin Durant on the ol' Instagram machine. A few hours after showing off his Natitude, Durant shared a photo of a game ball commemorating the Redskins' win over the Jaguars on Sunday. Durant, as you likely know by now, was …

Upvote Share Tweet

Trent Murphy, Silas Redd Chat With Fans On Reddit AMA

redskins.com

20 hours ago

.@TMurphy_93 & @ThirdEyeSi_ answering your questions NOW in their @reddit AMA: pic.twitter.com/lasAXGY1z2 — Washington Redskins (@Redskins) September 18, 2014 Washington Redskins rookie linebacker Trent Murphy and rookie running back Silas Redd were…

Upvote Share Tweet

ESPN.com

22 hours ago

ASHBURN, Va. -- Washington Redskins receiver DeSean Jackson did not practice for a second consecutive day, but coach Jay Gruden remained cautiously optimistic about his chances for playing Sunday. Still, Gruden said, it could come down to a game-day dec…

Upvote Share Tweet

Pair of D.C. sports fans documenting history one T-shirt at a time

washingtonpost.com

22 hours ago

As they watched the champagne and beer flow inside a raucous clubhouse and Bryce Harper celebrate the Nationals' division title in ski goggles and a custom No. 34 D.C. Fire Department fire fighter helmet on Tuesday, a pair of local entrepreneurs were te…

Upvote Share Tweet

PHOTOS: Redskins Sacking Eagles Through The Years

redskins.com

23 hours ago

Click to view slideshow. After sacking Jacksonville Jaguars quarterback Chad Henne 10 times (tying a franchise record) last Sunday, the Washington Redskins are setting their sights on the Philadelphia Eagles. As you eagerly await the Redskins' first NFC…

Upvote Share Tweet

Kevin Durant takes Natitude to a new level with his custom jersey

washingtonpost.com

23 hours ago

Oklahoma City star and D.C. native Kevin Durant wore a Robert Griffin III jersey and watched Sunday's Redskins game with Wizards star John Wall at FedEx Field. Perhaps we'll see him at Nationals Park in October. Durant posted a photo of himself in a cus…

Upvote Share Tweet

NHL.com

24 hours ago

NEW YORK / TORONTO -- NHL Network™-U.S. will begin its 2014-15 preseason broadcast schedule with the Buffalo Sabres-Washington Capitals game on Sunday, Sept. 21, at 5:00 p.m. ET. Highlighted by rivalries, doubleheaders, player debuts, the Sept. 24...

Upvote Share Tweet

washingtonpost.com

Sep 18 (yesterday)

During halftime of the Redskins' 41-10 win over Jacksonville on Sunday, CBS studio analyst Tony Gonzalez pumped the brakes on the excitement about Kirk Cousins, who was lighting up the Jaguars in relief of an injured Robert Griffin III. "Let me just say…

Upvote Share Tweet

NHL.com thehockeynews.com

Sep 18 (yesterday)

ARLINGTON, Va. - Barry Trotz was late for an appointment because he was at the DMV, getting his first Virginia driver's license and plates. His son is enrolled in school, and he's lived in his new house long enough for the air conditioning to br...

Upvote Share Tweet

The top 10 fighters to watch this season

thehockeynews.com

Sep 18 (yesterday)

If you like a good scrap, you might find yourself a bit under siege lately in the hockey world. Regulations are tightening up, though the powers-that-be still maintain that organic fights, rather than staged bouts, are still part of the game. And even t…

Upvote Share Tweet

thehockeynews.com

Sep 18 (yesterday)

Never ask Ducks coach Bruce Boudreau to play Crazy Eights. That was the takeaway Thursday after Finnish journalist Juha Hiitelä began Tweeting excerpts from Teemu Selanne's soon-to-be-released book. Essentially – and despite calling Boudreau a "nice man…

Upvote Share Tweet

redskins.com

Sep 18 (yesterday)

(AP Image) Former Washington Redskins defensive lineman Ma'Ake Kemoeatu helped out many of his football brothers during his 9-year career by taking down opposing ball carries, but he helped out his brother, Chris Kemoeatu, with something much greater – …

Upvote Share Tweet

Ben Kotwica On Strong Special Teams Performers

redskins.com

Sep 18 (yesterday)

(AP Image) Washington Redskins special teams coordinator Ben Kotwica on Wednesday talked with the media about punter Tress Way's usage on kickoffs and Akeem Davis and Trenton Robinson's production in coverage. Check out all that he had to say below:

Upvote Share Tweet

Nationals Run Past Marlins

Sep 18

The Nationals scored five runs in the top of the fourth and went on to beat the Marlins 6-2.

Inside Edge: Redskins-Eagles

Sep 18

ESPN NFL Insider Mike Sando delivers stats to help you make a pick for Washington at Philadelphia.

Web Gems

Sep 18

Does Denard Span's diving catch top Eduardo Nunez making a throw for the out while sitting down.

Cousin Sal's NFL Week 3 Picks

Sep 18

Cousin Sal makes his picks for week 3 in the NFL.