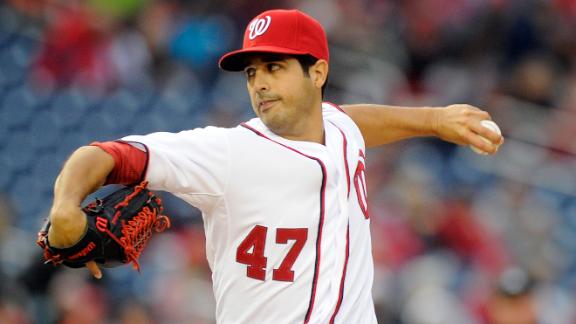 nytimes.com
ESPN.com
MLB.com
Updated 11 hours ago
A throwing error and a wild pitch propelled Washington a day after it had similar issues of its own.
Upvote
Share
Tweet
8 Keys To Watch For In The NBA Playoffs This Weekend

dimemag.com

18 hours ago

The NBA postseason is upon us and it should be a great one. The Western Conference has three can't-miss first-round series, while the elite teams in the East look to get by some of the new faces in the playoffs. For teams like San Antonio, Miami, Oklaho…

Upvote Share Tweet

The 5 Best Matchups To Watch In The NBA Playoffs This Weekend

dimemag.com

19 hours ago

It's that time of year again. After 2,460 games played in the 2013-14 season, 16 teams have earned their placement in the 2014 Playoffs. As Doc Rivers urges, "Now the real basketball starts." While much attention has been focused on the first-round matc…

Upvote Share Tweet

Redskins' D vs. NFL: Comparing the cap

ESPN.com

19 hours ago

The Washington Redskins' defense is optimistic about where it's headed, thanks to the addition of Jason Hatcher and a tweaked philosophy regarding the pass rush. Whether their play matches that optimism always remains the biggest hurdle. What's not in d…

Upvote Share Tweet

washingtonpost.com yahoo.com ESPN.com

20 hours ago

John Wall joined ESPN's "First Take" by phone this morning, but before we get to what the Wizards point guard said, check out the graphic in the lower left of the screenshot above. The photo of Wall in the Wizards' old uniform is different than the one …

Upvote Share Tweet

Rumor Roundup: Martin Broduer, Brad Richards and Mikhail Grabovski buzz

thehockeynews.com

22 hours ago

Long-time New Jersey Devils goaltender Martin Brodeur is leaning toward returning next season, but it remains to be seen if it'll be with the Devils. Brodeur wouldn't rule out another season with the Devils, but acknowledged their priority is re-signing…

Upvote Share Tweet

Re-examining Redskins' needs: Cornerback

ESPN.com

Apr 18 (yesterday)

In the fifth part of our re-examining series, I take a look at cornerback where the Redskins made a couple moves, though only one key addition. Already this week I've discussed safeties, the pass rush, receivers and the offensive line. What they've done…

Upvote Share Tweet

Dagger! Buckhantz and Chenier on Gilbert Arenas' buzzer-beater against the Bulls

washingtonpost.com

Apr 18 (yesterday)

There were times when the thought of paying Gilbert Arenas more than $20 million a year to play basketball wasn't completely preposterous. One of the first times was immediately after Game 5 of the Wizards' series against the Bulls in the first round of…

Upvote Share Tweet

DeSean Jackson Tries On Redskins Helmet

redskins.com

Apr 18 (yesterday)

DeSean Jackson has been getting acclimated to Redskins Park. The wide receiver has worked out with his teammates and dug into the playbook. On Thursday, he posted an Instagram picture of himself wearing a burgundy-and-gold helmet with a tinted visor. Ho…

Upvote Share Tweet

16 NBA Players Reveal What's Currently Playing In Their Headphones

dimemag.com

Apr 18 (yesterday)

I once asked Steve Nash if anyone in the NBA didn't listen to rap. His answer surprised me, saying there are actually quite a few, more than you'd think, who have differing tastes. With the NBA Playoffs right around the corner, check out what 16 NBA pla…

Upvote Share Tweet

Nats' Fister has 'no issues' during session

ESPN.com

Apr 17 (yesterday)

Right-hander Doug Fister threw two innings at extended spring training in Florida and could join the Nationals in about three weeks "assuming all goes well," manager Matt Williams said.

Upvote Share Tweet

thehockeynews.com

Apr 17 (yesterday)

Here's an easy way for the NHL to make even more money: hold a post-season tournament for all non-playoff teams to determine the Stanley Cup of Hope. The inspiration for the idea comes from the Kontinental League, which started the Nadezhda Cup (a.k.a. …

Upvote Share Tweet

DeSean Jackson celebrated with a huge bottle of champagne

When you're a big NFL star who signs a contract with a new team, people in your new city do cool things to welcome you to town. In Redskins wide receiver DeSean Jackson's case, that meant a party in his honor at The Huxley, where he was given a huge bot…

Upvote Share Tweet

Analyzing the Redskins visits: Offense

ESPN.com

Apr 17 (yesterday)

The Washington Redskins can host up to 30 players before the draft, but who they do doesn't always tell the entire story of their interest. And we don't really know how what visits mean for this regime: How many of these players will they ultimately sel…

Upvote Share Tweet

Joel Ward to throw ceremonial first pitch for Jackie Robinson Day

Capitals forward Joel Ward, who wears No. 42 in tribute to Jackie Robinson, will throw out the ceremonial first pitch in honor of Jackie Robinson Day before tonight's Nationals-Cardinals game at Nationals Park. The league-wide celebration of Robinson br…

Upvote Share Tweet

Fan shows Caps pride on prosthetic leg

Caps fan Brian Sealock has a relatively unique way of showing his fandom for the Washington Capitals. He wears it on his prosthetic leg. Sealock, of Winchester, lost his right leg in a work accident in 2008. While he isn't the first fan to show team spi…

Upvote Share Tweet

Brian Orakpo still hoping for long-term deal

profootballtalk.com

Apr 17 (2 days ago)

Linebacker Brian Orakpo stands to make $11.45 million for the 2014 season after signing the franchise tag the Redskins used on him this offseason, but he's still hoping that he'll wind up signing another deal with the team before July 15. That's the dea…

Upvote Share Tweet

Gonzalez Pitches Nationals Past Cardinals

Apr 18

Gio Gonzalez struck out seven in the Nationals' 3-1 win over the Cardinals.

Cardinals Fly By Nationals

Apr 17

The Cardinals picked up their 10th win of the season, beating the Nationals 8-0.

Arbitrator Rules Jackson Owes Rosenhaus

Apr 17

Field Yates discusses the ruling by an arbitrator that DeSean Jackson owes his former agent Drew Rosenhaus more than $500,000.

Fernandez, Marlins Fall To Nationals

Apr 16

Despite 10 strikeouts over seven innings from Jose Fernandez, the Marlins fell to the Nationals 6-3.