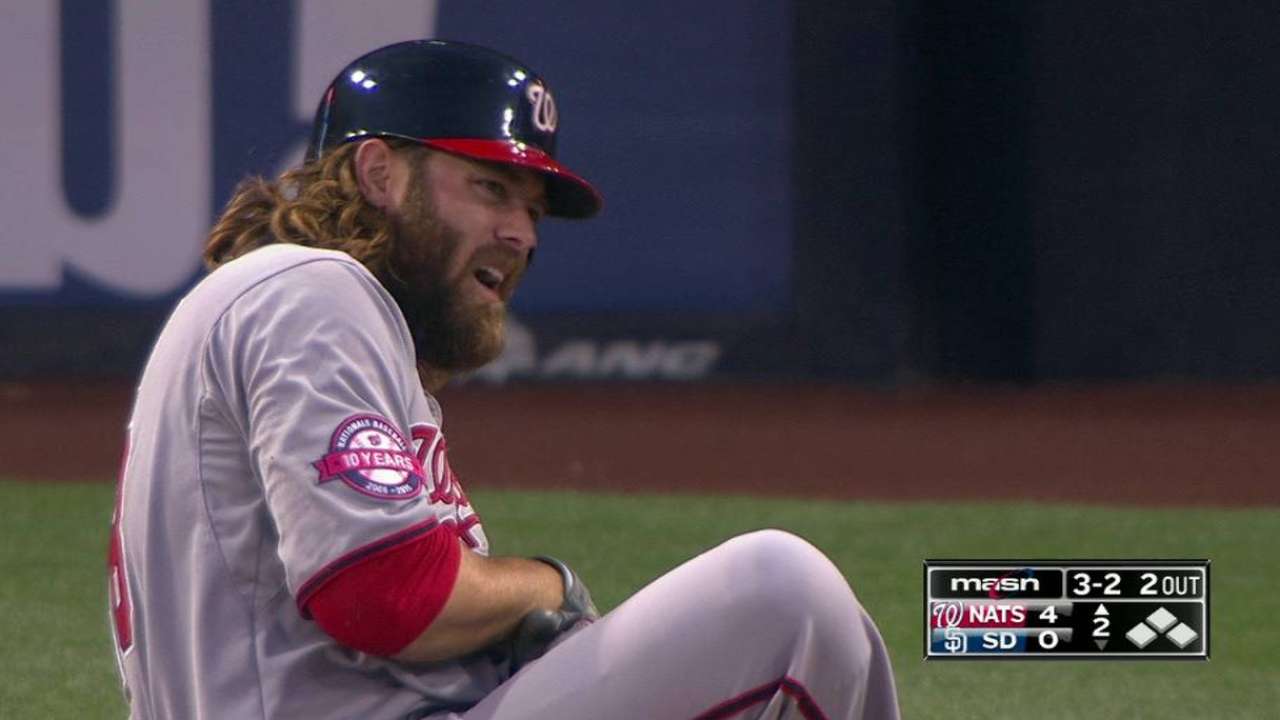 It stinks that Jayson Werth -- a consummate pro, an important part of the intangible thing that makes the Nationals go -- is injured. It stinks for him and for the Nats. But they're likely to be in first place when he returns, and he might end up being …
Share
Tweet
Redskins safety tapes his cleats to look like Chuck Taylors

washingtonpost.com

13 hours ago

Redskins safety Duke Ihenacho was the most fashionable player on the field Thursday at Redskins Park for the team's voluntary offseason workouts. Ihenacho taped over his cleats with black and white tape to make them look like a pair of Converse Chuck Ta…

Share Tweet

When being married to a major leaguer complicates a mother's sports broadcasting career

washingtonpost.com

15 hours ago

Lindsay Murphy still finds herself rehearsing for her sports broadcasts. In the car, in the shower, in her living room, she will read off Nationals highlights, or deliver the latest Redskins news, concentrating on her voice and inflection, making sure t…

Share Tweet

Brian Mitchell defends DeSean Jackson's decision to skip OTAs

washingtonpost.com

17 hours ago

DeSean Jackson informed the Redskins that he was opting out of the team's organized team activities this week, which was well within his rights under the NFL's collective bargaining agreement. Attendance at OTAs is voluntary. Jackson, who skipped the fi…

Share Tweet

Jose Andres attempts to woo Paul Pierce with food

washingtonpost.com

19 hours ago

.@paulpierce34 if you stay with us @WashWizards Sir one more season I personally will cook for you,1 night a month.. — José Andrés (@chefjoseandres) May 28, 2015 Now, that is an offer that's tough to refuse. The celebrity chef, life-saver and Wizards fa…

Share Tweet

NHL.com

21 hours ago

WASHINGTON - Washington Capitals centre Nicklas Backstrom has had hip surgery and the team expects him to be ready for next season. The Capitals say the arthroscopic procedure was done Wednesday. The club adds in a statement Thursday that it ...

Share Tweet

DeAngelo Hall: Achilles feels good, but I'm following team's plan

profootballtalk.com

22 hours ago

Cornerback DeAngelo Hall restructured his contract this offseason to take away any guaranteed money and make his entire $4 million salary contingent on making the Redskins' 53-man roster for the start of the regular season. Hall made the move after tear…

Share Tweet

Throwback Thursday: Senators play first night game in D.C. baseball history

washingtonpost.com

24 hours ago

The Nationals played under the lights at Wrigley Field on Wednesday night, and that's still a relatively new thing in Chicago. The Cubs didn't play night games until 1988, not quite 30 years ago. In the District, they've been doing that for more than 70…

Share Tweet

yahoo.com nytimes.com MLB.com

May 28 (yesterday)

If we told you that Jon Lester and Max Scherzer set an MLB record Wednesday night during the Chicago Cubs and Washington Nationals game, you might think it had something to do with the number of millions on the mound. After all, they were the two bigges…

Share Tweet

Anonymous NBA player is reportedly 'pretty sure' Kevin Durant will join the Wizards

washingtonpost.com

May 28 (yesterday)

Well, we have eight days to kill until the NBA Finals start, how about some shameless rumor-mongering? Okay, there are those Game 7s in the NHL to watch, but in terms of hoops, this is a bleak time, and a sports blogger's gotta do what a sports blogger'…

Share Tweet

ESPN.com

May 27 (yesterday)

Reid: Jackson's absence from OTAs reflects poorly on him, Redskins

Share Tweet

When it comes to Racing Presidents, is Thomas Jefferson the new Teddy?

washingtonpost.com

May 27 (yesterday)

As the Wizards and Caps wrapped up their seasons, and as the Nats embarked on a historic hot streak, we all may have missed one of the biggest stories of the month: something seems to be going on with the Nats' Racing Presidents races. Something untowar…

Share Tweet

NL All-Star Game ballot update: May 27

MLB.com

May 27 (yesterday)

At the first update in the 2015 Esurance MLB All-Star Game Ballot for the National League, the Cardinals have four players in line to start July 14 Midsummer Classic at Great American Ball Park, and another four among the voting leaders. Nationals outfi…

Share Tweet

washingtonpost.com deadspin.com

May 27 (yesterday)

Before Kris Bryant helped the Cubs even their series against fellow Las Vegas native Bryce Harper and the Nationals on Tuesday, the rookie third baseman sat in the Chicago dugout and remembered how he never wanted to face Harper the pitcher as a kid. Ha…

Share Tweet

yahoo.com

May 27 (yesterday)

DeSean Jackson was noticeably absent on the first day of the Washington Redskins' organized team activities Tuesday. Later that day, we found out why. Here courtside at Game 4 of the #ECF, @EBled2 of the @Suns, @NBADraft prospect @MONSTATREZZ & @DeS…

Share Tweet

ESPN.com

May 27 (yesterday)

DeSean Jackson, excused from first Redskins OTA, attends Cavs game

Share Tweet

washingtonpost.com

May 27 (yesterday)

Last week, ESPN Cleveland's Tony Grossi reported that the Redskins, Texans and Bills were the candidates to appear on HBO's training camp documentary series "Hard Knocks." ESPN's John Keim reported that the Redskins were not interested in appearing on t…

Share Tweet

Clayton's Quiz: Best offseason addition to the Washington Redskin...

May 28

Clayton's Quiz challenges your football knowledge each week. This week's question: Which is the biggest offseason addition to the Washington Redskins?

Hashtag game with Brian Scalabrine

May 27

Former NBA player Brian Scalabrine plays the hashtag game with SportsNation, targeting Redskins wide receiver DeSean Jackson for skipping OTAs to attend the Hawks-Cavs playoff game.

Redskins' Jackson attends Cavs game, not OTAs

May 27

Mark Brunell discusses Redskins wide receiver DeSean Jackson's decision to miss OTAs in order to attend a Cavaliers playoff game, and how it's a missed opportunity to help improve team chemistry.

Redskins' Griffin anticipates culture change

May 27

Bill Polian discusses what the Redskins need to do in order to accomplish the culture change referred to by quarterback Robert Griffin III.