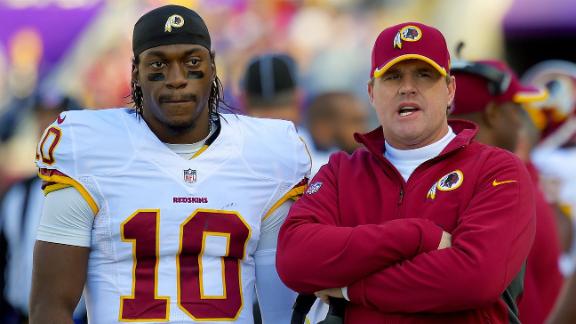 ESPN.com
Updated 13 hours ago
Washington Redskins coach Jay Gruden delivered some of his most pointed comments yet about Robert Griffin III, telling NFL.com earlier this week that it's time for the third-year quarterback to elevate his play.
Upvote
Share
Tweet
PHOTOS: Redskins Travel To California

redskins.com

4 hours ago

Click to view slideshow. RELATED LINKS: –Redskins Movember Matchup No. 3: Charley Taylor vs. Doug Williams –Former, Current Redskins Committed To Helping Malnourished In Zambia The Washington Redskins on Friday traveled to California, two days before th…

Upvote Share Tweet

Wall, Wizards deal Cavs 3rd straight loss

ESPN.com

13 hours ago

John Wall took over in the third quarter Friday night and finished 28 points, seven assists and six rebounds, and the hustling Washington Wizards clamped down for a 91-78 win over LeBron James and the mostly flatfooted Cleveland Cavaliers.

Upvote Share Tweet

Dion Waiters Goes For Dunk, Gets Destroyed, Is Terrible

deadspin.com

13 hours ago

Millennial Dion Waiters stinks and is bad ; tonight against the Wizards, he tried to dunk on Kevin Seraphin and got stoned—with both hands!—directly to hell. My favorite part is Jon Barry and Mike Breen both initially assuming it must have been a foul, …

Upvote Share Tweet

The Redskins name controversy gets the 'New Yorker' cover treatment

washingtonpost.com

14 hours ago

"The New Yorker" magazine doesn't always weigh in on the Redskins name controversy, but it did in a big way this week, using a Thanksgiving theme to take a jab at #KeepTheName partisans. "It's not profound, you know—nothing I do is profound—but I wanted…

Upvote Share Tweet

Nats could have options with Zimmermann, Fister

MLB.com

20 hours ago

According to USA Today, the Nationals have told opposing teams they would listen to possible deals involving right-handers Jordan Zimmermann and Doug Fister. Fister and Zimmermann are free agents after the 2015 season and general manager Mike Rizzo woul…

Upvote Share Tweet

Redskins' Jordan Reed, Chris Baker out for Sunday

ESPN.com

21 hours ago

ASHBURN, Va. -- Washington Redskins tight end Jordan Reed and nose tackle Chris Baker won't play Sunday at San Francisco, but tackle Trent Williams still has a chance to play – though whether or not it's realistic remains to be seen. Williams said his s…

Upvote Share Tweet

Sean McVay Talks About Grandfather's Influence On His Football Career

redskins.com

22 hours ago

(Mcvay, left, via 49ers.com) RELATED LINKS: –Redskins-49ers: 4 Keys To The Game –Sean McVay's Bio Washington Redskins offensive coordinator Sean McVay returns to San Francisco — home city to a 49ers franchise that was led to multiple Super Bowl champion…

Upvote Share Tweet

dimemag.com

23 hours ago

"Rivalries aren't really rivalries unless the teams and players hate each other!" Well, tell that to Paul Pierce and LeBron James. Ahead of their first matchup as members of the Washington Wizards and Cleveland Cavaliers tonight, The Truth offered rare …

Upvote Share Tweet

Mark Rypien Attending Redskins Rally In San Francisco

redskins.com

24 hours ago

(AP Image) RELATED LINKS: –Jim Lachey Attends Redskins Rally In Ohio –Find A Redskins Rally Near You Guess what San Francisco Redskins fans? Mark Rypien is coming to town and he's going to be rally with the Bay Area Redskins Fan Club at the San Francisc…

Upvote Share Tweet

Hail To The Beard Photo Contest

redskins.com

Nov 21 (yesterday)

RELATED LINKS: –First Redskins Movember Matchup Features Hall Of Famers –Movember Matchup: Hairy Teammates, Franchise Greats Go Head-To-Head Are you a Redskins fan participating in No Shave November? If so, show off that facial hair in our #HailToTheBea…

Upvote Share Tweet

Wizards' Nene, Kevin Seraphin and Otto Porter play FIFA on Verizon Center big screen

washingtonpost.com

Nov 21 (yesterday)

Now this is how video games were meant to be played. The Wizards' Otto Porter, Nene and Kevin Seraphin recently kicked back and fired up FIFA 15 on the big screen at Verizon Center. Nene tweeted a photo of the scene Thursday and the Wizards shared a few…

Upvote Share Tweet

PHOTO: Mother And Son Rock Redskins Jerseys Together

redskins.com

Nov 21 (yesterday)

(via Instagram user Danivrocks) RELATED LINKS: –Redskins Movember Matchup No. 3: Charley Taylor vs. Doug Williams –Former, Current Redskins Committed To Helping Malnourished In Zambia You won't find a better dressed mother-son pair around. Also wearing …

Upvote Share Tweet

ESPN.com

Nov 21 (yesterday)

When: 1:25 p.m. PT Sunday Where: Levi's Stadium, Santa Clara TV: CBS The San Francisco 49ers and Washington Redskins meet for the second time in Week 12 in as many years. And just like last season, both teams appear to be heading in opposite directions.…

Upvote Share Tweet

NHL.com thehockeynews.com

Nov 21 (yesterday)

DENVER - Alex Ovechkin has scored plenty of pretty goals in his career. He even throws in some scrappy ones from time to time. Ovechkin scored late in the third period, Braden Holtby stopped 27 shots, and the Washington Capitals beat the Colo...

Upvote Share Tweet

Gruden On RG III: He's Auditioned Long Enough

Nov 22

Herm Edwards discusses Redskins coach Jay Gruden's comments about QB Robert Griffin III's playing status and if Griffin is the quarterback of the future for the Redskins.

Wall, Wizards Put Away Cavs

Nov 21

John Wall scored 28 points to lead the Wizards to a 91-78 win over the Cavs.

LeBron's Transition Dunk

Nov 21

LeBron James threw down a two-handed slam while running the floor against the Wizards.

LeBron's Soaring Alley-Oop Layup

Nov 21

Kyrie Irving threw a lob to LeBron James, who skied high for the layup. Irving then stole the ball on the next possession, which led to another James layup.