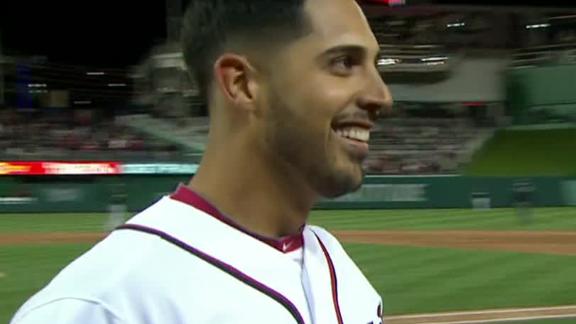 Gio a force with arm, bat in win over Marlins

Updated Apr 3

Share Tweet

Left-hander Gio Gonzalez used his arm and his bat to help the Nationals blank the Marlins, 3-0, at Nationals Park on Wednesday night. Washington has now held Miami scoreless in its last 19 innings, extending back to last season.

Source:

MLB.com

Updated Apr 3

Share Tweet

The Redskins have signed quarterback Pat White, the former West Virginia star, who spent one season with the Miami Dolphins, three people with knowledge of the situation confirmed to Mike Jones of the Washington Post. White was at Redskins Park on Wedne…

Sources:

redskinsgab.com profootballtalk.com

Kotchman exits with hamstring injury

Updated Apr 3

Share Tweet

First baseman Casey Kotchman was replaced in the fifth inning of Wednesday's game against the Nationals after straining his left hamstring, and is listed as day to day.

Source:

MLB.com

Two concussion plaintiffs have signed since suing

Updated Apr 3

Share Tweet

Former Dolphins quarterback Pat White wisely dismissed his concussion lawsuit (actually, he filed two of them) before returning to the NFL, signing with the Redskins. But maybe he didn't need to do that. After all, two other players made comebacks witho

Source:

profootballtalk.com

Updated Apr 3

Share Tweet

At a time when the Redskins and cornerback Antoine Winfield reportedly have "high mutual interest," the Vikings remain interested in a reunion. Minnesota cut Winfield last month, avoiding his way-above-market $7.25 million base salary. Coach Leslie Fr

Source:

profootballtalk.com

Updated Apr 3

Share Tweet

With Robert Griffin III rehabbing from a serious knee injury, the Washington Redskins bolstered their alternative quarterback plans on Wednesday, bringing back Rex Grossman and giving Pat White another chance at the NFL.

Sources:

ESPN.com profootballtalk.com

Updated Apr 3

Share Tweet

Washington Wizards shooting guard Bradley Beal will miss the rest of his rookie season with a right leg injury.

Paulsen's New Hair Cut

Updated Apr 3

Share Tweet

Redskins Tight End Logan Paulsen was caught walking around Redskins Park today with a new hair cut! Redskins Quarterback Robert Griffin III once described Paulsen prior to the hair cut as "a lumberjack." Here is a look at Paulsen before the cut: Regar

Morris Attends Pink Tie Charity Ball

Updated Apr 3

Share Tweet

Click to view slideshow. In March, the IIIB's Foundation hosted its 3rd annual Pink Tie Charity Ball to support breast cancer survivors. The event was held at the Hilton Washington Dulles Airport and featured dinner, dancing, a live and silent auction a

Updated Apr 3

Share Tweet

Javaris Crittenton - the former Los Angeles Lakers, Memphis Grizzlies and Washington Wizards guard best known by NBA fans for his infamous firearms-in-the-locker-room confrontation with teammate Gilbert Arenas in 2009 - was indicted Tuesday in connect

Source:

yahoo.com

Exclusive Reading Of "A Little Skins Football Story"

Updated Apr 3

Share Tweet

Come out to Redskins Park this Saturday, April 6th from 10am-12pm for an exclusive, one-of-a-kind, Kids Club event! Join us and your favorite Redskins players as we bring A Little Skins Football Story to life. Authored by Richard Torrey, the story tells…

The Wizards explain their cabinet full of gum

Updated Apr 3

Share Tweet

The Wizards have a small basket of gum in the locker room for the players, but on Tuesday I got to see the main supply for the first time, and it was impressive. Dentyne Ice, Trident, something called Bubbaloo … Continue reading →

Chat wrap: Redskins' future at linebacker

Updated Apr 3

Share Tweet

We had our weekly chat Tuesday. And though things got dicey around the middle, as you can see here, we still managed to get some good questions asked and answered around the silliness. Some of the highlights: Scott (Virginia Beach): 3/4 (London Fletcher…

Martell Webster interrupts A.J. Price interview (Video)

Updated Apr 3

Share Tweet

Things got a little goofy during postgame interviews in the Wizards locker room Tuesday night. During A.J. Price's session, Martell Webster decided to step in and answer Price's questions for him. "I'm also his alter-ego, so I may be a … Continu

Kevin Durant wears Curly W hat to Louisville women's game

Updated Apr 3

Share Tweet

Kevin Durant's pride in all things D.C. is well established, from his Curly W tattoo to his Mumbo Sauce shoes to his bets on the Redskins to his Redskins-themed avatar. The latest example came Tuesday night, when ESPN's broadcast of … Continue readi

Updated Apr 3

Share Tweet

The team has continued to be busy in free agency since we last updated you on our Mock Draft Tracker. They've re-signed TE Fred Davis and signed unrestricted free agent LB Darryl Tapp which helps bring a veteran presence to the locker room, an outside p

Updated Apr 3

Share Tweet

The Bulls' Taj Gibson reinjured his left knee Tuesday against the Wizards.

Gonzalez HRs, Pitches Nats To Another Shutout

Apr 3

Nationals win second straight.

Crittenton Indicted On Murder, Gang Charges

Apr 3

Lester Munson discusses the charges facing former NBA player Javaris Crittenton.

NBA Rewind

Apr 3

Rewind the top action from the past week in the NBA.

Sports Columnists

Nancy Lieberman says there's no downside to Brittney Griner trying to make…

Apr 3

Women's basketball pioneer Nancy Lieberman is encouraging Baylor star Brittney Griner to seize the opportunity to do the same with the Dallas Mavericks, no matter how overwhelmingly remote Griner's chances of sticking actually are.