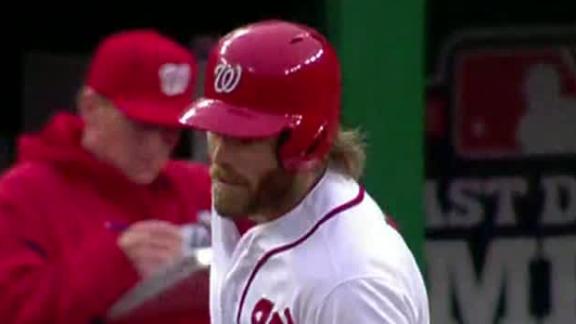 The Marlins were finally able to score a run against the Nationals, but it wasn't enough as Washington won, 6-1, on Thursday afternoon at Nationals Park.
Share
Tweet
nytimes.com

Apr 4, 2013

They are unlikely to make the playoffs this season, but John Wall has transformed the Wizards.

Share Tweet

MNF Matchup Headlines Preseason Slate

Redskins Nation get pumped because the 2013 season is inching ever-so quickly to kicking off and to appease your football appetite the Redskins preseason schedule has been released. While each game will be important to the Redskins as players will be jo…

Share Tweet

Young rejoins Nats on minor league deal

Right-hander Chris Young has agreed to a minor league contract with the Washington Nationals, giving the team some added depth in case they need an extra starting pitcher during the season.

Share Tweet

Mel Kiper Jr.'s latest mock draft is out, and it goes two rounds deep, which means we can talk Redskins too. Which is nice. Here's the rundown of Mel's picks for the NFC East, along with my analysis. (Not his. You have to pay to read his.) Philadelphia …

Share Tweet

Davey Johnson and Mark Lerner on Davey Johnson's retirement

Here are two people talking about Davey Johnson's final year with the Nationals. They're talking about the same thing, and using the same communication methods - mouths and words and all — but golly, the implications seem somewhat different. Hereâ

Share Tweet

All Things Redskins With CSN's El-Bashir

Redskins TV's Alex Corddry caught up with CSN Washington's Tarik El-Bashir on the latest Redskins News. Topics of discussion consisted of: Redskin signings, depth at QB, the NFL Draft, and the offseason conditioning program starts April 15th. Remember

Share Tweet

On Thursday, the Washington Redskins brought back a another familiar face-10-year veteran gunslinger Rex Grossman. 2013 will be Grossman's fourth year in the DMV. From 2010-2012, the University of Florida product appeared in 17 contests and threw for

Share Tweet

Redskins finalize CB Hall's return for 2013

The Washington Redskins on Thursday finalized a one-year contract with cornerback DeAngelo Hall, who had been cut for salary cap reasons three weeks ago.

Share Tweet

"As 22-year-old Bryan [Harper] carves his own path through the Washington Nationals organization as a pitcher on its short-season Class A affiliate, his identity as Bryce Harper's brother persists," James Wagner wrote last summer. "I've grown to

Share Tweet

The Washington Wizards and Cleveland Cavaliers are ending 2012-13 on a snippy note

yahoo.com

Apr 4, 2013

Kyrie Irving, for a few quick minutes on Wednesday night, was thought to have just about had it with Cleveland Cavaliers coach Byron Scott. Following Cleveland's 113-95 thumping at the hands of the Brooklyn Nets, Elyria Chronicle-Telegram Cavs scribe Ri

Share Tweet

profootballtalk.com redskins.com

Apr 4, 2013

Don't count Kirk Cousins among those surprised that the Redskins added Pat White to their quarterback depth chart. During an interview with ESPN 980 on Wednesday, Cousins explained why White's arrival to a depth chart that also includes Rex Grossman a

Share Tweet

John Wall does a fashion spread for Modern Luxury

John Wall is gracing the cover of D.C. Modern Luxury's latest issue. The Wizards guard took time to pose for a fashion shoot for the publication's "Men of Style" feature, and the write up accompanying his photo is all … Continue reading →

Share Tweet

Hall, Tapp To Reunite In Washington

With official word that the Washington Redskins have resigned cornerback DeAngelo Hall, his teammates were excited to have him back to help defend the 2012 NFC East title. Hall has been with the Burgundy and Gold since 2008 when the team signed him to a…

Share Tweet

Gio Gonzalez: 'I felt like I was making love to my hand'

yahoo.com

Apr 4, 2013

Are you not entertained by left-hander Gio Gonzalez of the Washington Nationals? If it's not because of his pitching, it's his personality that makes Gonzalez one of the must-watch, must-listen-to guys in Major League Baseball. The Stew featured Gonzale…

Share Tweet

Breakfast links: Redskins add depth at QB

Good Thursday morning to you all. Here are some links. Washington Redskins The Redskins signed two quarterbacks Wednesday -- former West Virginia read-option quarterback Pat White, who's been out of football and suing the NFL for the past couple of year…

Share Tweet

Carmelo Anthony Has 90 Points In His Last 2 Games; The Best High School Players Show Out

dimemag.com

Apr 4, 2013

After Carmelo Anthony hung 50 points on the Miami Heat, we asked whether he was filming his own "Better Basketball: How To Score From Deep" DVD. And again, last night, we don't think Spike Lee was putting together any "Carmelo Doin' Work" vide

Share Tweet

Nationals Sweep Marlins

Apr 4

Jayson Werth hit a three-run home run to lead the Nationals past the Marlins 6-1.

Why Pat White dropped lawsuit against NFL

Apr 4

Jeff Darlington has the latest details on Redskins QB Pat White dropping his concussion lawsuit against the NFL shortly after signing with Washington.