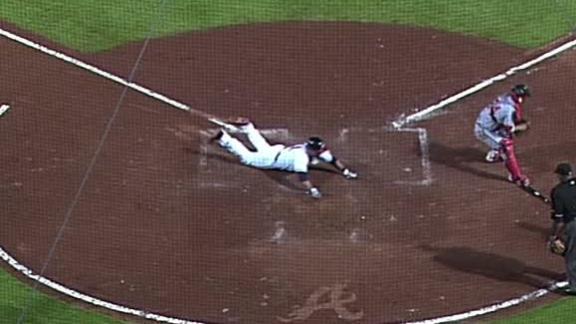 Updated Apr 29
Share
Tweet
Andrelton Simmons hit a tiebreaking sacrifice fly in the seventh inning, then made an eye-popping play to start the ninth as the Atlanta Braves beat the Washington Nationals 3-2 on Monday night and ended their four-game losing streak.
Source:
ESPN.com
Simmons' sac fly pushes Braves past Nats

Updated Apr 29

Share Tweet

Andrelton Simmons' seventh-inning sacrifice fly proved decisive for the Braves as they snapped a four-game losing streak and remained perfect against the Nationals with Monday night's 3-2 win at Turner Field.

Source:

MLB.com

Updated Apr 29

Share Tweet

WASHINGTON (AP) -- A groundbreaking pronouncement from NBA veteran Jason Collins - "I'm gay" - reverberated Monday through Washington, generating accolades from lawmakers on Twitter and a supportive phone call from President Barack Obama.

Sources:

CNNSI.com washingtonpost.com nba.com

Ravens among nine teams starting rookie minicamps Friday

Updated Apr 29

Share Tweet

The NFL's version of freshman orientation commences Friday for nine clubs, each of whom will have its rookies in for minicamp practices at its facilities. The Ravens, Falcons, Jaguars, Dolphins, Vikings, Patriots, Steelers, Buccaneers and Redskins will

ESPN's Chris Broussard clarifies his views on Jason Collins: 'I don't agree with homosexuality. I think it's a sin'

Updated Apr 29

Share Tweet

Most tune into ESPN's 'Outside the Lines' on weekday afternoons for a smart, sober take on sports issues — a welcomed respite from the inane "embrace debate"-ideal that clouds the network's typical gabfests. When news that Washington Wizards

Source:

yahoo.com

'Top 100 Players of 2013"²: Trent Williams

Updated Apr 29

Share Tweet

Washington Redskins left tackle Trent Williams is coming off of a season in which he earned his first Pro Bowl appearance and was recognized by Pro Football Focus as one of the best players in the league. The No. 4 overall pick in the 2010 NFL Draft hel…

Robert Griffin III Thanks the Fans

Updated Apr 29

Share Tweet

On Saturday the Redskins hosted its annual Draft Day Party at FedExField. There was a record setting 25,000 fans in attendance for the fun and festivities. The Redskins Broadcast Network caught up with Quarterback Robert Griffin III back stage after he …

London Fletcher on his surgeries

Updated Apr 29

Share Tweet

London Fletcher's iron-man NFL career had certain side benefits; by never getting seriously injured, for example, the Redskins linebacker never required offseason surgery. Until this offseason, that is, when he went under the knife twice, to correct bot

Source:

washingtonpost.com

RG3 says he can run "a little bit," plans to play Week 1

Updated Apr 29

Share Tweet

Washington quarterback Robert Griffin III told fans on Saturday that he's continuing to make good progress in rehabilitation from reconstructive knee surgery, and he expects to play in the opener against the Eagles on Monday, September 9. At the Redskin

Updated Apr 29

Share Tweet

The Redskins took seven players in this year's NFL draft over the weekend. Here is a collection of the best word uttered by and about some of those draft picks. "We do a lot of background checks. We talk to … Continue reading →

Sources:

washingtonpost.com ESPN.com

2013 Draft Members Have Chance To Start

Updated Apr 29

Share Tweet

(AP Photo) Unlike last year's draft where the Redskins were determined to move up from their original draft slot of sixth overall to draft one of the biggest college prospects, the team stood pat during the 2013 NFL Draft and let everyone know that they

Updated Apr 29

Share Tweet

Who's better, Bryce Harper or Mike Trout? One year after they reached the majors for good on the same day it's clear that the answer will change a lot, writes Joe Sheehan.

Source:

CNNSI.com

Redskins Social Media Weekly Spotlight

Updated Apr 29

Share Tweet

Welcome to your weekly Redskins Social Media Spotlight, where we highlight the trendy topics and social media campaigns going on this week in Redskins Nation. Check it out and make suggestions below. Last week's spotlight discussed why, and how, Kai For

Gio Gonzalez with Ed Helms, Psy at WHCD

Updated Apr 29

Share Tweet

While Robert Griffin III turned down his invitation to the White House Correspondents Dinner (though he hit up an afterparty), Nationals players Ryan Zimmerman, Gio Gonzalez and Tyler Clippard suited up on Saturday to rub elbows with the strange … Conti

Source:

washingtonpost.com

Josh Wilson takes $2 million reduction

Updated Apr 29

Share Tweet

A somewhat confusing report emerged during the draft regarding the new contract signed by cornerback Josh Wilson with the Redskins. My current goal is to make the situation less confusing. Which would be somewhat out of character. Per a source with know…

Braves Slip Past Nationals 3-2

Apr 29

The Braves beat the Nationals for the eighth straight time, dating back to last season.

Emeka Okafor Supports Jason Collins

Apr 29

Wizards C Emeka Okafor reacts positively to Jason Collins becoming the first active male player in a major team sport to announce he is gay.

The implications of coming out

Apr 29

Kevin Arnovitz and Jared Max discuss the implications of NBA center Jason Collins' coming out.

OTL: Jason Collins Discussion

Apr 29

LZ Granderson and Chris Broussard discuss Jason Collins' announcement that he is gay.

Sports Columnists

Toronto Raptors ramp up push to have Phil Jackson as president, sources sa…

Apr 29

The Toronto Raptors, emboldened by the news that the Sacramento Kings apparently won't be moving to Seattle, have ramped up their pursuit of Phil Jackson to be their new team president, according to sources close to the situation.

Nate McMillan to interview for Detroit Pistons coach, sources say

Apr 29

The Detroit Pistons have opened the interview process in their search for a new coach and are scheduled to sit down Tuesday with Nate McMillan, according to NBA coaching sources.