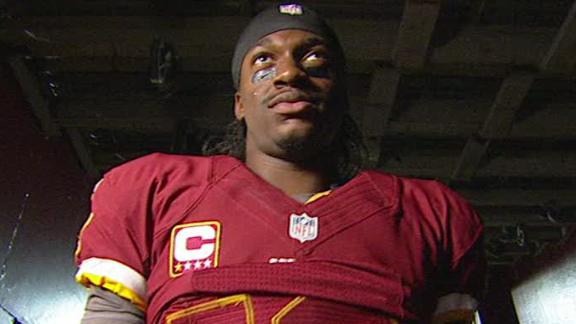 CNNSI.com
ESPN.com
profootballtalk.com
homermcfanboy.com
Updated Dec 3, 2012
The Redskins are creeping closer to an NFC East title. Washington won its third straight game by topping New York 17-16 to move within one game of the rival Giants in the division.
Share
Tweet
deadspin.com ESPN.com

Dec 3, 2012

Washington 17, New York Giants 16: Ugh, so gross. Moving on. The Giants could have gone a long way to wrapping up the division while also taking the air out of the Washington sails, but no. The Redskins are right in the thick of things despite...let's c…

Share Tweet

New York Giants right tackle Sean Locklear was carted off the field in the fourth quarter of Monday night's game against the Washington Redskins with an apparent right knee injury. Locklear was engaged with a defender when a Redskins player fell into Lo

Share Tweet

Espinosa not bothered by trade speculation

MLB.com

Dec 3, 2012

Nationals second baseman Danny Espinosa said Monday night that he is not bothered by the trade rumors that have him linked to the Rays.

Share Tweet

Post-fumble scrum could have resulted in ejections

After a Redskins fumble deep in Giants territory, a scrum emerged. Eventually, Redskins offensive lineman Will Montgomery, while laying on his back, kicked at the knee of Giants defensive lineman Linval Joseph. Joseph retaliated, with a kick to Montgome…

Share Tweet

The last time the Redskins hosted a Monday night game, Eagles quarterback Mike Vick had a night for the ages.  Now, his career in Philly most likely belongs to the ages. The declaration from coach Andy Reid that rookie Nick Foles will serve as the start…

Share Tweet

Your Monday Night Football Open Thread

You might not know this because you are not a famous person, but the Giants and Redskins are your Monday Night Football game this week. More »

Share Tweet

profootballtalk.com yahoo.com

Dec 3, 2012

Redskins linebacker London Fletcher will play his 236th consecutive game tonight. The 37-year-old Fletcher is active for the Redskins against the Giants, keeping his streak of consecutive games played intact. Fletcher has never missed a game, starting w…

Share Tweet

Deadspin Up All Night: Hey Believer

Thank you for your continued support of Deadspin. You've got six NBA games and some college basketball, plus Giants-Redskins on Monday Night Football. More »

Share Tweet

ESPN.com profootballtalk.com

Dec 3, 2012

New York Giants safety Kenny Phillips and defensive end Jason Pierre-Paul were active and played Monday against the Washington Redskins.

Share Tweet

Duke agrees to 1-year deal to stay with Nats

ESPN.com

Dec 3, 2012

Left-hander Zach Duke has agreed to a one-year contract to stay with the Washington Nationals.

Share Tweet

MLB, Having Given The Orioles' Owner Control Over Nats TV, Begs Fox To Buy Him Out

Tucked away in this Sports Business Daily article about Fox's ongoing quest to amass an empire of regional sports networks is this nugget, concerning Fox's attempts to buy MASN, the network that broadcasts Orioles and Nationals games, from Orioles owner…

Share Tweet

ESPN's Twitter Has The Thirst, Is Asking Every Famous Person For Monday Night Football Predictions

Who's in charge of ESPN's Twitter account, and why are they tweeting at a bunch of famous people about tonight's Giants-Redskins game? Trying to boost ratings? A game between the defending Super Bowl champions and a team with one of the season's most ex…

Share Tweet

MNF preview: Giants get their second shot at RG3"²s option offense

yahoo.com

Dec 3, 2012

Monday Night Football 8:30 p.m. ET New York Giants (7-4) at Washington Redskins (5-6) FedEx Field, Landover, MD When the New York Giants beat the Washington Redskins 27-23 on October 21, the winning team walked away with an unusual feeling of foreboding…

Share Tweet

yahoo.com

Dec 3, 2012

You guys aren't going to believe this, but getting one win didn't solve all of the Washington Wizards' issues. Following an 84-82 victory over the Portland Trail Blazers that gave the District dozen their first mark on the "W" side of the ledg…

Share Tweet

PFT Live: Chiefs talk with Adam Teicher, Redskins talk with Rich Tandler

It was a weekend filled with competing emotions in Kansas City and we'll be talking about it on Monday's PFT Live. Adam Teicher of the Kansas City Star will join Mike Florio to talk about everything that went on around the Chiefs over the last two day

Share Tweet

Washington Redskins WR Pierre Garcon: 'We needed a win'

Dec 3

Washington Redskins WR Pierre Garcon talks to Kim Jones after the game about his solid game and his ability to come back from injury and help his team win.

New York Giants vs. Washington Redskins highlights

Dec 3

The Washington Redskins receive some impressive running from Alfred Morris and hold the New York Giants to just three points in the second half to knock off them off 17-16 on Monday night.

Giants Lead Redskins At The Half

Dec 3

Tune to ESPN for live action.

Redskins Lead Giants After 1st Quarter

Dec 3

Tune to ESPN for live action.