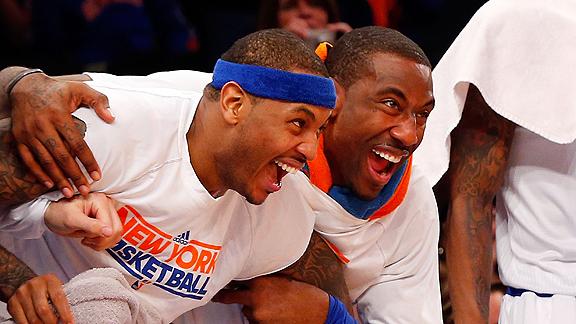 ESPN.com
Updated Feb 6, 2013
John Wall had 21 points and nine assists, Trevor Ariza scored 20 points and the Washington Wizards broke the New York Knicks' five-game winning streak with a 106-96 victory on Wednesday night.
Share
Tweet
Praise Jesus and Rick Ankiel, there IS life for a major league pitcher after injuries and control issues make his career go kaput. The Washington Nationals signed Micah Owings today ... as a first baseman. Partially because Owings always showed that he …

Share Tweet

profootballtalk.com ESPN.com

Feb 6, 2013

Redskins quarterback Kirk Cousins wasn't used to the red carpet, but he said he's going to spend his offseason trying to make teammates comfortable with the idea of him in the spotlight. Cousins walked through the NFL Honors show Saturday in New Orlea

Share Tweet

The Jets' New Special Teams Coach Once Got Doinked On The Head By A Botched Snap

deadspin.com

Feb 6, 2013

Before there was the buttfumble, there was this, from 1993: Jets holder Louie Aguiar hilariously getting knocked in the head by a Roger Duffy snap on an attempted field goal. The ball was recovered by the Redskins. The play was so ridiculous, so Jetsie,…

Share Tweet

Jordan Black cleared to participate in offseason workouts

profootballtalk.com

Feb 6, 2013

Redskins tackle Jordan Black still has a game left on his suspension for violating the league's performance-enhancing drugs policy, but that suspension is on hold for the offseason. According to Mike Jones of the Washington Post, the league confirmed th

Share Tweet

Vincent Gray won't say 'Redskins' in State of the District address

washingtonpost.com

Feb 6, 2013

On the one hand, any item having to do with the Redskins nickname is stale and overdone and repetitive and makes readers hate me and lessens my chances of getting random people to buy me cheap domestic drafts in area … Continue reading →

Share Tweet

Breakfast links: Giants' retooling defense

ESPN.com

Feb 6, 2013

Washington Redskins The dude accused of assaulting Trent Williams in a Honolulu nightclub before the Pro Bowl says he's not guilty. Which is weird, since it seems like a ton of people saw what happened. But I wasn't one of them, so what do I know? Redsk…

Share Tweet

Wizards Snap Knicks' Five-Game Win Streak

Feb 6

Trevor Ariza and Martell Webster each drain five 3-pointers to lead Wizards to 106-96 win over Knicks.

Knicks Update with Ian Begley

Feb 6

Cary Chow and Ian Begley on Amar'e Stoudemire's surge, the key to the Big 3's chemistry on the floor, and Tyson Chandler's thoughts on the team one year removed from Linsanity.