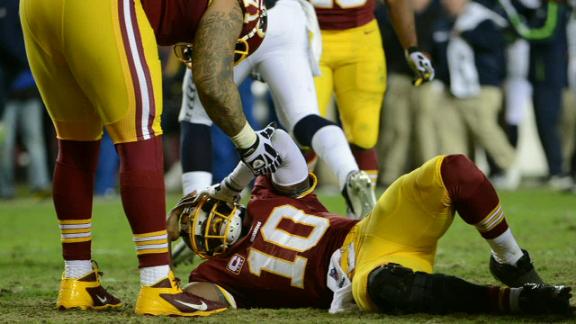 Updated Jan 7
Share
Tweet
Washington Redskins quarterback Robert Griffin III suffered a partially torn lateral collateral ligament in his right knee, a source told ESPN's Brett McMurphy.
Updated Jan 7

Share Tweet

Robert Griffin III lit up the NFL in his rookie season with his magical legs, strong arm and electric personality, but a total breakdown on the Redskins sideline could prevent him from performing the second most important job in Washington for all or pa…

Updated Jan 7

Share Tweet

Bradley Beal made a jumper with 0.3 seconds left after using a pump fake to get open, and the short-handed Washington Wizards beat the Oklahoma City Thunder 101-99 Monday night.

RG III injury: Q&A with Stephania Bell

Updated Jan 7

Share Tweet

I am not an expert on the way the human knee is constructed, yet I find myself tasked with writing on that topic as we continue to cover the injury to the right knee of Washington Redskins quarterback Robert Griffin III. So I reached out to ESPN.com inj…

Updated Jan 7

Share Tweet

RICHMOND, Va. (AP) -- Henriette "Etty" Allen, matriarch of a famed American football family and mother to former Virginia Gov. George F. Allen, has died. She was 90.

Updated Jan 7

Share Tweet

Nene and Jordan Crawford are out for the Washington Wizards against the Oklahoma City Thunder on Monday night.

Source:

nba.com

Updated Jan 7

Share Tweet

Defensive end Chris Clemons wasn't the only member of the Seahawks to pick up an injury in Sunday's victory over the Redskins. Kicker Steven Hauschka injured his left calf during the game, which limited him to extra points and field goals while punter

Updated Jan 7

Share Tweet

Shortly after Sunday's 24-14 win over the Redskins, Darin Gantt reported that the Seahawks feared defensive end Chris Clemons suffered an ACL injury. Those fears have reportedly been realized. Ian Rapoport of the NFL Network reports that Clemons has tor

Fred Smoot Is The One Spreading All Those Rumors About Robert Griffin III's Shredded Knee

Updated Jan 7

Share Tweet

The world is eager for word on the condition of Robert Griffin III's knee, which he injured thanks to either his coach or his field or maybe the terms of Dan Snyder's deal with the devil. Mike Shanahan was less than forthcoming at his press conference t…

Updated Jan 7

Share Tweet

In the absence of information, we are left to connect dots, and connecting the Washington Redskins' dots Monday with regard to the condition of quarterback Robert Griffin III and his injured right knee does not result in a pretty picture. The first time…

Position statement: Redskins can't trade a QB

Updated Jan 7

Share Tweet

At first, we believed the Redskins were foolish for selecting Kirk Cousins in the fourth round of the 2012 draft after making Robert Griffin III their top choice in the same year. Now, after RGIII has proven he isn't immune to injury, we praise Washingt…

Source:

yahoo.com

Updated Jan 7

Share Tweet

The Seahawks beat the Redskins on Sunday at FedEx Field.  But Seattle coach Pete Carroll wasn't happy with the quality of the turf. "It was horrible," Carroll told Brock & Salk of ESPN 710.  "It's a horrible field.  It's as bad as a field c

DeAngelo Hall willing to talk renegotiation to stay in Washington

Updated Jan 7

Share Tweet

It was an eventful season for the Redskins as a team and an eventful one for cornerback DeAngelo Hall as an individual, and Hall said Monday that he's open to doing whatever it takes to do it all over again in 2013. Hall is due to make $7.5 million next

Mike Shanahan meets the media again at 3:00 p.m. ET

Updated Jan 7

Share Tweet

To his credit, he's not heading off to the Bahamas for a week or otherwise getting out of a kitchen overheated by a reinjured knee.  Instead, Redskins coach Mike Shanahan will show up on Monday for an end-of-season session with the media, a day after t

Updated Jan 7

Share Tweet

Rob Parker, the ESPN commentator who was suspended for 30 says after questioning whether Redskins quarterback Robert Griffin III is authentically black because he has a white fiancee, says he was surprised by the backlash. Parker said on Flashpoint on C…

The Redskins Were Done In By Their Own "Crappy" Field

Updated Jan 7

Share Tweet

Here's Pierre Garcon, on the soupy, sloppy, green-painted dirt that passes for grass between the hash marks at FedEx Field: More »

Updated Jan 7

Share Tweet

By Troy Jefferson The Washington Redskins' magical run came to an abrupt end when the Seahawks came to town. For the third time since 2005, the Seattle Seahawks knocked the Redskins out of the playoffs. The Redskins got off to a wonderful start and it l

Sources:

redskinsgab.com nytimes.com

PFT Live: Redskins talk with Rich Tandler

Updated Jan 7

Share Tweet

There's little doubt about the biggest story to come out of Wild Card Weekend. It's the handling of Redskins quarterback Robert Griffin III's knee injury and Mike Florio will welcome Rich Tandler of CSN Washington on PFT Live to discuss it. Griffin

The Redskins May Have Been Pumping Artificial Crowd Noise Into The Stadium During Yesterday's Game

Updated Jan 7

Share Tweet

This morning, DC sports blogger Dan Steinberg retweeted a number of tweets from Redskins fans who claimed to have heard fake crowd noise coming from the FedExField PA system at yesterday's NFC Wild Card game. More »

Cowboys, Giants have a similar problem

Updated Jan 7

Share Tweet

So I was sitting here on Redskins playoff detox, catching up on the division's other teams, and I got to reading this Calvin Watkins item on the Dallas Cowboys' running game. And it got me thinking about the New York Giants' running game, which has a si…

Updated Jan 7

Share Tweet

After the conclusion of Sunday's Seahawks-Redskins game, Washington left tackle Trent Williams put a hand in the face of Seattle cornerback Richard Sherman. Williams later expressed remorse for his conduct. "Just high emotions, man, and, you know, I l

An Autographed Jason Campbell Jersey Exists, And This Guy Behind Erin Andrews Is Wearing It

Updated Jan 7

Share Tweet

Jason Campbell's years as the Skins' starting quarterback were unremarkable; he accumulated an 18-27 record there, and while he does have the tenth-lowest career interception percentage in NFL history, he shares that mark with luminaries like David Garr…

Updated Jan 7

Share Tweet

1. "Come Alive" by Prospect Hill Coming into their wild card match-up against the Seattle Seahawks, the Washington Redskins had a pretty clear and straight forward game plan. On defense, they wanted to do their best to neutralize running back Marshawn

Source:

homermcfanboy.com

Updated Jan 7

Share Tweet

The Redskins' playoff loss to the Seahawks may have been the final game of linebacker London Fletcher's career. "I'll take some time to let the emotions of the season kind of get away, refresh a little bit and then sit down with my family and make

Wizards Stun Thunder

Jan 7

Bradley Beal's late jumper lifts Wizards past Thunder for just their fifth win.

NFL32OT: RG III Goes Down In Loss

Jan 7

Episode 243: Suzy Kolber and Chris Mortensen discuss whether keeping Robert Griffin III in the game was the right decision. Adam Schefter breaks down the hiring of Bills new head coach Doug Marrone. The NFL32 crew discuss the Ravens-Broncos matchup.

Robert Griffin III Will See Dr. Andrews For Further Examination

Jan 7

John Clayton with the latest on Robert Griffin III's injury.

Report: MRI suggests partial knee tears for Washington Redskins quarterback Robert Griffin III

Jan 7

Jeff Darlington has the latest on Washington Redskins quarterback Robert Griffin III's knee injury after an MRI reportedly suggested partial tears to his ACL and LCL.