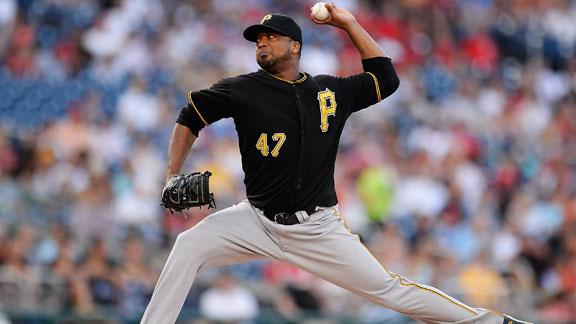 Pirates left-hander Francisco Liriano did not allow a hit until the sixth inning against a struggling and depleted Nationals lineup, and Pedro Alvarez homered off an otherwise-dominant Stephen Strasburg, leading Pittsburgh past Washington 4-2.
Share
Tweet
ESPN.com

Jul 24, 2013

LAS VEGAS -- The Washington Wizards are in advanced talks on a contract extension with star point guard John Wall on a deal expected to land in the five-year, $80 million range, according to sources close to the process.

Share Tweet

ESPN.com

Jul 24, 2013

Robert Griffin III put on his knee brace and passed the perfunctory Washington Redskins conditioning test on the eve of training camp, then declared he has "nothing left to prove" -- at least physically -- in his return from major knee surgery.

Share Tweet

RG III to be limited in practice at Redkins camp

CNNSI.com

Jul 24, 2013

RICHMOND, Va. (AP) -- Robert Griffin III says he doesn't think he'll be playing in any preseason games.

Share Tweet

profootballtalk.com

Jul 24, 2013

Hall of Fame cornerback Darrell Green always had great speed, and he can still backpedal. Green and fellow Redskins legend Art Monk were drawn into a discussion about the Redskins nickname yesterday, and Green said "It deserves and warrants conversation…

Share Tweet

(AP Image) It's the little things in life that mean the most. The players took the field earlier today for some conditioning tests to make sure they are in shape and fully prepared for the next few weeks. Drumroll please—everyone passed! Bravo, guys. Gl…

Share Tweet

yahoo.com profootballtalk.com

Jul 24, 2013

Washington Redskins quarterback Robert Griffin III has been cleared to practice during training camp, but told reporters on Wednesday that while he will be able to play in the third preseason game, he does not expect to play at all before the regular se…

Share Tweet

profootballtalk.com

Jul 24, 2013

Redskins defensive end Adam Carriker said in June that he expected to start training camp on the PUP list and that looks like a prediction that will come true. When he might get off that list is the subject of considerably less clarity. Tarik El-Bashir …

Share Tweet

Player's Turn: London Fletcher At The Mic

Few things pass linebacker London Fletcher these days that could be labeled as a "first". The former Division III star has started a Super Bowl, appeared in multiple Pro Bowls and led the Washington Redskins defense in tackles. Well there is a first tim…

Share Tweet

Tuesday morning, Darrell Green and Art Monk offered measured statements about the Redskins name, telling WTOP that a name change should at least be considered. As with many things this time of year, that relatively mild position quickly became national …

Share Tweet

redskins.com washingtonpost.com

Jul 24, 2013

Guess what Redskins Nation? Training camp kicks off in less than 24 hours from now! Okay so I really didn't need to tell you that as the anticipation for the Washington Redskins first training camp in Richmond has been off the charts for weeks now. The …

Share Tweet

A Quick Byte from Redskins Training Camp

Beginning with player check-in day on Wednesday, July 24, Redskins.com's Brian Tinsman and Alex Corddry will give a daily update from Redskins Training Camp in Richmond, Va. Today, the crew shoots live from the Bon Secours Washington Redskins Training C…

Share Tweet

Redskins 2013 season tickets

Perhaps the biggest complaint I heard from fans when the Nats moved to electronic season ticket cards this season was the elimination of paper tickets as souvenirs. Sure, the team offers commemorative ticket stubs for a fee, but they're kind … Continue …

Share Tweet

The Equipment Beat Traffic And Is Here

(AP photo) All throughout yesterday the Washington Redskins packed their bags and left the comfy confines of Redskins Park en route to the Bon Secours Training Center just a few miles south in Richmond. The players tweeted out their excitement on the ev…

Share Tweet

Chris Baker, Martell Webster sing slow jams (Video)

Not many athletes have embraced the art of Instagram videos. But Redskins nose tackle Chris Baker and Wizards swingman Martell Webster have, and that's good news for the Bog. Baker decided to sing a few old-school jams while heading to … Continue readin…

Share Tweet

Liriano Outduels Strasburg

Jul 24

Francisco Liriano tossed 7 2/3 scoreless innings with eight strikeouts as the Pirates handed the Nationals their sixth straight loss.

Is preseason important for Washington Redskins quarterback Robert Griffin III?

Jul 24

"NFL Total Access" analysts Willie McGinest and Sean O'Hara debate whether or not it's important for Robert Griffin III to play in preseason games.

Robert Griffin III overstepping boundaries?

Jul 24

Washington Redskins quarterback Robert Griffin III told the media on Wednesday that he doesn't think he'll play in the preseason unless its a "necessity," but was he overstepping boundaries. Our experts debate.