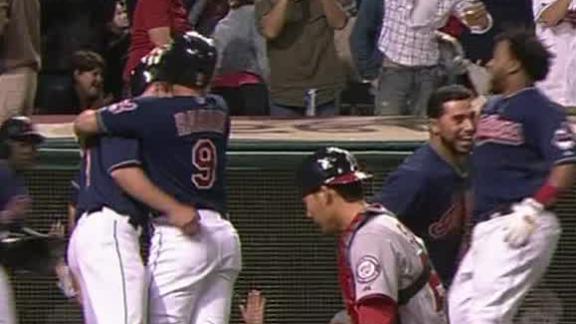 Jason Kipnis' run-scoring fielder's choice in the ninth inning lifted the Cleveland Indians to a 2-1 victory over the Washington Nationals on Friday night.
Share
Tweet
22-0?! Democrats rout Republicans in annual Congressional Baseball Game

yahoo.com

Jun 14, 2013

Your browser does not support iframes.There are plenty of possibilities for political jabs in this news: The Democrats beat the Republicans 22-0 in the 2013 Congressional Baseball Game, held Thursday at Nationals Park in Washington D.C. Of the baseball …

Share Tweet

DeAngelo Hall was close to taking a year off

profootballtalk.com

Jun 14, 2013

Having already established that being overpaid once gave him a certain liberty, DeAngelo Hall wasn't sure he wanted to keep playing football. The Redskins cornerback said that after being cut this offseason, he nearly decided to take the year off, befor

Share Tweet

Mark Turgeon at Orioles game, man in RGIII jersey at Rockies game

washingtonpost.com

Jun 14, 2013

Following another item I wrote today, a commenter suggested — as people often do — that my bosses are forcing me to write X number of items about the Redskins name. This despite hundreds of assurances by me that this … Continue reading →

Share Tweet

Redskins name can't properly be assessed without considering man who coined it

profootballtalk.com

Jun 14, 2013

The Redskins will never change their name (says Daniel Snyder), but they will spend money to try to help stem the slowly-but-surely growing tide of disorganized opposition to it. And with each move the Redskins make to prop up a name that, unlike any ot…

Share Tweet

Phil Jackson, Scott Fujita, Taiwanese animators on 'Redskins'

washingtonpost.com

Jun 14, 2013

Because this is a day in which people consumed food, and got married, and put their children to bed, and ate powdered cheese product, and pondered what it means to be human beings in this crazy mixed-up universe, this is … Continue reading →

Share Tweet

"Griffining" Appears On NFL's Top Plays

With just a little over one month until the Washington Redskins pack up their belongings and head over 100 miles south to Virginia's Capital, the hype surrounding this team steadily grows with each X mark off another June day on your office calendar. Wi…

Share Tweet

Redskins Chime In On Tebow Signing In NE

(AP Image) After the conclusion of a news-filled week of minicamp activities at Redskins Park, Redskins.com intern Kevin Knight shares some of the players thoughts on the New England Patriots signing quarterback Tim Tebow. News of Tim Tebow signing with…

Share Tweet

The Redskins' backup plan at quarterback

ESPN.com

Jun 14, 2013

ASHBURN, Va. -- This is a tough trick Kirk Cousins is attempting. He's working to establish his bona fides as an NFL starting quarterback while the world can't stop asking how soon he'll return to a backup role. Cousins has been working as the Washingto…

Share Tweet

Coaching Isn't Easiest Post-Career Job

(AP Images) The Washington Redskins have employed some of the greatest head coaches in history to include George Allen, Joe Gibbs and Mike Shanahan. All three men had extensive coaching backgrounds to include several coordinator positions before taking …

Share Tweet

ESPN.com

Jun 14, 2013

Washington Redskins The injury rehabilitation of Robert Griffin III and Brian Orakpo is going well, but the news on Adam Carriker is not as good. He suffered a setback in his recovery from the injury that ended his 2012 season and he'll likely have to s…

Share Tweet

Indians Walk Off With Win

Jun 14

The Indians beat the throw home in the ninth to walk off against the Nationals.