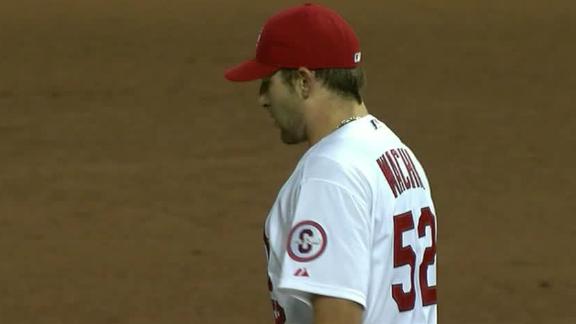 Cardinals rookie Michael Wacha lost his no-hit bid on Ryan Zimmerman's infield single with two outs in the ninth inning, and St. Louis beat the Washington Nationals 2-0 Tuesday night to close in on the NL Central title.
Share
Tweet
Redskins Film Review: Offense

1. Left tackle Trent Williams had a terrific game a week ago at Green Bay. But I have not seen the Pro Bowl performer in the Redskins' other two games, including Sunday. He gave up too much pressure, especially for a guy who has the talent to be an elit…

Share Tweet

Auction to help families affected by Navy Yard tragedy

Bidding is under way through 8 p.m. ET on Thursday for 41 signed patriotic jerseys worn by the Nationals during the emotional first game of their Sept. 17 home doubleheader, with all proceeds going to help families affected by the previous day's nearby …

Share Tweet

The good and bad from Robert Griffin III's game against the Detroit Lions. 1. Overall more steps in the right direction. Griffin's scramble was good; the Lions were not worried about him running on the zone-read. On his second run, both the end and outs…

Share Tweet

Going from 0-3 to the playoffs is not easy -- only three teams have done so since 1990. It's something the Washington Redskins are trying to do now. Thanks to ESPN Stats & Information, here's a look at how those teams, plus the only other two teams …

Share Tweet

Kevin Seraphin dancing and John Wall playing kickball

A bunch of Wizards visited Capital City Public Charter School on Tuesday, as part of the team's new fitness initiative that will encourage participation in physical activity. This led to a video of Kevin Seraphin dancing, and another video of … Continue…

Share Tweet

The Play/Call That Changed Momentum

(AP Image) In the most deflating moment of the Washington Redskins season, the team was snake-bitten by the "Calvin Johnson" rule named after the Detroit Lions' All-Pro wide receiver. In the fourth quarter of Sunday's game Aldrick Robinson, who has a hi…

Share Tweet

Jeffrey Wright defends 'Redskins' name

Actor Jeffrey Wright went on FXX's "Totally Biased" with W. Kamau Bell on Monday night, ostensibly to discuss his new role as villain Dr. Valentin Narcisse on Boardwalk Empire and his role in the Hunger Games sequel. But really, all the … Continue readi…

Share Tweet

Wait Till November: Panic is setting in for the 0-3 Redskins. But Pet…

CNNSI.com

Sep 24, 2013

Panic is setting in for the 0-3 Redskins. But Peter King says patience is needed -- especially when it comes to RGIII.

Share Tweet

Weekly Redskins Stat Ranking Update

(AP Image) While the only stat that will every mean anything to a Washington Redskin is wins (and a frustrating 0-for has the players' determination at an all-time high), individual performances count too. For the remainder of the season, Redskins Blog …

Share Tweet

The Redskins, the Lions and Eminem

Late in Sunday's Redskins game, the home team knocked through a short field goal to draw within seven points, and then prepared for an onsides kick. Then Detroit took a timeout. With an extra block of time to fill, FedEx … Continue reading →

Share Tweet

Redskins' confidence shaken

ASHBURN, Va. – The Washington Redskins had a quarterback who wasn't exactly himself and a defense that wasn't among the NFL's best. Yet they kept winning late last season, as the offense kept surging even with a hobbled Robert Griffin III. While the def…

Share Tweet

Mike Shanahan On Fans: 'They're Our MVP'

(AP Image) No matter what the score is at the end of the day, it's a known fact that Washington Redskins fans will stand pat by their team. Through thick and think, they prove each and every day that they are the best fans in the world. While the team h…

Share Tweet

(AP Image) It's that time of the week once again where Redskins Blog fanatics get a chance to see whether or not they have a future career in the physic palm reading business. Each week we ask you before the game to vote on which player will have the be…

Share Tweet

Could the Redskins be playing for first place soon?

Look, there's a reason it's called "Morning Pixels" and not "Late-Night Pixels." Sober, rational analysis of local teams should properly be composed at the office, while wearing business clothes, drinking cheap deli coffee, in the harsh morning glare of…

Share Tweet

ASHBURN, Va. -- Washington Redskins coach Mike Shanahan didn't have a problem with Robert Griffin III's decisions. He did have a problem with the end results. Shanahan said Griffin did not make a mistake on his second-quarter interception in Sunday's lo…

Share Tweet

The Pittsburgh Pirates are going to the playoffs for the first time in 21 years, having clinched at least a National League wild card Monday night when they beat the Chicago Cubs 2-1 and the Washington Nationals lost to St. Louis.

Share Tweet

During the Winter Meetings last year, after watching his team agree to terms with right-hander Dan Haren, Nationals manager Davey Johnson made a bold prediction: "World Series or bust." It looks like "bust" as the Nationals were edge…

Share Tweet

Cards eliminate Nats, magic number to four

The Cardinals took another step toward the National League Central crown Monday. St. Louis opened their last homestand with a 4-3 win over the Nationals, dropping their magic number to clinch the division to four over the Pirates and the Reds. They can …

Share Tweet

Washington Redskins linebacker Fletcher: 'Not wise' for San Francisco 49ers to play linebacker Aldon Smith

Sep 24

Washington Redskins linebacker London Fletcher feels the San Francisco 49ers could have made a better decision for the team and Aldon Smith by keeping him out of Sunday's game.

London Fletcher on Washington Redskins' defensive struggles

Sep 24

Veteran Washington Redskins linebacker London Fletcher breaks down the team's defensive struggles this season and the team's plan to turn it around.

NFL Nation Buzz: Redskins

Sep 24

ESPN Redskins reporter John Keim suggests that it's the defense and not RG III that is to blame for the Redskins' woes.

Wacha One Out Shy Of No-No

Sep 24

Highlight Of The Night: With Ryan Zimmerman running out a single, Michael Wacha fell one out shy of throwing a no-hitter in the Cardinals' 2-0 win over the Nationals.