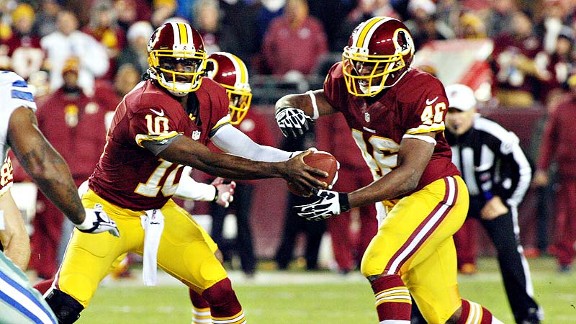 Redskins remain confident in zone read
ESPN.com
Updated Sep 27, 2013
ASHBURN, Va. -- They ran linebackers at the quarterback, forcing him to hand off -- even if he wasn't going to do so already. They crashed the end on the running back and sent the outside linebacker wide. Just in case Robert Griffin III kept the ball. I…
Share
Tweet
Oakland Raiders quarterback Terrelle Pryor has been medically cleared to play Sunday against the Washington Redskins, but Oakland wants him to pass one more test Saturday before making a decision on his availability.

Share Tweet

John Wall on meeting RGIII in high school

John Wall sat in with Holden and Danny on 106.7 The Fan for Wizards media day on Friday, and told a story that's new to me. When Wall was a senior in high school, he visited Baylor and met RGIII, … Continue reading →

Share Tweet

ASHBURN, Va. -- Two of the Washington Redskins' four tight ends are listed as questionable for Sunday's game at the Oakland Raiders. Tight ends Fred Davis and Jordan Reed are questionable along with place kicker Kai Forbath (groin), cornerback Jerome Mu…

Share Tweet

The Fukuburger food truck and the Redskins

Colin Fukunaga has cooked for millionaires and CEOs. He's met celebrities and done catering inside mansions. Sunday, though, will mark one of the highlights of his culinary career. That's when Fukunaga and his pals will drive a rented food truck … Conti…

Share Tweet

Orakpo Leads To Sleepless Nights In OAK

redskins.com

Sep 27, 2013

Click to view slideshow. What happens when you unleash a 6-4, 257-pound linebacker who loves to feast on his favorite dish of quarterback on a silver and black target that doesn't blend in with the surroundings? Four sacks. Now in his fifth year with th…

Share Tweet

ESPN.com redskins.com

Sep 27, 2013

The Washington Redskins, with their still-healing franchise quarterback seemingly rounding back into shape, are 0-3 for the first time since 2001. The Oakland Raiders, with their young quarterback in question after a concussion, are coming off a spankin…

Share Tweet

Lessons Learned: David Amerson

ASHBURN, Va. -- I did not expect to do another one of these with David Amerson so soon, having just talked to him about lessons he learned a week ago. But Amerson is a young guy in an important role for the Redskins' defense. Lessons will be learned eve…

Share Tweet

Washington Wizards owner Ted Leonsis backs GM Ernie Grunfeld in the face of one rough question

yahoo.com

Sep 27, 2013

Washington Wizards general manager Ernie Grunfeld was hired by the team in 2003, and though he presided over Washington's best playoff run in two decades from 2004-2008 (three first and one second round appearance), overall his teams have missed the pos…

Share Tweet

Emmitt Smith calls Redskins fans 'wishy-washy'

Emmitt Smith was on "The Sports Fix" on ESPN 980 yesterday, and gave this warning to Redskins fans. Shape up, or the Redskins players won't want you around. In response to a question about fans getting impatient, he had this … Continue reading →

Share Tweet

Friday Conversation: Santana Moss

ASHBURN, Va. -- Washington Redskins receiver Santana Moss needs just five more catches to tie Gary Clark for third on the franchise's all-time list with 549 (in second: Charley Taylor at 649). It's safe to say the 2005 trade that brought Moss to Washing…

Share Tweet

nytimes.com

Sep 27, 2013

Arizona has a veteran quarterback, Carson Palmer, to get the ball to wide receiver Larry Fitzgerald. Tampa Bay has a revamped secondary that should hamper the Cardinals' passing attack.

Share Tweet

Nationals Power Past Diamondbacks

Sep 27

Jayson Werth's home run lifted the Nationals past the Diamondbacks 8-4.