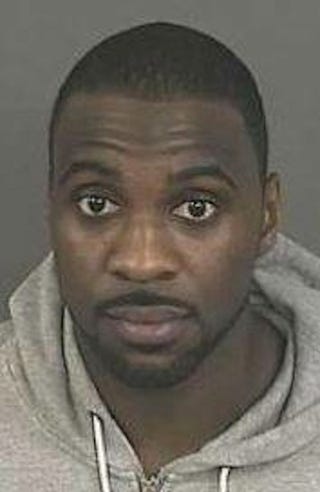 deadspin.com
ESPN.com
nba.com
yahoo.com
Updated Jan 23 (2 days ago)
According to 9 News Colorado, Nuggets point guard Ty Lawson was arrested early this morning for a suspected DUI.Read more...
Upvote
Share
Tweet
Watch Kenneth Faried Launch Off Two Feet From Half-Circle For Power Dunk

dimemag.com

Jan 21 (4 days ago)

Of the countless times we're amazed while watching NBA basketball is when a player explodes off two feet to travel a vast horizontal distance. Kenneth Faried perhaps does so better and more frequently than anyone. Watch the Denver Nuggets high-flier soa…

Upvote Share Tweet

Leonard solid again as Spurs win 4th straight

ESPN.com

Jan 21 (5 days ago)

Kawhi Leonard had 17 points and 15 rebounds in another strong outing since returning from a hand injury, and the San Antonio Spurs won their fourth in a row by beating the Denver Nuggets 109-99 on Tuesday night.

Upvote Share Tweet

dimemag.com

Jan 16

We don't use the term "baptism" lightly to describe poster dunks – a player really has to earn it. Wilson Chandler certainly did here. Watch the Denver Nuggets swingman baptize Tyson Chandler on an epic facial jam early in his team's game versus the Dal…

Upvote Share Tweet

Dime Q&A: Ty Lawson On Amateurism, Point Guards, & Denver's Playoff Hopes

dimemag.com

Jan 15

The first half of 2014-2015 hasn't gone how the Denver Nuggets envisioned. Plagued by an unrelenting injury bug and a dreadful six-game losing streak in early November, the Nuggets find themselves on the outside looking in on the loaded Western Conferen…

Upvote Share Tweet

The Boston Celtics announced today that they have acquired guard Nate Robinson from the Denver Nuggets in exchange for guard Jameer Nelson.

Upvote Share Tweet

ESPN.com nba.com dimemag.com

Jan 8

How did the Cleveland Cavaliers acquire center Timofey Mozgov from the Denver Nuggets? Brian Windhorst examines.

Upvote Share Tweet

nba.com

Jan 5

Minnesota coach Flip Saunders missed the Timberwolves' game against Denver on Monday night because of an illness.

Upvote Share Tweet

yahoo.com

Jan 5

In the 1960s, former Boston Celtics guard and then-coach Bill Sharman invented the game-day shootaround, a way to ensure his players were all on the same page heading into that evening's contest without having to put them through the paces of a full-on …

Upvote Share Tweet

Byron Scott Wants Kobe To Shoot More. No, Really. 

deadspin.com

Jan 4

Since Kobe Bryant came back from a week of DNP - Old, the Lakers have gone 1-2, with a win over the Nuggets featuring an old-man triple-double from Kobe, and a close loss to the Grizzlies, a much better team than the Lakers. By any measure, this represe…

Upvote Share Tweet

GIF: Derrick Rose To Jimmy Butler Alley-Oop

dimemag.com

Jan 2

Jimmy Butler almost had a triple-double against the Nuggets during their Thursday night win, 106-101. Derrick Rose overcame a scoreless first half to drop 13 points in the final session to help hold Denver off. The two backcourt stars also combined forc…

Upvote Share Tweet

ESPN.com

Dec 31, 2014

Kobe Bryant had 23 points, 11 assists and 11 rebounds for his 21st career triple-double, and the Los Angeles Lakers held off the Denver Nuggets 111-103 on Tuesday night to end a three-game losing streak.

Upvote Share Tweet

Lou Williams Makes Sure To DAP Road Raptors Fan

dimemag.com

Dec 29, 2014

The Raptors have claimed eight of their last 10 games after beating the Nuggets 116-102 on Sunday in Denver. Toronto's lethal Louis "Lou" Williams off the bench has been particularly accurate with DeMar DeRozan down. Sweet Lou poured in 31 on Sunday, bu…

Upvote Share Tweet

GIF: Manimal Coast-To-Coast Euro-Step During Franchise-First 26 Points & 25 Boards

dimemag.com

Dec 27, 2014

Never before has a Denver Nuggets player scored 26 points and ripped 25 boards in the same game. Kenneth Faried, saying after the game, "My back wasn't tight. I felt loose and limber, like I was playing back at USA Basketball," didn't get a single call …

Upvote Share Tweet

ESPN.com

Dec 23, 2014

Brooklyn Nets center Brook Lopez is available to play Tuesday night against the Denver Nuggets, whereas guard Deron Williams will miss his second straight game.

Upvote Share Tweet

Watch Cody Zeller Posterize Kenneth Faried With Towering Monster Jam

dimemag.com

Dec 23, 2014

The Denver Nuggets' Kenneth Faried is certainly no stranger to using his explosive athleticism to put his defender on a poster. However, on Monday the tables turned, as the Manimal found himself on the other end of an absolute rim rocker by the hands of…

Upvote Share Tweet

Timofey Mozgov Had A Rough Night

deadspin.com

Dec 22, 2014

Not only did the Nuggets get their butts kicked in Charlotte tonight, but Denver center Timofey Mozgov ended up bloodied after this one-two punch to the face:Read more...

Upvote Share Tweet

Nuggets forward Danilo Gallinari has a torn meniscus in his right knee and is expected to undergo surgery soon.

Upvote Share Tweet

Dwight Howard Knocks Out Rocky The Mascot With A Kick To Head

dimemag.com

Dec 18, 2014

Maybe Dwight Howard was pissed he was pissed he had to play an extra five minutes in Denver last night. Whatever the reason, he did not take kindly to Denver Nuggets mascot >Rocky and let him know with a high kick to the face. Obviously Rocky is gett…

Upvote Share Tweet

Harden plays spoiler in overtime at Denver

ESPN.com

Dec 18, 2014

James Harden scored 41 points, including eight in overtime, and the Houston Rockets beat the Denver Nuggets 115-111 on Wednesday night after Arron Afflalo tied the game on a buzzer-beating 3-pointer at the end of regulation.

Upvote Share Tweet

Foye Wants A Drink

Jan 20

Denver Nuggets guard Randy Foye took a tumble out of bounds, causing a concession worker to accidentally spill beer on him.

Spurs Roll Nuggets

Jan 20

The Spurs beat the Nuggets 109-99 for their fourth straight win.

Warriors Crush Nuggets

Jan 19

The Warriors matched a franchise record with their 16th consecutive home victory in their 122-79 win over the Nuggets.

NBA Top Plays

Jan 17

Stephen Curry's steal and behind-the-back pass to Harrison Barnes for the dunk is the top play of the night in the NBA.