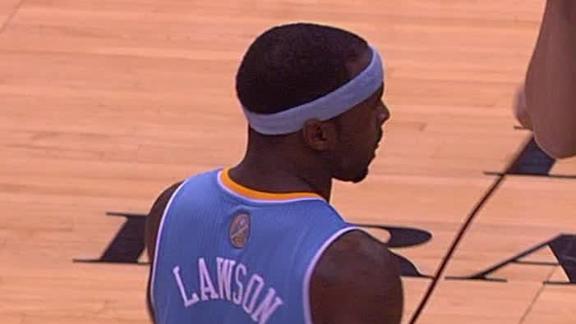 ESPN.com
Updated Apr 15, 2013
Ty Lawson scored 26 points, including a jumper in the lane with 9.3 seconds left, as the Denver Nuggets clinched home-court advantage in the first round of the playoffs with a 112-111 victory over the Milwaukee Bucks on Monday.
Share
Tweet
Three weeks ago, Denver Nuggets coach George Karl marveled at his team's depth, suggesting, "we can even sustain injuries and be OK."

Share Tweet

CNNSI.com

Apr 15, 2013

The Coach of the Year field is loaded with several worthy candidates. But Ian Thomsen says few have had the impact that George Karl has had in leading the Nuggets this season.

Share Tweet

deadspin.com

Apr 15, 2013

This one of just a handful of impressive plays that Andre Iguodala had during yesterday's Trailblazers-Nuggets game. It starts with him climbing the ladder to reject J.J. Hickson at the rim, and it ends with him receiving a nifty drop-off pass from Ty L…

Share Tweet

Nuggets Edge Bucks 112-111

Apr 15

Nuggets top Bucks on Ty Lawson's late shot.