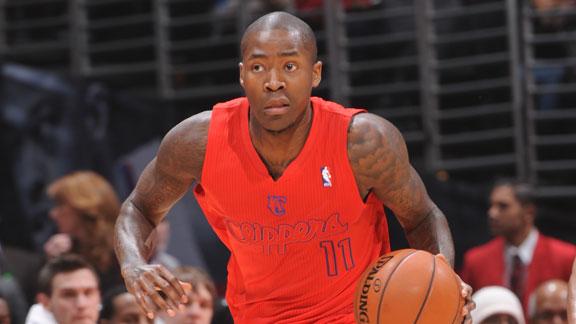 Clippers win 14th straight with rout of Nuggets
ESPN.com
Updated Dec 26, 2012
Jamal Crawford led a dominant performance by the Los Angeles reserves with 22 points, and the Clippers defeated the Denver Nuggets 112-100 on Tuesday night, extending their franchise-record winning streak to 14 games.
Share
Tweet
Second-year forward Jordan Hamilton of the Denver Nuggets was fined $25,000 by the NBA on Wednesday because of a vulgar exchange with a fan during the team's 112-100 Christmas Day loss to the Los Angeles Clippers at the Staples Center.

Share Tweet

dimemag.com

Dec 26, 2012

Chris Paul does what he does best as he sets up Blake Griffin for the perfect alley-oop pass in tonight's matchup between the Los Angeles Clippers and the Denver Nuggets.

Share Tweet

Eric Bledsoe Pump Fakes And Makes Unbelievable Basket

dimemag.com

Dec 26, 2012

Clippers' Eric Bledsoe hits Nuggets' JaVale McGee with a pump fake, drawing the foul and making the basket as he falls to the floor.

Share Tweet

Here Is One Of Our Favorite NBA Photos So Far This Season

deadspin.com

Dec 26, 2012

Los Angeles Clippers forward Blake Griffin (32) is fouled by Denver Nuggets' Danilo Gallinari (8) of Italy during the first half of their NBA basketball game, Tuesday, Dec. 25, 2012, in Los Angeles. (AP Photo/Jason Redmond) More »

Share Tweet

Howard Ejected As Lakers Fall To Nuggets

Dec 26

Corey Brewer matched his career high with 27 points as the Nuggets overcame Kobe Bryant's 40 points.