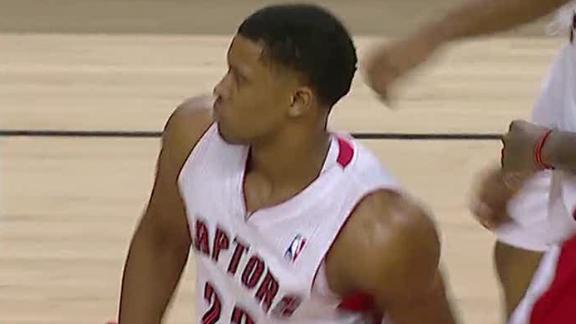 ESPN.com
Updated Feb 12, 2013
Rudy Gay hit a pull-up jump shot with less than five seconds remaining and the Toronto Raptors beat the short-handed Denver Nuggets 109-108 on Tuesday.
Share
Tweet
The Denver Nuggets had to juggle their starting lineup for Tuesday's game at Toronto after losing two of their top three scorers to injury.

Share Tweet

Faried Shows Support for L.G.B.T. Community

nytimes.com

Feb 12, 2013

Denver Nuggets forward Kenneth Faried became the first N.B.A. player to join Athlete Ally, an organization aimed at combating homophobia in sports.

Share Tweet

Raptors Claw Past Nuggets, 109-108

Feb 12

Raptors win third straight.

Dunk Of The Night

Feb 12

DeMar DeRozan throws down a huge dunk on Timofey Mozgov.

Sports Columnists

Kobe Bryant says chastising fan on Twitter was 'right thing to do'

Feb 13

Kobe Bryant welcomes challenges, which explains why he chastised a fan on Twitter for using a homophobic slur. "It's the right thing to do," Bryant told ESPN.com. "I couldn't help myself. I saw it, I was like, 'I can't help myself. I have to respond.'"

Ian Thomsen: John Wall's return puts Wizards back on track; more mail

Feb 12

Time to break up the Wiz? Washington has won 11 of its last 18 and has ranked first in defensive efficiency since John Wall returned. Could they sneak into the playoffs as the team no one wants to face in the first round? -- Adam T., Washington D.C.