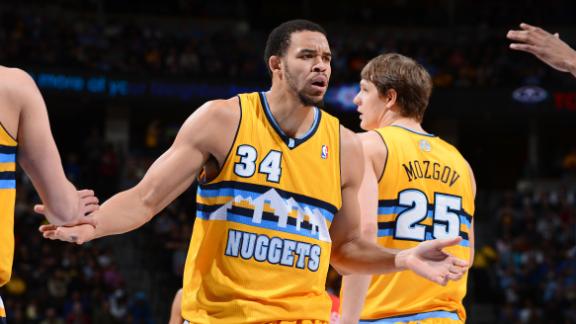 JaVale McGee Hammers in Alley-Oop Dunk

Updated Jan 1

Share Tweet

The Denver Nuggets look like lob city tonight as Andre Miller passes the rock to JaVale McGee who hammers in an alley-oop in tonight's matchup against the Los Angeles Clippers.

Source:

dimemag.com

Updated Jan 1

Share Tweet

Denver Nuggets guard Ty Lawson was ruled out of Tuesday night's game against the Los Angeles Clippers because of a left Achilles' tendon strain.

Clippers' Streak Snapped At 17

Jan 1

Clippers' 17-game winning streak comes to end with 92-78 loss to the Nuggets.

Sports Columnists

5-on-5: 2011 redraft

Jan 1

Our panel redrafts the top five picks in 2011 with a year-plus of hindsight.

NBA -- Amar'e Stoudemire not New York Knicks' big issue any more

Jan 1

Finding the right role for Amar'e Stoudemire isn't the Knicks' biggest problem any more.