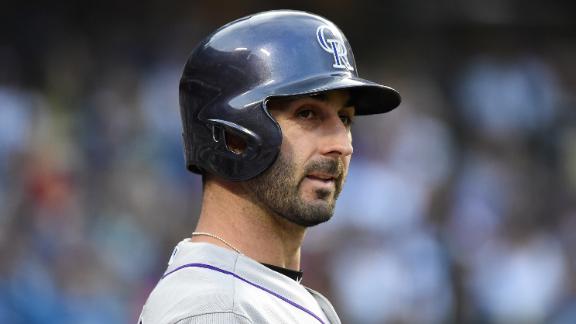 nytimes.com nydailynews.com deadspin.com MLB.com yahoo.com

2 hours ago

Colorado Rockies manager Walt Weiss expected his team would rebound less than 24 hours after taking a tough loss and trading away their star shortstop.

Share Tweet

Empower Retirement inks sponsorship deal with Denver Broncos

denverpost.com

6 hours ago

Empower Retirementof Greenwood Village, the nation's second largest retirement plan administrator, is turning to the National Football League to open up some lanes as it makes a run for greater public recognition.

Share Tweet

profootballtalk.com broncosgab.com denverpost.com

6 hours ago

As Texas authorities continue to investigate Broncos defensive lineman Antonio Smith, the Broncos won't continue to keep Smith on the shelf. Smith will report to training camp, pending whatever prosecutors or the NFL decide to do about his situation. "W…

Share Tweet

Nolan Arenado on Tulo trade: 'I don't know any of these dudes we got'

yahoo.com

10 hours ago

The tenor of the Colorado Rockies clubhouse was understandably foul after news spread that the team had dealt star shortstop Troy Tulowitzki to the Toronto Blue Jays. Yahoo Sports' Jeff Passan wrote a column looking behind-the-scenes at how Tulo and his…

Share Tweet

Nuggets sign second-round pick Jokic

nba.com

12 hours ago

The Denver Nuggets have signed 20-year-old Serbian center Nikola Jokic to a multiyear contract.

Share Tweet

Peter Schaffer, prominent Denver sports agent, stars in new series on Esquire TV

denverpost.com

13 hours ago

Peter Schaffer, a longtime Denver sports agent who represents a number of Broncos players, is part of a new Esquire Network series that gives viewers a behind-the-scenes look at the real life of an agent.

Share Tweet

MLB Trade Deadline Daily: Rockies' plans for Gonzalez after Tulo deal, and more

ESPN.com

15 hours ago

MLB Trade Deadline Daily: Rockies' plans for Gonzalez after Tulo deal, and more

Share Tweet

Rumor roundup: More waves after Tulo splash

MLB.com

15 hours ago

The Blue Jays pulled off the biggest surprise of the Trade Deadline season late Monday night, when news surfaced of a deal with the Rockies for star shortstop Troy Tulowitzki. But there is plenty of time remaining for more bombshells to drop before Frid…

Share Tweet

yahoo.com thehockeynews.com

15 hours ago

Behold the glory of a possible new Colorado Avalanche jersey. Is it a third jersey? Is it a jersey for the team's Stadium Series game? The above picture was tweeted out by Icethetics. Per the tweet it is likely the Stadium Series outfit. Or it may be a …

Share Tweet

Texas authorities still investigating Antonio Smith as camp nears

profootballtalk.com

20 hours ago

The Broncos report to camp Thursday, which means they need to make some decisions on where certain players stand. That's harder, since a set of local authorities in Texas are moving with Goodell-like speed on an investigation that began in February. Acc…

Share Tweet

Hawkins excited for next chapter with Blue Jays

MLB.com

22 hours ago

Right-handed reliever LaTroy Hawkins had boarded the Rockies' team bus after Monday night's 9-8 loss to the Cubs at Wrigley Field when Rockies general manager Jeff Bridich rang to inform him the team had agreed to trade him and star shortstop Troy Tulow…

Share Tweet

CarGo's big night overshadowed by loss, Tulo deal

MLB.com

23 hours ago

Before things went crazy at Wrigley Field on Monday night, Rockies outfielder Carlos Gonzalez went wild at Wrigley Field.

Share Tweet

nytimes.com

Jul 28 (yesterday)

After coming close to hitting a home run the previous few games, Kris Bryant believed he was due to get one to go out.

Share Tweet

Werder: Kubiak 'disappointed' in Wolfe

Jul 24

NFL Insider Ed Werder spoke with Broncos coach Gary Kubiak about Derek Wolfe's four-game suspension and discusses Denver's plan to fill the void left by the defensive end.

Should Welker still play in NFL?

Jul 24

Skip Bayless and Stephen A. Smith discuss whether free-agent WR Wes Welker, who suffered three concussions in 10 months from 2013-14, should play in the NFL.

Did the Broncos overpay Thomas?

Jul 22

Mark Dominik discusses whether it's risky for teams like the Broncos to offer big contracts to lock up top-tier wide receivers like Demaryius Thomas.

Presence of Mannings an advantage for Duke football

Jul 21

Duke coach David Cutcliffe explains how the presence of Peyton and Eli Manning, who are working out on the Blue Devils' campus, has benefited the program.