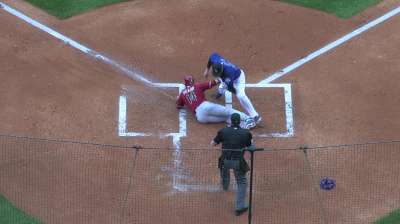 Anderson Leads Rockies Over Pirates 8-1

nytimes.com

3 hours ago

Brett Anderson pitched effectively into the seventh inning for his first win in more than a year and the Colorado Rockies beat the Pittsburgh Pirates 8-1 on Friday night.

Upvote Share Tweet

After replay, Rockies just miss turning triple play

MLB.com

5 hours ago

The Rockies came within mere inches of the their second triple play of the season during the top of the fifth inning Friday night against the Pirates at Coors Field, but instant replay upheld a call by umpire Tom Hallion that an out was not recorded at …

Upvote Share Tweet

Bergman throws live batting practice, feels strong

MLB.com

7 hours ago

Rockies rookie right-hander Christian Bergman reported feeling strong Friday while throwing 50 pitches in a live batting practice session -- his first time facing hitters since suffering a broken left hand when he was hit by a line drive June 20.

Upvote Share Tweet

Julius Thomas looks to turn great Broncos season into career success

denverpost.com

8 hours ago

After catching one pass through his first two, injury-plagued seasons, Julius Thomas was selected to the Pro Bowl last year after making 65 receptions, 12 for touchdowns. But the plan is to have those numbers look smaller as his career moves along.

Upvote Share Tweet

denverpost.com

8 hours ago

Only two days into Broncos training camp, rookie wide receiver Cody Latimer is looking like a first-round pick, torching fellow rookie Bradley Roby in a seven-on-seven drill and learning from the veteran receivers.

Upvote Share Tweet

yahoo.com profootballtalk.com

9 hours ago

If Peyton Manning and Brett Favre can do it, why can't Drew Brees? That's the attitude Brees said he's taking, per NFL Network, as he says he could play another 10 years in the NFL. "No doubt. There's no question," Brees told NFL Network's Alb…

Upvote Share Tweet

denverpost.com

10 hours ago

Manchester United stopped by Denver Broncos training camp on Friday to meet with John Elway, plus trash talking in the Broncos secondary.

Upvote Share Tweet

denverpost.com

10 hours ago

It is rare to pick up the morning newspaper and be smacked in the face with a story so surprising that you stand there for a second just to take it in. Wednesday's news that Broncos owner Pat Bowlen was relinquishing day-to-day management of the team wa…

Upvote Share Tweet

yahoo.com

10 hours ago

It's been kind of a while since we've caught up with JaVale McGee; that can happen when a player's been sidelined for nearly nine months after suffering what wound up being a season-ending stress fracture in his left leg. So what has the Denver Nuggets …

Upvote Share Tweet

Where is the Ryan O'Reilly saga headed next? (Trending Topics)

yahoo.com

11 hours ago

It never got as bad as it could have, but it's tough to be convinced it's not still bad. Arbitration is a cutthroat and nasty process that often leaves both sides feeling hard done by, so it was no surprise that Ryan O'Reilly and the Colorado Avalanche …

Upvote Share Tweet

denverpost.com

11 hours ago

The second day of Broncos training camp got underway Friday, and along with the temperatures (upper 80s) rose the competitive nature of practice at Dove Valley.

Upvote Share Tweet

ESPN.com

15 hours ago

ENGLEWOOD, Colo. -- The proof will always be in what happens in the weeks, months and seasons to come, by how he conducts himself, but Broncos linebacker Von Miller says 2014 is a new season and that he, in most ways, is a new guy. "I'm a way diffe…

Upvote Share Tweet

CenturyLink deal boosts Broncos stadium Wi-Fi but access limited

CenturyLink and the Denver Broncos announced Thursday a sponsorship deal that should significantly improve Internet connectivity and speeds for some fans at Sports Authority Field at Mile High on game days.

Upvote Share Tweet

Denver Broncos no match for popularity of soccer's Manchester United

An international survey in 2012 found that Manchester United had 659 million supporters worldwide, making the powerhouse soccer team the "world's most popular club."

Upvote Share Tweet

Sadness struck Broncos camp twice Wednesday. A few hours after team executives discussed owner Pat Bowlen's absence because of Alzheimer's, star receiver Demaryius Thomas lost his grandmother to the disease.

Upvote Share Tweet

Kiszla: Heat's on Broncos coach John Fox to hoist Lombardi Trophy

Broncos coach John Fox, whose primary job around here is to not mess it up, finally has the football squad of his dreams during his 60th year on earth.

Upvote Share Tweet

It runs counter to common sense, rationale and the history of sports. But it does add up.

Upvote Share Tweet

The defense was to the Broncos last season what Ringo Starr was to the Beatles: overshadowed, overlooked, underwhelming.

Upvote Share Tweet

Shawne Merriman: Denver Broncos will be scarier on offense

Jul 25

Shawne Merriman and Brian Baldinger debate how the Broncos can take their offense to the next level after last season in order to take home a Lombardi Trophy in 2014.

NFL Cold Hard Facts

Jul 24

ESPN's Antonio Pierce breaks down the Broncos' defensive additions, whether the Rams and Cardinals can make the playoffs, and whether the Panthers can repeat as NFC South champions.

Denver Broncos' additions bring tougher edge

Jul 24

NFL Media columnist Michael Silver reports from Denver Broncos training camp that John Elway's offseason plan centered on getting tougher as a team. His additions of T.J. Ward and DeMarcus Ware hope to bring that extra edge to the locker room.

Broncos Look To Bounce Back

Jul 24

Jeff Legwold discusses how the Broncos are looking to Peyton Manning's leadership to help them move forward from their loss in Super Bowl XLVIII.