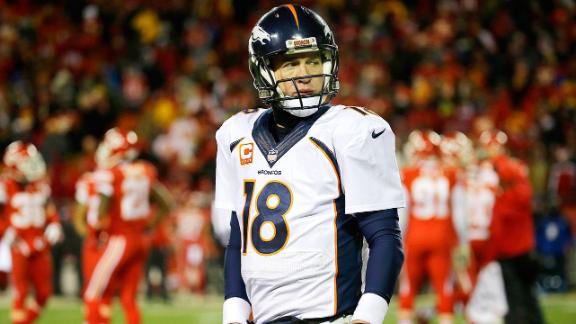 ESPN.com
yahoo.com
profootballtalk.com
denverpost.com
Updated 1 hour ago
Peyton Manning is officially returning to play for the Denver Broncos, the team announced Thursday.
Upvote
Share
Tweet
The Denver Nuggets improved to 2-0 in the Melvin Hunt era on Wednesday night, scoring a 100-85 road win over the Minnesota Timberwolves thanks in large part to a 34-16 second quarter and a balanced attack featuring nine players chipping in at least six …

Upvote Share Tweet

denverpost.com profootballtalk.com nytimes.com

2 hours ago

Anyone can see from a year away the Broncos are in danger of positioning themselves into a quarterback corner after this season.

Upvote Share Tweet

profootballtalk.com

8 hours ago

If Patriots quarterback Tom Brady wasn't just so handsome and charming and good at life, you'd think #HashtagTommy had a sadistic streak, and lives to stick it to Peyton Manning. Because the day Manning has to take his first career pay-cut, Brady gets h…

Upvote Share Tweet

Services of center Rodney Hudson in line with Denver's needs

denverpost.com

13 hours ago

With or without much payroll relief from quarterback Peyton Manning, the Broncos are not expected to have the wherewithal to sign more than one free agent at top market price.

Upvote Share Tweet

Super Bowl Odds: Bookies indifferent on Peyton Manning's return

denverpost.com

13 hours ago

Broncos players celebrated the return of Peyton Manning on Wednesday. Las Vegas did not.

Upvote Share Tweet

NHL.com

14 hours ago

DENVER - Gabriel Landeskog had a goal and two assists, Semyon Varlamov made 28 saves, and the Colorado Avalanche beat Pittsburgh 3-1 on Wednesday night to halt the Penguins' four-game winning streak. Jarome Iginla scored 13 seconds into the s...

Upvote Share Tweet

MLB.com nytimes.com

18 hours ago

Bidding for a spot in the D-backs rotation, Rubby De La Rosa made a bright impression on his 26th birthday. In two innings against the Rockies, he struck out two and demonstrated resolve in escaping a second-inning test.

Upvote Share Tweet

ESPN.com denverpost.com

19 hours ago

Former Broncos tight end Nate Jackson says he believes the NFL will have no choice but to remove marijuana from its lists of banned substances in the near future.

Upvote Share Tweet

denverpost.com ESPN.com

19 hours ago

Peyton Manning enters his fourth season with the Broncos after taking a $4 million pay cut, a move designed to create cash flexibility to improve the roster as Manning chases his second Super Bowl ring.

Upvote Share Tweet

nytimes.com profootballtalk.com

19 hours ago

Hold that gold watch. Peyton Manning is taking one more shot at the silver trophy.

Upvote Share Tweet

Ex-players believe Peyton Manning can adapt to Gary Kubiak's offense

denverpost.com

21 hours ago

Former Broncos players coached by Gary Kubiak believe Manning can make the transition, including Shannon Sharpe, Jake Plummer and others.

Upvote Share Tweet

Blackmon talks fireball gif, other topics on Chatting Cage

MLB.com

21 hours ago

Before fashioning one of baseball's hottest starts in April and May and before being chosen by peers to the National League All-Star Game in July, Rockies outfielder Charlie Blackmon was nervous about even making the team last year. In the Edward Jones …

Upvote Share Tweet

Peyton Manning, Broncos Agree On Pay Cut

Mar 4

John Clayton breaks down quarterback Peyton Manning's pay cut to $15 million in 2015, down from $19 million in 2014.

What Will The Broncos Do With Extra Money?

Mar 4

ESPN Broncos reporter Jeff Legwold breaks down how the team will likely use the extra $4 million they are getting by agreeing to a new contract with Peyton Manning.

Manning Close To Taking Pay Cut

Mar 4

The "NFL Insiders" crew breaks down the latest on Peyton Manning, who is close to agreeing with the Denver Broncos on a $4 million cut in pay.

Nuggets Improve To 2-0 Under Hunt

Mar 4

Will Barton scored 17 points off the bench and the Nuggets improved to 2-0 under interim head coach Melvin Hunt.