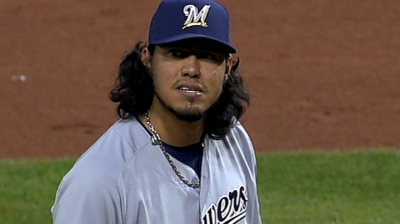 Broncos' Robert Ayers had hand in fateful play vs. Ravens in playoffs

denverpost.com

Apr 2, 2013

Defensive coordinator Jack Del Rio rode Robert Ayers hard during last summer's training camp, and the team liked how Ayers responded.

Share Tweet

denverbroncos.com

Apr 2, 2013

Broncos safety David Bruton is one of 23 current and former NFL players scheduled to take part in the NFL's Investment for Impact program this offseason. The NFL Business Management and Entrepreneurial's Investment for Impact event will be held from A

Share Tweet

CNNSI.com

Apr 2, 2013

Chances are there are no Adrian Petersons waiting to be discovered in this year's NFL draft class. For the first time in league history, there might not even be a running back taken in the first round.

Share Tweet

ESPN.com

Apr 2, 2013

The Oakland Raiders signed cornerback Tracy Porter on Wednesday.

Share Tweet

profootballtalk.com

Apr 2, 2013

The man who didn't lose a game in the 2012 regular season also believes he wouldn't lose a race against any other NFL player. Broncos receiver and kick returner Trindon Holliday, who between stints in Houston and Denver went 16-0, visited Pro Football

Share Tweet

AFC West pass-rusher checkpoint

ESPN.com

Apr 2, 2013

The pass-rushing position has been in the spotlight in the AFC West this offseason. Let's take a look where each team in the division stands. Denver Broncos: The Broncos have a need here after the infamous Elvis Dumervil fax machine gaffe which conclude

Share Tweet

Broncos' Jack Del Rio has hit the road to see some players of interest

denverpost.com

Apr 2, 2013

It's always difficult to handicap the NFL draft. Things often don't go the way those who make the picks expect.

Share Tweet

SweetSpot TV: 20 Years Running

Apr 2

Eric Karabell and David Schoenfield discuss the 20th anniversary of the Rockies, Marlins organization.