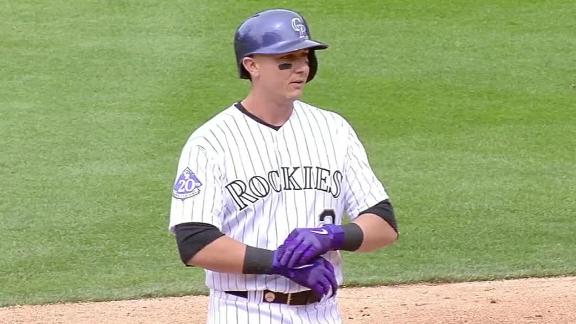 Rockies celebrate 20th anniversary before opener

MLB.com

Apr 5, 2013

In a world short on rituals and passages, the Rockies' celebration of their 20th anniversary was a nice one, with Eric Young Sr. and his son, Eric Jr., acknowledging each other on the infield at Coors Field as the crowd cheered.

Share Tweet

profootballtalk.com

Apr 5, 2013

Today's edition of Pro Football Talk includes a look at the status of some of the remaining free agents with recognizable names. Which as required some advance sleuthing regarding the players in question. Which has given me some stuff I can parlay into

Share Tweet

The Denver Nuggets will be without versatile forward Danilo Gallinari for the rest of the season after tests Friday showed he tore his left ACL against Dallas the previous night.

Share Tweet

ESPN.com

Apr 5, 2013

A look at the top under-the-radar move made by each AFC West team thus far this offseason: Denver: defensive tackle Terrance Knighton. The Broncos have made some big-ticket moves, including the signings of receiver Wes Welker, cornerback Dominique Rodge…

Share Tweet

Colorado Rockies teammates fight in front of fans: Edgmer Escalona, Juan Nicasio face no discipline

yahoo.com

Apr 5, 2013

The Colorado Rockies are showing some fight so far this season, both during games and between them. Right-handed pitchers Edgmer Escalona and Juan Nicasio scuffled during stretching exercises Thursday with fans watching at Coors Field, and needed to be …

Share Tweet

yahoo.com

Apr 5, 2013

By the long view, the Denver Nuggets had a very bad Thursday night. In the second quarter of their game against the Dallas Mavericks, forward Danilo Gallinari went down with a likely ACL tear in his left knee. Along with the absence of Ty Lawson, the lo…

Share Tweet

Broncos not intending to stand pat at running back this offseason

denverpost.com

Apr 5, 2013

By the time training camp opens, the Broncos will have at least one more back who they believe could take carries as a potential starter in the offense.

Share Tweet

Kevin Durant and Russell Westbrook Rip Up a Rival; The Denver Nuggets Suffer a Potentially Disastrous Injury

dimemag.com

Apr 5, 2013

If last night's Thunder/Spurs game was a preview of the Western Conference Finals, we'd be more than ok with it. The Manu-less Spurs made the trip to OKC and fought valiantly, but still got a whole facefull of Russell Westbrook and Kevin Durant bucket

Share Tweet

Not an option: QB class for NFL draft should be judged on ability to make the throws

denverpost.com

Apr 5, 2013

Evaluating a draft class is difficult enough for those charged with predicting the future in the uncertain business of human nature. But this year's quarterback class might be the source of some of the highest-profile mistakes.

Share Tweet

Rockies Win Third Straight

Apr 5

Troy Tulowitzki drove in two runs to lead the Rockies past the Padres 5-2.

Gallinari Out For Season

Apr 5

Danilo Gallinari out for the season with torn ACL.