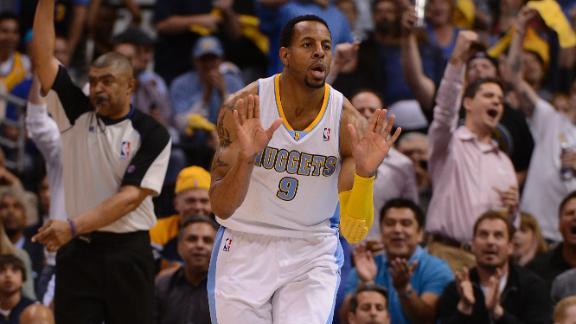 Updated Apr 30
Share
Tweet
Kenneth Faried brought the energy and the Denver Nuggets rediscovered their toughness in time to stave off elimination Tuesday night with a 107-100 win over the Golden State Warriors.
Sources:
ESPN.com
dimemag.com
CNNSI.com
Updated Apr 30

Share Tweet

The Denver Nuggets staved off elimination on Tuesday night, beating the Golden State Warriors 107-100 to extend their best-of-seven first-round series to a sixth game. It was a frustrating night for Warriors sharpshooter Stephen Curry, who came into Gam…

Source:

yahoo.com

Updated Apr 30

Share Tweet

Apparently exasperated by the contractual demands of defensive end Dwight Freeney, the Broncos opted over the weekend to go in a different direction. That direction took them to veteran linebacker Shaun Phillips, a former Charger who'll become a defensi

Source:

profootballtalk.com

Gallinari undergoes left knee surgery

Updated Apr 30

Share Tweet

The Denver Nuggets say forward Danilo Gallinari underwent surgery to repair meniscus in his left knee and will later have another procedure to fix his ACL.

Source:

nba.com

Updated Apr 30

Share Tweet

The Jets paid $1 million to trade Darrelle Revis. They've now paid $1.53 million to cut Tim Tebow. As expected (and as MDS pointed out) no one made a waivers claim for the remnants of quarterback Tim Tebow's rookie contract. This lack of a waivers cla

Sources:

profootballtalk.com denverpost.com

David Bruton's size-speed combo aids Broncos' secondary, special teams

Updated Apr 30

Share Tweet

Former Broncos and current Vikings special teams coach Mike Priefer still talks about how much he enjoyed coaching David Bruton.

Source:

denverpost.com

Shelburne: Stay calm and coach 'em up

Updated Apr 30

Share Tweet

Denver Nuggets head coach George Karl lets go and learns the power of trust

Source:

ESPN.com

AFC West players most affected by draft

Updated Apr 30

Share Tweet

While the draft signifies new beginnings in the NFL, it also means the end of the road for some veterans who will be replaced by the newly-selected player. Let's take a look at one player from each AFC West team who could see his job in jeopardy this su

Source:

ESPN.com

Lilly hurting after Dodgers drubbed by Rockies

Updated Apr 30

Share Tweet

The starting second baseman pitched better than the starting pitcher, so you know the Dodgers have more problems than just Monday night's punishing 12-2 loss to the Rockies.

Source:

MLB.com

Schumaker pressed into inning of emergency relief

Updated Apr 30

Share Tweet

Skip Schumaker took the mound for the Dodgers in the ninth inning on Monday night against the Rockies, the second career pitching appearance for the second baseman.

Source:

MLB.com

Updated Apr 30

Share Tweet

Nolan Arenado hit his first major league home run, and Wilin Rosario and Dexter Fowler also homered, as the Colorado Rockies beat the Los Angeles Dodgers 12-2 on Monday night.

Broncos' draft Class of 2013: A pick-by-pick look

Updated Apr 30

Share Tweet

Sometimes in the uncertain world that is the NFL draft, you need someone else's failure to be a success, someone else's mistake to pass your test.

Source:

denverpost.com

Blogger Blitz: New QBs In The AFC West

Apr 30

AFC West blogger Bill Williamson and Scouts Inc.'s Steve Muench talk about the new rookie quarterbacks in the division

Ramirez Homers In Return As Dodgers Win

Apr 30

Hyun-Jin Ryu strikes out 12 in the Dodgers' win over the Rockies.

Nuggets Hold Off Warriors' Rally To Extend Series

Apr 30

Stephen Curry was held to just 15 points as the Nuggets toppled the Warriors 107-100 to extend the series to Game 6.

Sports Columnists

2013 NBA playoffs: Golden State Warriors aren't ready to close things out …

Apr 30

The young Warriors aren't quite ready to close out a series on the road, writes J.A. Adande.