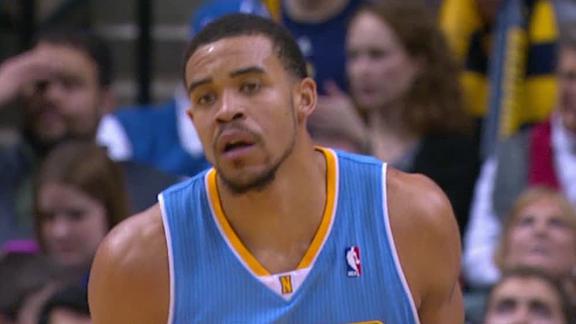 JaVale McGee Performs Perfectly Terrible, Ridiculous, Awful Play

deadspin.com

Dec 7, 2012

JaVale McGee helped lead the Nuggets to a 92-89 win over the Pacers in Indianapolis tonight thanks to 20 points on 9-9 shooting. That perfect shooting percentage only held up because the official scorer decided not to classify whatever happens at the en…

Share Tweet

denverpost.com ESPN.com profootballtalk.com

Dec 7, 2012

Picky, picky. Every week it's something.The Broncos have won eight games in a row. They have won back-to-back AFC West Division titles to secure at least a home playoff game.

Share Tweet

CNNSI.com

Dec 7, 2012

NEW YORK (AP) -- Denver Broncos defensive end Von Miller was fined $25,000 by the NFL on Friday for his hit below the knee of Tampa Bay quarterback Josh Freeman last week.

Share Tweet

Broncos linebacker Von Miller is a candidate for the NFL's defensive player of the year award. But if he's not careful, he may soon be a candidate for a suspension as well. The NFL has confirmed that Miller was fined $25,000 for striking Buccaneers qu

Share Tweet

Shoulder no concern for Demaryius Thomas

Demaryius Thomas is on a run of good health, and last night's shoulder injury doesn't appear to be anything to derail it. The once-injury plagued Broncos wideout came back to play in the second half of their win over the Raiders, and Broncos coach Joh

Share Tweet

Opposing defenses learning it's worth risk to pressure Peyton Manning

denverpost.com

Dec 7, 2012

From Oct. 15 to Nov. 11, the Broncos allowed Peyton Manning to be sacked one time.Yes, just one time in four games.

Share Tweet

CNNSI.com

Dec 7, 2012

The Redskins' option offense is giving opponents fits behind the play-action scheme of RGIII. Now the Ravens will be tasked with stifling Washington's well-oiled attack, says Peter King.

Share Tweet

Steelers, Broncos, Giants and Jets: Answers to Readers' Questions

nytimes.com

Dec 7, 2012

Judy Battista, the N.F.L. reporter for The Times, answers questions from readers.

Share Tweet

Cheerleaders Host First Annual Spirit Showdown

Greetings Broncos Country! Lindy C. of the Denver Broncos Cheerleaders here, happily writing to you all in the midst of this fantastic Broncos season. In the spirit of youth participation in our Junior Denver Broncos Cheerleader and All-Stars programs, …

Share Tweet

How Did The Raiders Sniff Out This Jailbreak Screen? Maybe Because Peyton Manning Audibled To It With "Prison! Prison!"

deadspin.com

Dec 7, 2012

The Oakland Raiders didn't shut down many Denver Broncos plays last night, as their defense allowed Peyton Manning to go for 310 yards on 26-for-36 passing and were otherwise steamrolled by running back Knowshon Moreno, who put up 119 yards. More »

Share Tweet

Oakland Raiders: Moving On

ESPN.com

Dec 7, 2012

Here are some areas the Oakland Raiders need to focus on after a 26-13 home loss to Denver on Thursday: Recap: This game was not as close as the score indicated. The Broncos trounced the Raiders. It was just another lackluster effort by this team. Oakla…

Share Tweet

yahoo.com ESPN.com profootballtalk.com

Dec 7, 2012

Oakland police told the Associated Press that a man fell from the upper deck at Oakland's O.co Coliseum just after the start of Thursday night's Oakland Raiders-Denver Broncos game, and that the man is in serious condition at a local hospital. According…

Share Tweet

Broncos at Raiders: Key Plays

Below are some key (non-scoring) plays from Denver's 26-13 win at Oakland: Third-and-5 from the Denver 37, 13:50 to play in first quarter: On the first possession of the game, the Broncos needed an early third-down conversion to keep the drive going. Af

Share Tweet

Broncos at Raiders: How They Matched Up

Below is a look at the official box score from the Broncos' 26-13 win against the Oakland Raiders. First is a glance at the team statistics, followed by the individual stats and the defensive totals.

Share Tweet

Darren McFadden re-injures ankle in loss to Broncos

Oakland Raiders running back Darren McFadden played for the first time in five weeks Thursday night against the Denver Broncos. Now he may be sidelined once again. According to Vic Tafur of the San Francisco Chronicle, Raiders head coach Dennis Allen sa…

Share Tweet

Broncos at Raiders: Quotables

HEAD COACH JOHN FOX On playing the game on a short week "Not bad. Both teams had to deal with it. We were the road team, but any time you can go on the road against a division rival and get a victory, I'm pleased." On the run game "I think you do

Share Tweet

denverpost.com CNNSI.com yahoo.com

Dec 7, 2012

Through the shortened week, before the Broncos had arrived in the Bay Area for their Thursday night appearance, quarterback Peyton Manning had predicted the calendar would kick-start the running game.

Share Tweet

Broncos not perfect, but sidestep trap

ESPN.com

Dec 7, 2012

OAKLAND, Calif. -- Peyton Manning probably will stew all weekend. While his team enjoys an early-December Sunday away from football, knowing it put heat on the Baltimore Ravens and New England Patriots, Manning probably will keep himself up at night thi…

Share Tweet

Tampa Bay Buccaneers running back Doug Martin is well on his way to surpassing 300 carries in his first season in the NFL. Martin has come off two largely ineffective games against the Atlanta Falcons and Denver Broncos where he was held to under 60 yar…

Share Tweet

denverpost.com

Dec 7, 2012

The Raiders brought out the bronze busts at halftime.The Raiders brought out their tin men for the rest of the game. The Broncos had at least two future first-ballot Hall of Famers - and possibly more.

Share Tweet

JaVale McGee Lifts Nuggets Past Pacers

Dec 7

JaVale McGee's 20 points off the bench propel Nuggets to 92-89 win over Pacers.

Denver Broncos top team in AFC?

Dec 7

How do the Denver Broncos stack up against their fellow contenders like the New England Patriots and Baltimore Ravens? Charley Casserly gives you his answer.

Why are the Broncos so impressive?

Dec 7

The "Thursday Night Football" crew talks about why the Broncos are now 10-3, and how Peyton Manning has elevated the team.

Von Miller joins 'Thursday Night Football' set

Dec 7

Denver Broncos linebacker Von Miller visits the "Thursday Night Football" set moments after his team sealed its eighth straight win, a 26-13 victory against the Oakland Raiders.