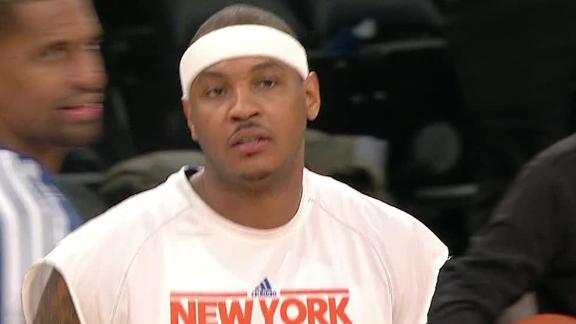 Carmelo Anthony returned from a two-game absence with 34 points against his former team, and the New York Knicks beat the Denver Nuggets 112-106 on Sunday night to remain the NBA's lone unbeaten team at home.
Share
Tweet
Inside the Numbers: Week 14

denverbroncos.com

Dec 9, 2012

1.000 The Broncos are 6-0 on the road against the AFC West over the past two years. 4 Kicker Matt Prater converted all four of his field goal attempts against the Raiders to tie a career high. Thursday marked the fifth game in which Prater has converted…

Share Tweet

What to Watch This Week

denverbroncos.com

Dec 9, 2012

The Broncos have already played their Week 14 game, defeating the Oakland Raiders 31-23 on Thursday Night Football. So with the orange and blue off on Sunday, what should Broncos fans watch instead? There are six games that could provide varying levels …

Share Tweet

profootballtalk.com

Dec 9, 2012

In his first stint as a head coach, things didn't go very well for Josh McDaniels.  Hired by the Broncos in 2009, he was fired during the 2010 season. At first, things were looking good for McDaniels, leading the team to a 6-0 start that included a fis

Share Tweet

Kickin' it with Kiz: Comparing current Broncos to 1998 Super Bowl team

Super doubter. Broncos quarterback Peyton Manning is equivalent to John Elway. Knowshon Moreno is not even close to Terrell Davis.

Share Tweet

Would fifth MVP make Broncos' Peyton Manning the best of all time?

Would another MVP, even without another Super Bowl victory, elevate Broncos quarterback Peyton Manning to the best of all time? Better than Joe Montana? Better than Tom Brady? Better than John Elway?

Share Tweet

Carmelo Drops 34 In Return

Dec 9

Knicks improve to 8-0 at home with 112-106 win over the Nuggets.