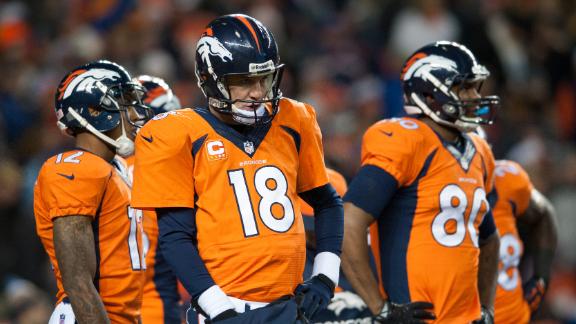 ESPN.com
profootballtalk.com
denverpost.com
Updated Dec 19, 2013
Denver Broncos wide receiver Wes Welker is making progress in the NFL's concussion protocol, but is still expected to be ruled out for Sunday's game against the Houston Texans, sources told ESPN.com's Jeff Legwold.
Share
Tweet
ESPN.com profootballtalk.com

Dec 19, 2013

ENGLEWOOD, Colo. -- In a season when Denver Broncos cornerback Champ Bailey has seen far more of head trainer Steve Antonopulos than Bailey has seen of the usual parade of top-shelf receivers in front of him, Sunday just might be the kind of day Bailey …

Share Tweet

Fun With Numbers: Denver Broncos

ENGLEWOOD, Colo. -- With two games remaining in the regular season the Denver Broncos would certainly like to have a division title and the AFC's top seed when all is said and done in December. But there is the matter of history as well. Over these next…

Share Tweet

Two playoff-bound teams meet at Arrowhead Stadium on Sunday when the Kansas City Chiefs host the Indianapolis Colts. The 9-5 Colts have clinched the AFC South but are eyeing improved playoff seeding. The 11-3 Chiefs are tied for first place in the AFC W…

Share Tweet

Quarterbacks tend to pull for each other. They know what it's like to shoulder so much of a team's fate, they understand the pressure better than outsiders could. "I do think it's a unique fraternity," Denver Broncos quarterback Peyton Manning…

Share Tweet

profootballtalk.com denverpost.com

Dec 19, 2013

Broncos quarterback Peyton Manning is having an MVP season and may break the records for passing yards and passing touchdowns this season. But Texans coach Wade Phillips says Manning is having more than just a great season. He's having the greatest seas…

Share Tweet

ENGLEWOOD, Colo. – The last time the Denver Broncos got an up-close-and-personal look at J.J. Watt, the Houston Texans defensive end smashed whatever plan the Broncos had for him into little pieces. In a 31-25 Texans victory on Sept. 23, 2012, Watt play…

Share Tweet

Broncos still control destiny!

broncosgab.com

Dec 19, 2013

The Broncos were fortunate that Miami defeated the Patriots and still can grab the #1 seed, which would give a much needed rest for our football warriors. More time for any injured to heal and those not hurt to heal up some of the, bumps, bruises and ac…

Share Tweet

denverpost.com

Dec 19, 2013

Waived last Friday, Jeremy Mincey was accused of being late to meetings and not fully committing to the team, but now that he's in Denver, he wants to turn over a new leaf.

Share Tweet

Denver Broncos wide receiver Wes Welker not expected to play vs. Texans

Dec 19

Steve Cyphers joins "Around the League Primetime" with a Denver Broncos injury update, including how Peyton Mannning and the rest of the offense can replace wide receiver Wes Welker.

Preview: Denver Broncos vs. Houston Texans

Dec 19

NFL Films previews the Week 16 matchup between the Denver Broncos and the Houston Texans.

Inside the Huddle with John Clayton

Dec 19

Inside the Huddle's holiday show features John Clayton's analysis of what may be the best ever in NFL history: NFL field goal kicking success rate at highest percent ever, and the quarterback class of 2012 may be the finest QB class, based on NFL sta

Inside the Huddle: Best Kickers Ever

Dec 19

Inside the Huddle's John Clayton discovers this years kickers may be the best ever. The success rate for field goals is the highest in NFL history through Week 15.