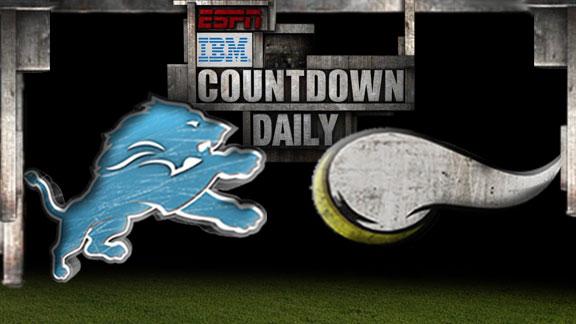 Updated Nov 8, 2012
Share
Tweet
With Lions receiver Calvin Johnson previously claiming he suffered a concussion during a September 30 game against the Vikings, with the Lions denying it, and with Johnson now claiming he also suffered nerve damage, the question becomes whether the Lion…
Sources:
profootballtalk.com
ESPN.com
lionsgab.com
Updated Nov 8, 2012

Share Tweet

Two teams going in different directions will take to the field Sunday in a NFC North battle, as the Lions travel to Minnesota to take on the Vikings. It's the second matchup between the two teams this season, the first time around the Vikings won in For

Source:

lionsgab.com

Updated Nov 8, 2012

Share Tweet

It's been reported that the Lions, Dolphins, and Cardinals are interested in cornerback Stanford Routt.  It was later reported that the Dolphins are out of the running. Though we can't confirm or debunk the specific teams that have been named, a sour

Source:

profootballtalk.com

Updated Nov 8, 2012

Share Tweet

Sprained ankle likely to sideline Harvin vs. Lions

Source:

CNNSI.com

BBAO: Jared Allen on Gosder Cherilus

Updated Nov 8, 2012

Share Tweet

We're Black and Blue All Over: Minnesota Vikings defensive end Jared Allen's bluster can sometimes be worse than his bite, but it sounds as if Allen retains some true animosity for Detroit Lions right tackle Gosder Cherilus. Allen is still upset over a …

Source:

ESPN.com

Nate Burleson is happy for the players who may push him out of a job

Updated Nov 8, 2012

Share Tweet

In the two weeks since Lions receiver Nate Burleson was lost for the season with a broken leg, a couple of young receivers - Titus Young and Ryan Broyles - have played well in his absence. And that raises an uncomfortable fact for the 31-year-old Burl

Source:

profootballtalk.com

Suh Again Voted Dirtiest Player

Nov 8

Lomas Brown comments on Ndamukong Suh being voted the dirtiest player in the NFL for the second year in a row.

Pepsi Anthem: Kid Rock 'In Detroit' (Lions Anthem)

Nov 8

Kid Rock represents his favorite city in this special anthem dedicated to Detroit and the Lions.

Preview: Detroit Lions vs. Minnesota Vikings

Nov 8

NFL Films previews the Week 10 matchup between the Detroit Lions and the Minnesota Vikings.