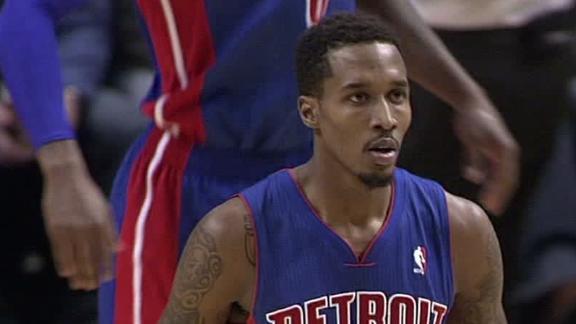 Wade (rest) held out against Pistons

Updated Dec 8 (yesterday)

Share Tweet

Miami guard Dwyane Wade is expected to miss Sunday night's game at Detroit.

Source:

nba.com

Updated Dec 7 (2 days ago)

Share Tweet

Chicago Bulls forward Luol Deng is not going to play against the Detroit Pistons on Saturday night because of tightness in his left calf.

Who Is The No. 3 Team In The NBA's Eastern Conference?

Updated Dec 6 (3 days ago)

Share Tweet

The Eastern Conference has turned into a two-man race after the first month of the season. With Indiana getting off to such a hot start, and Miami — at least before their recent 2-game losing streak — honing in on a three-peat, the East's two best teams…

Josh Smith's 15 Best Dunks

Updated Dec 5 (5 days ago)

Share Tweet

Today, Pistons forward Josh Smith turns 28 years old, and Dime Magazine would like to celebrate by looking back at his 15 best dunks over his nine seasons in the NBA. Smith, a.k.a. J-Smoove, is notably known for his superior athleticism as a big man. Hi…

Updated Dec 4 (6 days ago)

Share Tweet

BOSTON -- You can sell championships, or you can sell hope. The Milwaukee Bucks haven't won a championship since 1971, the second season of Kareem Abdul-Jabbar. But they do have hope.

Source:

CNNSI.com

Updated Dec 3 (6 days ago)

Share Tweet

Kyle Singler scored 18 points to lead seven Detroit players in double figures, Andre Drummond had 18 rebounds and the Pistons beat the Miami Heat 107-97 on Tuesday night to snap the NBA champions' 10-game winning streak.

The NBA's 10 Best Frontcourts

Updated Dec 2

Share Tweet

The NBA has evolved into an athletic, perimeter-heavy league. While this type of emphasis can excite the audience with spectacular plays, strong froncourts are still the belly of the beast for many teams. Teams that boast dominant frontcourts are a forc…

Andre Drummond Scores 31 In Win, Including Filthy Alley-Oop Flush

Updated Dec 1

Share Tweet

The Pistons came out firing on Sunday against the Sixers, scoring 70 first half points to take a 24-point lead into the break. They gave up half of that lead in the third, but quickly rallied to coast for the 115-110 victory. They were led by second yea…

Lakers come back, hold on against Pistons

Updated Nov 29

Share Tweet

Wesley Johnson scored 27 points, and Jordan Farmar led a fourth-quarter rally by the Los Angeles Lakers, who overcame a 10-point deficit to beat the Detroit Pistons 106-102 on Friday night.

Jennings leads way as Pistons bounce Bucks

Updated Nov 25

Share Tweet

Brandon Jennings made four consecutive 3-pointers in the first quarter against his former team, and the Detroit Pistons overwhelmed Milwaukee with a dazzling first half in a 113-94 victory over the Bucks on Monday night.

Anatomy Of Detroit Dance Off Between Usher & Fan

Updated Nov 25

Share Tweet

The dance cam has certainly inspired some craziness among NBA fans when it shines its glare on them during breaks in the game. The fans often go wild when they see they're on the Jumbotron, but it doesn't usually lead to a competition…until now. One ush…

Updated Nov 24

Share Tweet

Reserve Rodney Stuckey scored a season-high 27 points and the Detroit Pistons sent the Brooklyn Nets to a fifth straight loss and sole possession of last place in the Atlantic Division with a 109-97 victory Sunday.

D-Will out again Sunday due to ankle sprain

Updated Nov 23

Share Tweet

Brooklyn Nets point guard Deron Williams told ESPNNewYork.com that he will not play in Sunday afternoon's game against the Detroit Pistons due to a sprained left ankle.

Updated Nov 21

Share Tweet

The Knicks are 3-8 after falling to Indiana, 103-96, in overtime, but are there signs of hope for them?

Source:

CNNSI.com

Updated Nov 20

Share Tweet

The Knicks held the Pistons to 92 points tonight, which is better than their previous two outings, but it would have been nice if they hadn't only scored 86 points themselves. There are a lot of things you could say about the Knicks effort, or their woe…

About Last Night: Firing on All Pistons

Updated Nov 20

Share Tweet

In case you were busy demanding a recount of People's Sexiest Man Alive voting, here's what you missed in sports on Tuesday: Rodney Stuckey sc...

Source:

grantland.com

Pistons beat Knicks for first time since 2011

Updated Nov 19

Share Tweet

Rodney Stuckey scored 15 of his 21 points in the second half, and the Detroit Pistons beat the New York Knicks for the first time in eight meetings, 92-86 on Tuesday night.

Updated Nov 19

Share Tweet

New York Knicks point guard Raymond Felton missed Tuesday's game against the Detroit Pistons due to hamstring soreness and a pinched nerve in his hip.

Please Stop Shooting Three-Pointers, Josh Smith

Updated Nov 18

Share Tweet

After losing last night, the Pistons are 3-6 on the year. If Detroit was like Manhattan, there would be at least five articles this morning about how Joe Dumars needs to be fired, and his moves this offseason haven't worked. But there's a lot of season …

Brandon Jennings, Andre Drummond hook up for off-the-backboard alley-oop dunk in Pistons' loss to Lakers (Video)

Updated Nov 18

Share Tweet

Like many other NBA writers and analysts, we here at BDL had some reservations about Joe Dumars' offseason decisions to import Josh Smith and Brandon Jennings to join Greg Monroe and Andre Drummond in a new-look core designed to bring the Detroit Piston…

Source:

yahoo.com

Updated Nov 18

Share Tweet

Jordan Hill had career highs of 24 points and 17 rebounds, and Jodie Meeks and Nick Young scored 19 points apiece in the Los Angeles Lakers' 114-99 victory over the Detroit Pistons on Sunday night.

Rasheed Wallace & Tony Mitchell In Lopsided Dunk Contest

Updated Nov 17

Share Tweet

The Detroit Pistons drafted Tony Mitchell with the No. 7 pick in the second round (37th overall) for his athleticism. He wowed at the rookie photo shoot with dunks that made us stop in our tracks. The 39-year-old Rasheed Wallace just retired for the sec…

Jennings, Pistons Win Fourth Straight

Dec 7

Brandon Jennings scored 33 points in the Pistons' 92-75 win over the Bulls.

Pistons Pound Bucks

Dec 4

Andre Drummond's double-double helped the Pistons beat the Bucks 105-98.

NBA Top 3 Plays Of The Night

Dec 4

Check out the top 3 plays from the night in the NBA.

Josh Smith's One-Handed Jam Over Chris Bosh

Dec 3

The Pistons' Josh Smith threw down over the Heat's Chris Bosh during Detroit's 107-97 win over Miami.