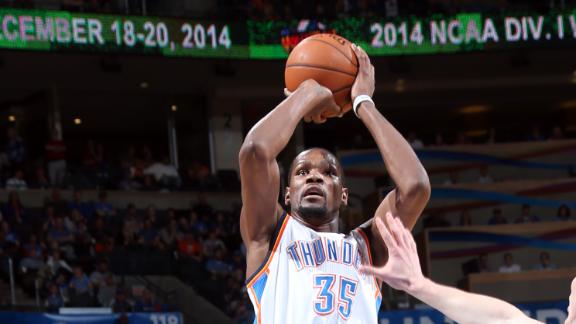 Durant's 42 help OKC secure second seed
ESPN.com
Updated 26 minutes ago
Kevin Durant scored 42 points, including 21 in the fourth quarter, and the Oklahoma City Thunder secured the No. 2 playoff seed in the Western Conference, rallying from 10-point fourth-quarter deficit to beat the Detroit Pistons 112-111 Wednesday night.
Upvote
Share
Tweet
Safe call at first stands after Indians challenge

MLB.com

1 hour ago

With the Tigers trailing the Indians 3-1 in the bottom of the eighth on Wednesday night at Comerica Park, Detroit second baseman Ian Kinsler laid down a bunt and was called safe on a bang-bang play at first. After Indians manager Terry Francona's challe…

Upvote Share Tweet

ESPN.com detnews.com profootballtalk.com

2 hours ago

The Detroit Lions announced Wednesday they hosted South Carolina defensive end Jadeveon Clowney for an official visit at the team's facilities, perhaps an indication the club's interest in trading up is indeed real.

Upvote Share Tweet

yahoo.com

6 hours ago

Happy Hockey Christmas every! The Stanley Cup Playoffs begin Wednesday night, so tell your family you'll catch up with them sometime in June. As a reminder, here are the first-round battles: EASTERN CONFERENCE Boston Bruins vs. Detroit Red Wings Tampa B…

Upvote Share Tweet

NHL.com thehockeynews.com

7 hours ago

WILMINGTON, Mass. - For Boston Bruins centre Patrice Bergeron, the 2014 Olympics were about more than winning a second gold medal with Canada. The Sochi Games were a confidence boost that he harnessed when he returned to perhaps the best of h...

Upvote Share Tweet

The 10 Funniest GIFs From The NBA Season

dimemag.com

9 hours ago

For better or for worse, technology appears to be evolving at the speed of light. One of the many positives of this rapid change is the ability to be entertained from multiple areas, including the .gif, compressed image files. While there were so many t…

Upvote Share Tweet

Four most likely sweeps in the first round

thehockeynews.com

13 hours ago

As I posted on Twitter Monday, I'm picking two series sweeps in Round 1. But there's a chance two more go the minimum. Eastern Conference Playoff Predictions…Round 1: BOS in 5, MTL in 6, PIT in 4, NYR in 7. Round 2: MTL in 6, NYR in 6. Round 3: NYR in 5…

Upvote Share Tweet

Golden Tate thinks he'll be a "more explosive" Lance Moore in Joe Lombardi's offense

profootballtalk.com

14 hours ago

Wide receiver Golden Tate hasn't played a game as a member of the Lions yet, but a couple of weeks of offseason work has led him to think that their offense will prove to be an excellent fit for his skills. Tate said that he has been watching film of th…

Upvote Share Tweet

Lions intend to split the running back role between Bush and Bell

The Lions have a pair of potent tailbacks. And they plan to use both of them. Perhaps equally. According to Dave Birkett of the Detroit Free Press, offensive coordinator Joe Lombardi said Tuesday that Reggie Bush and Joique Bell will share the load. "[T…

Upvote Share Tweet

Lions looking for 'high motor' guys, closers in draft

detnews.com

Apr 15 (yesterday)

While team officials have given few details of what characteristics they're looking for in this year's class, White said the team is looking for closers.

Upvote Share Tweet

NHL playoff preview capsules of 8 opening-round series, starting Wednesday

NHL.com

Apr 15 (yesterday)

A capsule look at the first round of the NHL playoffs: ___ EASTERN CONFERENCE BOSTON (54-19-9) vs DETROIT (39-28-15) SEASON SERIES: Detroit won 3-1. Early in their last meeting on April 2 at Joe Louis Area, the Red Wings didn't look ...

Upvote Share Tweet

Previews: Bruins-Wings

CNNSI.com

Apr 15 (yesterday)

Sports Illustrated's Brian Cazeneuve previews the playoff match-up between the Boston Bruins and Detroit Red Wings.

Upvote Share Tweet

ESPN.com

Apr 15 (yesterday)

The Indians activated outfielder Michael Bourn from the disabled list before their scheduled game with the Tigers was postponed by inclement weather.

Upvote Share Tweet

Fan takes XBox One from kid, but classy Red Wings make it right

thehockeynews.com

Apr 15 (yesterday)

Detroit's last home game of the regular season, a 2-1 loss to Carolina, was also Fan Appreciation Night at Joe Louis Arena. As is customary at these events, prizes were distributed throughout the evening. And out of that comes this story about Mia Weinb…

Upvote Share Tweet

thehockeynews.com

Apr 15 (yesterday)

Jeff Blashill and Jon Cooper are really close friends and it will only be a matter of time before they're both living out their dreams as NHL coaches. You know all about Cooper now that he's working his magic with the Tampa Bay Lightning. And sooner or …

Upvote Share Tweet

Rodgers, Stafford, Brady among world's highest-paid athletes

Packers quarterback Aaron Rodgers, Lions quarterback Matthew Stafford and Patriots quarterback Tom Brady were the three highest-paid players on American sports teams in the last year. That's the word from ESPN's survey of worldwide sports salaries, whic…

Upvote Share Tweet

MLB.com

Apr 15 (yesterday)

Tuesday's scheduled game between the Indians and Tigers at Comerica Park has been postponed due to inclement weather. The game will be rescheduled at a later date, but not during the current series, which is now scheduled to begin on Wednesday.

Upvote Share Tweet

Lions need to find a kicker

The Lions aren't accustomed to needing to search for a kicker. From 1980 to 1991 they had Eddie Murray, and from 1992 to 2012 they had Jason Hanson, giving them more than three decades of stability at the position. But David Akers won't be back after on…

Upvote Share Tweet

CNNSI.com

Apr 15 (yesterday)

ST. LOUIS (AP) -- Exactly as advertised, Ryan Miller came to the St. Louis Blues and the goals-against number went down.

Upvote Share Tweet

detnews.com CNNSI.com profootballtalk.com

Apr 15 (yesterday)

Lions president Tom Lewand said something during a Town Hall session with season-ticket holders Monday night that may or may not have been an indirect shot at defensive tackle Ndamukong Suh.

Upvote Share Tweet

Indians Hold Off Tigers

Apr 16

Yan Gomes' triple helped the Indians top the Tigers 3-2.

Thunder Lock Down Second Seed In West

Apr 16

Kevin Durant scored 42 points to help the Thunder beat the Pistons 112-111 and secure the second seed in the Western Conference.

Roster Reset: Detroit Lions

Apr 16

For the second year in a row, the Detroit Lions missed out on the playoffs. Will their offseason moves be enough to make an impact on the 2014 season? The "NFL Total Access" crew do a roster reset on the Detroit Lions.

SportsCenter's Inside The NHL

Apr 16

Steve Levy and Barry Melrose preview the Stanley Cup playoffs with the players to watch and the goalies that can steal a series in the first round.