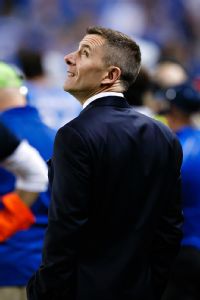 Lions' Lewand: Faith helped combat alcoholism
ESPN.com
Updated 7 hours ago
Lions president Tom Lewand spoke candidly about his struggles with alcohol addiction and what led him to that jail cell and arrest for drunk driving during a testimonial at the Kensington Church in Orion, Michigan, recently.
Upvote
Share
Tweet
Due to concussions, Avila switching mask

MLB.com

13 hours ago

Alex Avila is committed to making the hockey-style catching mask work for him, whether it's comfortable or not. After concussions in each of the last three seasons, the Tigers' backstop is making the switch.

Upvote Share Tweet

GIF: Kyle Lowry Fools Pistons By Feigning Timeout

dimemag.com

17 hours ago

This isn't standard, but a layup by Kyle Lowry with a little under four minutes to go in the first quarter in last night's Raptors-Pistons game only happened after he lulled Detroit into thinking he was about to call a timeout. Lowry's switch-up has bee…

Upvote Share Tweet

Joe Lombardi: "Added layers of complexity" in coaching Calvin Johnson

profootballtalk.com

21 hours ago

One of the things that offensive coordinator Joe Lombardi learned during his first season with the Lions is that getting the ball to Calvin Johnson isn't as easy as just telling him to run down the field and throwing the ball in his direction. Lombardi …

Upvote Share Tweet

nba.com ESPN.com dimemag.com deadspin.com

Jan 25 (yesterday)

Detroit Pistons guard Brandon Jennings will miss the rest of the season after he ruptured his left Achilles tendon.

Upvote Share Tweet

Tigers, P Alburquerque reach one-year deal

ESPN.com

Jan 25 (yesterday)

Relief pitcher Al Alburquerque and the Detroit Tigers have reached an agreement on a one-year contract.

Upvote Share Tweet

yahoo.com

Jan 25 (yesterday)

After five seasons with the Detroit Tigers, which included four straight postseason appearances and one Cy Young award, Max Scherzer is headed east for the next seven seasons after signing a new seven-year, $210 million contract with the Washington Nati…

Upvote Share Tweet

NHL.com

Jan 24 (3 days ago)

1938 - The Montreal Canadiens and Detroit Red Wings play a series of postseason exhibition games in Europe. This is the first overseas tour by NHL players. 1959 - The Boston Bruins and New York Rangers make the second tour of Europe by NHL club...

Upvote Share Tweet

Players, staff set for TigerFest at Comerica Park

MLB.com

Jan 23 (3 days ago)

The Tigers spent the last two days reaching out across Michigan to connect with their fan base. On Saturday, the fan base comes to Comerica Park to connect with the Tigers.

Upvote Share Tweet

yahoo.com

Jan 23 (4 days ago)

The tide had already begun to turn when the Detroit Pistons rolled into the AT&T Center to take on the San Antonio Spurs on Jan. 6. The formerly moribund Motor City crew had ripped off five straight wins after waiving highly paid and underperforming…

Upvote Share Tweet

nytimes.com

Jan 22 (4 days ago)

Justin Verlander is doing his best to take Max Scherzer's departure in stride.

Upvote Share Tweet

Price likes Detroit, open to extension talks

MLB.com

Jan 22 (4 days ago)

As the industry ponders David Price's future and his potential market, he indicated he's open to discussions on a long-term contract with the Tigers, even as he acknowledged the strong lure of being able to pick his destination and see what his market v…

Upvote Share Tweet

yahoo.com

Jan 22 (4 days ago)

It was assumed by most that this was always going to be somewhat of a lost year for the Detroit Pistons. Nobody expected them to tank, or vie for the worst record in their conference, but because the soil was so salted in the wake of Joe Dumars' disastr…

Upvote Share Tweet

ESPN.com profootballtalk.com

Jan 22 (5 days ago)

The Chiefs will have what is probably the first early morning (Central time) kickoff for their Nov. 1 game against the Detroit Lions at Wembley Stadium in London.

Upvote Share Tweet

yahoo.com

Jan 22 (5 days ago)

Throughout the first half of the 2014-15 season, the three best point guards in the Eastern Conference have been Jeff Teague of the Atlanta Hawks, John Wall of the Washington Wizards and Kyle Lowry of the Toronto Raptors. Reasonable people can disagree …

Upvote Share Tweet

Raptors Hold Off Pistons

Jan 25

DeMar DeRozan scored 25 points with six rebounds to help the Raptors beat the Pistons 114-110.

Stafford, Watt Named MVPs Of Pro Bowl

Jan 25

Matt Stafford and J.J. Watt comment on the experience of playing in the Pro Bowl.

Late TD Lifts Team Irvin Over Team Carter

Jan 25

Matt Ryan connected with Jimmy Graham on a touchdown late in the fourth quarter to give Team Irvin a 32-28 Pro Bowl victory over Team Carter.

Jennings Injured In Pistons' Loss

Jan 24

Brandon Jennings left the game in the third quarter with a lower left leg injury in the Pistons' 101-86 loss to the Bucks.