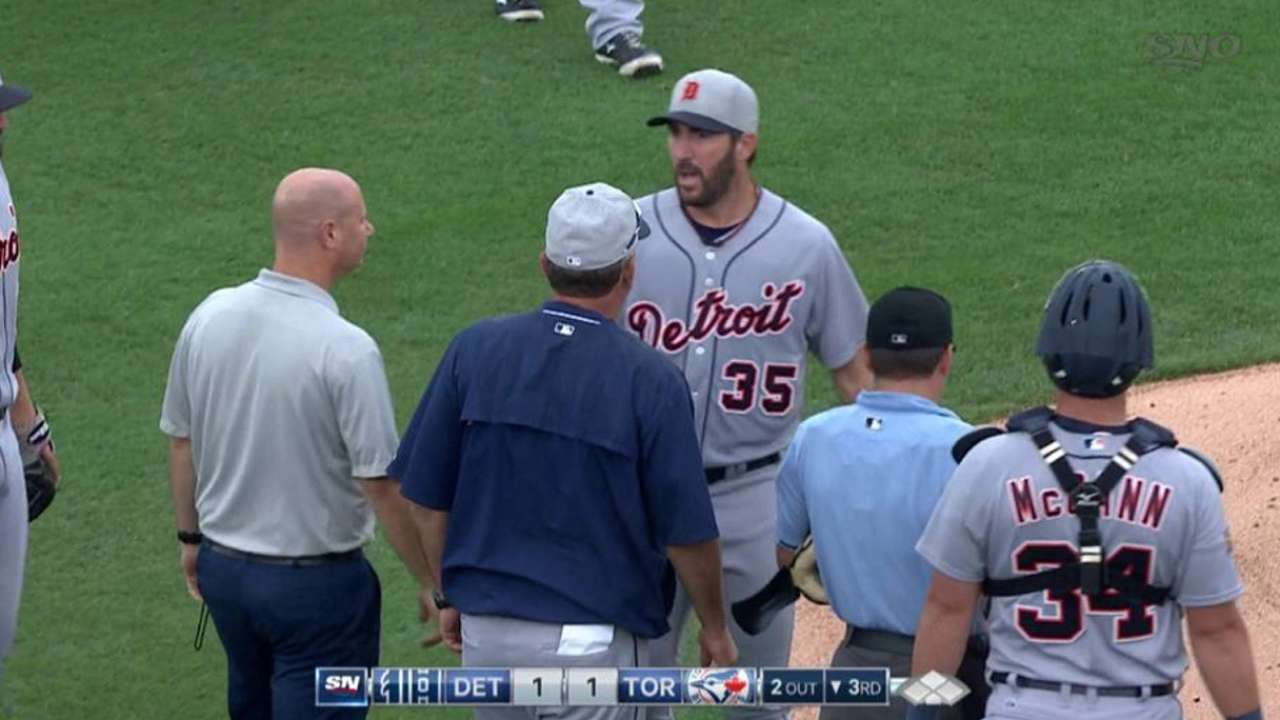 MLB.com
nytimes.com
Updated 1 hour ago
Justin Verlander left his start against the Blue Jays on Friday with a right triceps cramp, the Tigers announced. He departed right after running to cover first base on a third-inning ground ball.
Share
Tweet
profootballtalk.com ESPN.com

31 minutes ago

Reggie Bush led the Lions in rushing in 2014, but they cut Bush before free agency. At the league meetings in Arizona, coach Jim Caldwell didn't have much to say about why Bush is no longer in Detroit. "I think oftentimes you'll find that there are goin…

Share Tweet

Blue Jays show power in rain-shortened victory

MLB.com

2 hours ago

The Blue Jays hit three home runs in a 4-1, rain-shortened victory over the Tigers on Friday.

Share Tweet

Jim Caldwell still believes in tight end Eric Ebron

ESPN.com

3 hours ago

When the Detroit Lions held the No. 10 pick in the draft a year ago, they went with what they believed would be the best player available instead of filling an obvious need. Of course, the players taken almost immediately after tight end Eric Ebron ende…

Share Tweet

No. 1 Star: Ondrej Pavelec, Winnipeg Jets The Jets stayed in the playoff hunt with a 5-2 win over the Montreal Canadiens. Pavelec was excellent again, stopping 39 shots for his sixth straight victory. Mark Scheifele and Jim Slater each had a goal and an…

Share Tweet

Orioles want Gausman ready to be both a starter and reliever

MLB.com

24 hours ago

Kevin Gausman pitched just one inning in the Orioles' 6-4 loss to the Tigers on Thursday and manager Buck Showalter said he could shorten up the right-hander as a potential bullpen option in the final two weeks of camp.

Share Tweet

Tillman, Orioles have not talked contract extension

MLB.com

24 hours ago

Orioles starter Chris Tillman said after Thursday's start, a 6-4 loss to the Tigers, that there's been nothing new in the past few months regarding a contrat extension with Baltimore.

Share Tweet

Cabrera, Martinez and Cespedes Homer for Tigers in Win

nytimes.com

Mar 26 (yesterday)

Miguel Cabrera, Victor Martinez and Yoenis Cespedes each homered for the Detroit Tigers in 6-4 victory over the Baltimore Orioles on Thursday.

Share Tweet

MLB.com

Mar 26 (yesterday)

Ten months after Miguel Cabrera hit a go-ahead home run off Tommy Hunter at Camden Yards, the slugger led a Tigers comeback with a game-tying drive off the Orioles reliever. However, it took a Victor Martinez home run in the eighth inning to break the t…

Share Tweet

CHL playoffs: The most intriguing first-round matchups

thehockeynews.com

Mar 26 (yesterday)

The CHL playoffs begin tonight and it's going to be a lot of fun. Connor McDavid has one last chance to win it all with the Erie Otters in the Ontario League, but the powerfully-built Sault Ste. Marie Greyhounds have designs of their own. Out in the Wes…

Share Tweet

NHL.com thehockeynews.com

Mar 26 (yesterday)

Forward Mikael Samuelsson, a member of the Triple Gold Club, announced his retirement Thursday. Samuelsson, 38, played 699 games and for six teams in 13 NHL seasons. He won the Stanley Cup in 2008 with the Detroit Red Wings after earning a gold...

Share Tweet

Jim Caldwell claims Matthew Stafford is "improving steadily"

profootballtalk.com

Mar 26 (yesterday)

A common refrain from those who watch the Lions is that if they're going to improve in 2015, Matthew Stafford needs to improve. Coach Jim Caldwell doesn't see it that way. "Someone said something about, 'Hey, well Coach, you really need your quarterback…

Share Tweet

McClendon thinking about Weeks sharing leadoff role

MLB.com

Mar 25 (yesterday)

Lloyd McClendon has endorsed center fielder Austin Jackson as a leadoff hitter ever since Seattle acquired him from the Tigers at last July's Trade Deadline, but the Mariners' skipper is toying with trying Rickie Weeks in that role at times this season …

Share Tweet

profootballtalk.com

Mar 25 (yesterday)

The New York Jets have signed former Detroit Lions tight end Kellen Davis. According to Rich Cimini of ESPNNewYork.com, it's a one-year deal. Davis appeared in six games for the Lions last season and did not record a single catch. That's because Davis i…

Share Tweet

nytimes.com ESPN.com

Mar 25 (2 days ago)

Tigers star Miguel Cabrera played the field for the first time this spring, doing fine at first base as Detroit beat the Miami Marlins 8-4 Wednesday.

Share Tweet

Detroit Lions sticking with a multiple 4-3 defense

ESPN.com

Mar 25 (2 days ago)

The Detroit Lions lost their two starting defensive tackles to free agency in the past month. In their place, they signed two other defensive tackles who have played in a multiple system. Despite the personnel shift, Lions coach Jim Caldwell said nothin…

Share Tweet

Tigers open exploratory talks with Price's agent

MLB.com

Mar 25 (2 days ago)

The Tigers have opened discussions with left-hander David Price and his agent, Bo McKinnis, about the potential of a contract extension. At this point, however, they're basically talking about concepts. No numbers have been mentioned, Price said Wednesd…

Share Tweet

ESPN.com

Mar 25 (2 days ago)

The Detroit Lions are in need of a running back. Just don't expect that running back to be Ray Rice. Lions coach Jim Caldwell told reporters at the owners meetings in Arizona on Wednesday that the franchise would likely not be looking at the 28-year-old…

Share Tweet

profootballtalk.com

Mar 25 (2 days ago)

Reports that the Dolphins had agreed to a deal with Ndamukong Suh surfaced well before it was permissible under NFL rules for the Dolphins to agree to a deal with Suh. Under the letter of the law, the Dolphins almost certainly violated the league's tamp…

Share Tweet

Arcobello scores 2nd of game in overtime, Coyotes top Red Wings 5-4 to snap 8-game slide

NHL.com

Mar 25 (3 days ago)

DETROIT - The banged-up Red Wings controlled the puck, put 37 shots on net and broke out of their offensive slump with four goals. That still wasn't enough to beat one of the worst teams in the NHL. Mark Arcobello scored his second goal of...

Share Tweet

One year later, Martinez thankful for move to Tigers

MLB.com

Mar 25 (3 days ago)

One year ago Tuesday, J.D. Martinez signed with the Tigers, two days after being released by the Astros. He celebrated by doubling in two runs against the Yankees on national television to tie Ian Kinsler for the team lead with 11 RBIs.

Share Tweet

Window Of Opportunity Closing For Aging Lions

Mar 21

ESPN Lions reporter Michael Rothstein discusses the team's aging nucleus.

Lightning Strike Red Wings

Mar 20

The Lighting topped the Red Wings 3-1 for their second straight win.

Jagr Helps Panthers Top Red Wings

Mar 19

Jaromir Jagr scored his 718th NHL goal to move into fifth place on the career list in the Panthers' 3-1 win over the Red Wings.

76ers Stun Pistons

Mar 18

The 76ers topped the Pistons 94-83 to snap their two-game losing streak.