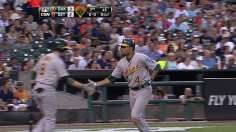 profootballtalk.com

Aug 26, 2013

As the Vikings make their way down toward the 75-man roster limit, defensive end Lawrence Jackson has lost his job. Jackson, a former first-round pick of the Seahawks who played the last three years for the Lions, was released by Minnesota today. Althou…

Share Tweet

CNNSI.com

Aug 26, 2013

DETROIT (AP) The Oakland Athletics placed right fielder Josh Reddick on the 15-day disabled list on Monday with a sprained right wrist.

Share Tweet

detnews.com ESPN.com lionsgab.com

Aug 26, 2013

Jason Fox, along with Corey Hilliard and rookie LaAdrian Waddle, are waiting for the coaches to decide which of them will be the starting right tackle in the regular season opener against the Vikings.

Share Tweet

LB Chris White, acquired for Thaddeus Young, ready for shot with Lions

detnews.com

Aug 26, 2013

Nothing like making your debut against your old running mates, as White will do Thursday when the Lions play the Bills. 'That's going to be pretty crazy,' he said.

Share Tweet

detnews.com profootballtalk.com

Aug 26, 2013

The Lions' injury situation remained much the same as it was on Sunday, meaning it was pretty much a mystery, with coach Jim Schwartz not divulging any information or updates on the 10 players who were held out or were limited at practice Monday.

Share Tweet

ESPN.com

Aug 26, 2013

Receiver Danny Amendola, who was held out of practices last week and didn't play in the New England Patriots' 40-9 preseason loss to the Detroit Lions, returned to practice Monday.

Share Tweet

Miguel Cabrera hits monster home run to second deck at Citi Field

yahoo.com

Aug 26, 2013

Your browser does not support iframes. I don't know about "500 feet," as Detroit Tigers broadcaster Rod Allen said in the video, but how about 460? How long did Miguel Cabrera's monstrous home run at Citi Field, which reached the second deck i…

Share Tweet

Louis Delmas satisfied mentally after his preseason debut

profootballtalk.com

Aug 26, 2013

The Lions have managed safety Louis Delmas' practice time closely all summer in hopes of keeping Delmas and his balky left knee on the field as much as possible during the season. While that hasn't meant a lot of reps for Delmas with his teammates, it d…

Share Tweet

Lions safety Tyrell Johnson earns coach's praise, probable spot on team

detnews.com

Aug 26, 2013

Johnson has given himself a real chance of making the Lions 53-man roster. Last week against the Patriots, he was one of the gunners on the first punt and kickoff teams. He played' special teams snaps and 30 snaps in the secondary.

Share Tweet

Cabrera Homers Again, But A's Win

Aug 26

Miguel Cabrera hit his 43rd home run, but the Athletics outlasted the Tigers 8-6.