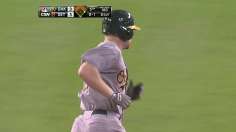 MLB.com
Updated Aug 27, 2013
The A's scored five runs against Justin Verlander in a 6-3 win over the Tigers on Tuesday night at Comerica Park. The game ended in the sixth after an 80-minute rain delay.
Share
Tweet
profootballtalk.com yahoo.com ESPN.com detnews.com

Aug 27, 2013

An arrest warrant has been issued by a California judge for former Detroit Lions wide receiver Titus Young after missing yet another court date on burglary changes. It was the fourth court appearance Young has missed since being charged. According to Gi…

Share Tweet

Tigers activate C Avila from concussion DL

The Detroit Tigers activated catcher Alex Avila from the concussion disabled list Tuesday and optioned catcher Bryan Holaday to Triple-A Toledo.

Share Tweet

We noted earlier Tuesday that the Detroit Lions released place-kicker Havard Rugland. As it turns out, Rugland was the highest-profile name involved in the Lions' push to a 75-man roster. The three other players released Tuesday were: receiver Terrence …

Share Tweet

Lions cut TEs Matt Veldman, Cameron Morrah, reach 75-man limit

With the release of tight ends Matt Veldman and Cameron Morrah on Tuesday afternoon, the Lions are down to the NFL's roster limit of 75.

Share Tweet

49ers make several moves to get to 74 players

Tuesday was not a good day for Europeans trying to make it in the NFL. The Lions cut kicker Havard Rugland, opting to go with David Akers over the man they call Kickalicious. And now the 49ers have announced that former British Olympic discus thrower La…

Share Tweet

detnews.com ESPN.com yahoo.com profootballtalk.com

Aug 27, 2013

Rugland's time in Detroit was met with great fanfare. Sports Illustrated and GQ came to training camp to do stories on Rugland, and a couple Norwegian media outlets made the trip, too.

Share Tweet

The Lions are beginning to return to full strength, but rookie defensive end Ezekiel Ansah missed practiced for a third straight day Tuesday.

Share Tweet

dimemag.com

Aug 27, 2013

Nothing ever stabs as deep as a career cut short. With Grant Hill, Penny Hardaway and Tracy McGrady, three similarly-sized players who were meant to redefine the point guard, shooting guard and small forward positions, it feels like someone took a sword…

Share Tweet

The Browns still aren't sure when first-rounder Barkevious Mingo will be able to play again, but they'll get an indication of his progress today when he runs. Mingo hasn't done much since suffering a bruised lung against the Lions on August 15, but will…

Share Tweet

Preseason: Week 3 Summary

lionsgab.com

Aug 27, 2013

Game 3 has passed and are we all satisfied with Detroit and their performance? Although the Lions defeated New England 40-9. I'm not satisfied with their performance, and this is why. All the scoring came from the back up offense. The starting offense h…

Share Tweet

Richard Hamilton talks about the terrible day that the Pistons dealt Chauncey Billups

yahoo.com

Aug 27, 2013

Back in the Detroit area to appear at a charity golf tournament, free agent guard Richard Hamilton reflected un-fondly on the Nov. 2008 trade that sent Chauncey Billups to the Denver Nuggets in a package that sent Allen Iverson to Detroit. From the Detr…

Share Tweet

2013 NBA Rookies Talk About Their Upcoming Season & The Most Underrated Part Of Their Game

dimemag.com

Aug 27, 2013

The No. 1 pick in the 2013 NBA Draft, Anthony Bennett, spoke with Carl Lamarre about joining the Cavaliers with Kyrie Irving as well as other interviews with Timberwolves' rookie Shabazz Muhammad, and the Pistons' triumvirate of Kentavious Caldwell-Pope…

Share Tweet

Patriots wide receiver Danny Amendola was held out of both practice and the team's third preseason game against the Lions last week. We don't know why Amendola was out of practice as coach Bill Belichick only deemed him day-to-day when asked about Amend…

Share Tweet

Morning Roar: Jason Fox ascends

Good morning and ROARRRRRRRR! Is Jason Fox on the verge of winning the Detroit Lions' right tackle job? We discussed the possibility Monday, and Dave Birkett of the Detroit Free Press implied as much, writing that "Fox has quietly drawn praise for …

Share Tweet

Lions RB Mikel Leshoure insists he's not frustrated as role diminishes

His battle level has been a subject of some debate, especially during this camp as second-year Joique Bell seemingly has moved ahead of him as the No. 2 running back for the Lions behind Reggie Bush.

Share Tweet

Football on TV this week

The college season kicks off this week while NFL wraps up its preseason with Thursday's Lions-Bills game aired on Channel 7. Big Ten Network will carry the Western Michigan-Michigan State game Friday night and the Central Michigan-Michigan contest Satur…

Share Tweet

Verlander, Tigers Fall To A's In 6

Aug 27

Justin Verlander suffered his 10th loss of the season as the Tigers fell to the Athletics 6-3 in a rain-shortened game.

NFL Nation: Detroit Lions

Aug 27

ESPN reporter Kevin Seifert delivers the Lions key storyline heading into the 2013 NFL season.

Web Gems

Aug 27

Does Brendan Ryan's sliding stop and throw to first top Jose Iglesias' barehanded pick and flip to first for the out.

Siva High Expectations For Louisville

Aug 27

ESPN.com's Jeff Goodman breaks down former Louisville PG Peyton Siva praising this year's team.