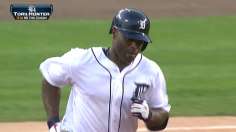 MLB.com
Updated Aug 28, 2013
The Athletics were able to knock around a Tigers starter for the third time this series -- this time scoring seven runs on Doug Fister -- on their way to a 14-4 win over Detroit on Wednesday night at Comerica Park.
Share
Tweet
Kellen Moore takes a big step

You weren't alone last summer if you questioned whether Kellen Moore was an NFL-caliber quarterback, let alone if he deserved a spot on a Detroit Lions' roster that seemed primed for a playoff run. Backing the league's decision not to draft him, Moore a…

Share Tweet

Ansah missed the Lions' last three practices after suffering an apparent injury Saturday. Lions coach Jim Schwartz declined comment multiple times this week when asked if Ansah suffered a concussion.

Share Tweet

Report: Lions' Jim Schwartz one of six NFL coaches on hot seat

Schwartz, whose 22-44 in four seasons as Lions field boss, is on the firing line due to the team's woeful 4-12 performance last season, which 'speaks to a schism between talent and results that generally has people looking at the coach,' the report note…

Share Tweet

Two years ago, the Detroit Lions won half of their 10 games by one score. In 2012, they lost nine such games. So we are left to decide: Were the Lions lucky in 2011? Or unlucky in 2012? I think the answer lies somewhere in between, and that's why I'm gu…

Share Tweet

The Juice: Athletics beat Tigers in five innings before rain comes

yahoo.com

Aug 28, 2013

The Juice returns for season No. 6! It's almost eligible for free-agency! Stop by daily for news from the action, along with great photos, stats, video highlights and more. Your browser does not support iframes. Tommy Milone pitched his fifth complete g…

Share Tweet

Morning Roar: More Patrick Edwards talk

Good morning and ROARRRRRRRR! At least one guy hasn't given up on Patrick Edwards, the Detroit Lions' buzz-worthy young receiver who hasn't exactly lit up the stat line in the preseason. Veteran Nate Burleson, whose strong comments jump-started the Edwa…

Share Tweet

Dominic Raiola remains invaluable leader for Lions

Since Raiola's second season in 2002, he's started'8 games, missing four in 2008. Despite all the losing seasons, criticism of his play and his occasionally brash attitude, Lions coaches and players have trusted Raiola to be available, whether as a…

Share Tweet

Any scenario that includes an American League pennant and a World Series championship for the 2013 Detroit Tigers also features Justin Verlander pitching like, well, Justin Verlander.

Share Tweet

Moss' Six-RBI Night Fuels A's Rout

Aug 28

Brandon Moss hit two homers and drove in six runs in the Athletics' 14-4 win over the Tigers.

Moss' Six-RBI Night Fuels A's Rout

Aug 28

Baseball Tonight Spotlight: Brandon Moss hit two homers and drove in a career-high six runs in the Athletics' 14-4 win over the Tigers.