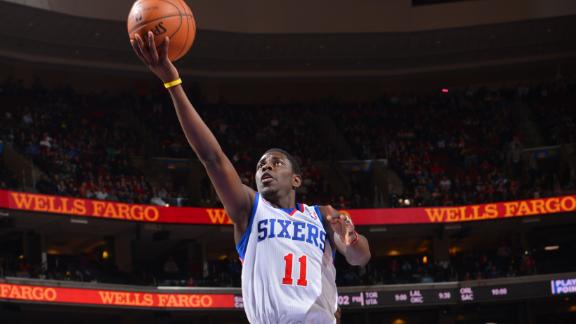 ESPN.com
Updated Dec 10, 2012
Evan Turner had 18 points and 11 rebounds, Jrue Holiday scored 25 points and the Philadelphia 76ers beat the Detroit Pistons 104-97 on Monday night.
Share
Tweet
Tigers agree to deal with Pena to back up Avila

The Detroit Tigers have agreed to a one-year contract with catcher Brayan Pena.

Share Tweet

Josh Katzenstein: Lions as spoilers won't go quietly over final three games

detnews.com

Dec 10, 2012

Don't be surprised if the Lions win their last three games. This is by no means a guarantee, but rather an advisory for anyone who thinks this team will pack it in and accept a high draft position.

Share Tweet

After the Detroit Lions' 27-20 loss to the Green Bay Packers, here are three issues that merit further examination: Here is a scary snapshot of 3 3/4 seasons under general manager Martin Mayhew and coach Jim Schwartz. Beginning with the start of the 200…

Share Tweet

MegatronWatch: Closing in on Jerry Rice

Sunday night produced quite a testament to the season Detroit Lions receiver Calvin Johnson has had. NBC gave one of its player of the game awards to Green Bay Packers cornerback Tramon Williams, who matched up for most of the night on Johnson and held …

Share Tweet

detnews.com yahoo.com ESPN.com

Dec 10, 2012

The Lions offense was so masterful in the first three possessions Sunday, it had to be what offensive coordinator Scott Linehan has envisioned all season. They had 117 yards rushing in the first half.

Share Tweet

Holiday's 25 Points Secure Win For 76ers

Dec 10

Jrue Holiday scored 25 points and Evan Turner had a double-double in the 76ers' 104-97 win over the Pistons.