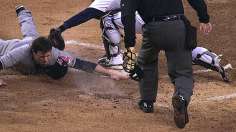 profootballtalk.com

May 11, 2013

Plenty of you have chimed in regarding potential finalists for the Vikings Mt. Rushmore collection. We'll now stay in the same division and accept nominations for the Detroit Lions. (Let's try to suggest players other than receivers, Mr. Millen.) You

Share Tweet

Lions players, Metro Detroit kids meet up for kickball

Hosted by defensive tackle Nick Fairley on Belle Isle, the tournament brought together youngsters from all across the area for a series of games and a chance to meet some of the team.

Share Tweet

Free agents Steven Miller, Blake Clingan look to impress Lions

Imagine being invited to an audition and finding out when you got there that some of the people you are competing against were given a priority invitation. That's the plight of undrafted free-agent rookie running back Miller and free-agent punter C…

Share Tweet

detnews.com profootballtalk.com

May 11, 2013

Between training with former NFL kicker Michael Husted and workouts with the Jets, Browns and Lions, Rugland had never worn a helmet before Friday. After two days with the new equipment, Rugland said the helmet actually helps him keep his head down.

Share Tweet

The offensive lineman on Saturday walked off the field with the trainer holding his left arm and, though he didn't finish the practice, he was back on the field for the post-practice meeting. It doesn't appear serious.

Share Tweet

It was a hectic but productive day for Ansah, the defensive end from BYU. It started with him signing a four-year contract with the Lions worth nearly $18.6 million, including an $11.9 million signing bonus.

Share Tweet

Sports Columnists

Golden State Warriors' Stephen Curry game-time decision for Game 4

May 11

Golden State Warriors point guard Stephen Curry received treatment on his sprained left ankle Saturday and is considered a game-time decision for Game 4 of the Western Conference semifinals.