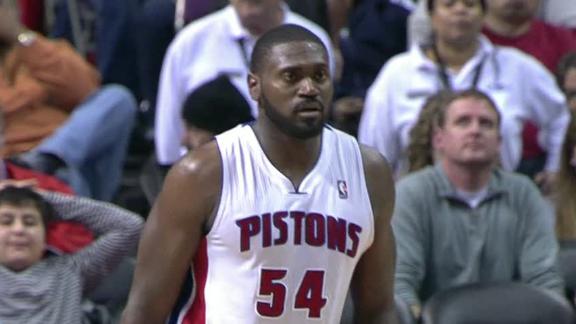 John Niyo: Dominic Raiola: Lions their own worst enemy

detnews.com

Nov 18, 2012

Raiola, the Lions' veteran center, was still in his game pants more than a half-hour after Sunday's 24-20 loss to the Packers at Ford Field. He sat next to his locker stall, his visage an obvious reflection of defeat, but also of disgust and d…

Share Tweet

yahoo.com

Nov 18, 2012

With 1:13 left in the fourth quarter of the Detroit Lions' 24-20 loss to the Detroit Lions, frustration finally seemed to boil over for a 4-6 team that expected better things this season. The 2011 Lions finished 10-6, grabbed the franchise's first playo…

Share Tweet

Bob Wojnowski: That's the way the Lions crumble

detnews.com

Nov 18, 2012

Of all the ways for a season to crumble, this wasn't supposed to be it. But there it was, on explicit display - passes sailing, footballs caroming, even coaches squabbling.

Share Tweet

detnews.com ESPN.com

Nov 18, 2012

If former Pistons coach Larry Brown did the postgame interview for Jim Schwartz, this is what he would have said: "I don't know what was going on out there with our offense - we played like strangers."

Share Tweet

DETROIT -- The Detroit Lions sure had the look of a disintegrating team Sunday at Ford Field. Understandable but unfortunate frustration emerged in the latter stages of a 24-20 loss to the Green Bay Packers, one that left them with a 4-6 record, includi…

Share Tweet

Aaron Rodgers threw two touchdown passes, including a 22-yarder to Randall Cobb with 1:55 left, and the Green Bay Packers came through with a 24-20 win over the Detroit Lions on Sunday.

Share Tweet

Cam Newton Gives A Small Child A Football And An Epileptic Fit: Your Sunday NFL GIF Roundup

deadspin.com

Nov 18, 2012

We'll be putting all our GIFs for the day here, from the happiest person you'll ever see on the receiving end of a ball from Cam Newton, to the Cowboys onside kicking in the third quarter, and failing. We'll update the post as the later games conclude, …

Share Tweet

profootballtalk.com ESPN.com

Nov 18, 2012

It wasn't easy for the Packers on Sunday in Detroit. But they'll take it. Green Bay struggled with penalties and missed field goals and trailed most of the game against the Lions, but in the end an Aaron Rodgers hit Randall Cobb on a 22-yard touchdown

Share Tweet

profootballtalk.com ESPN.com

Nov 18, 2012

After a somewhat sloppy 30 minutes of play at Ford Field, the Lions are fighting for their playoff lives and holding onto a 10-7 lead at halftime over the Packers. Lions receiver Calvin Johnson, who entered the week leading the league in receiving yards…

Share Tweet

lionsgab.com

Nov 18, 2012

Packers: CB Sam Shields, WR Greg Jennings, S Charles Woodson, LB Clay Matthews, WR Jarrett Boykin TE Andrew Quarless, LB Terrell Manning Lions: QB Kellen Moore, DE Ronnell Lewis, S Louis Delmas, OT Corey Hilliard, OT John Fox, DT Corey Williams, WR Bria…

Share Tweet

Packers-Lions: Approaching kickoff

DETROIT -- Greetings from Ford Field, which welcomed me so kindly I felt competed to document it on our new NFC North Instagram account (kevinseifert_espn), also viewable on Twitter. We've got the list of inactive players for Sunday's game between the D…

Share Tweet

Sunday Breakdown: Week 11

Nov 18

Jim Basquil and Eric Allen take a look at two key plays from week 11 of the NFL

Sunday Blitz: Packers-Lions Recap

Nov 18

Cary Chow and Cris Carter break down the Packers' 24-20 win over the Lions

Lions postgame press conference

Nov 18

Lions react following game with Packers

Packers Win Fifth Straight

Nov 18

Aaron Rodgers threw for 236 yards and two touchdowns to lead the Packers over the Lions 24-20.