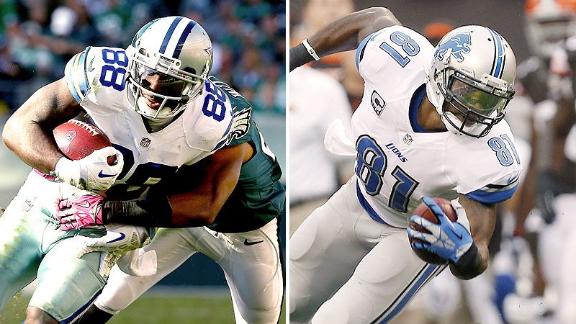 Question of the Week: Cake? Or Steak?

Question of the Week is a new feature where we ask different Lions the same question on various topics -- some funny, some issue-based, some football-related and some completely off the wall. To suggest a potential question for QOTW, email or make the s…

Share Tweet

IRVING, Texas -- One of the discussions this week regarding the Dallas Cowboys-Detroit Lions game is centered on wide receiver Calvin Johnson and how cornerback Brandon Carr will handle him. Cowboys defensive tackle Jason Hatcher said forget about any p…

Share Tweet

detnews.com yahoo.com ESPN.com profootballtalk.com

Oct 23, 2013

Bryant said Wednesday his comments comparing himself to Lions receiver Calvin Johnson were taken the wrong way, and the whole ordeal is a non-issue. 'This is not a comparison,' Bryant said during a conference call with Detroit media. 'There's nothing to…

Share Tweet

detnews.com

Oct 23, 2013

'I don't know yet,' Suh said Wednesday. 'I've had brief discussions with my agent and general manager, but for now I am just focused on Dallas and not concerning myself with that just yet — not until the bye week.'

Share Tweet

20 Craziest Fights In NBA History

dimemag.com

Oct 23, 2013

Gone are the days where two NBA teams who straight-up didn't like each other could get together and elevate their rivalry with a brawl. Good riddance. Those who enjoy watching titans inflict pain on each other can find plenty of other vices to quench th…

Share Tweet

Edholm's Early Edition (Week 8); Cowboys, Lions face off in great-opportunity matchup

yahoo.com

Oct 23, 2013

This week's NFL schedule lacks serious sex appeal, but that doesn't mean there are not important games — and a few key divisional matchups — going down. Here's an early look at the biggest storylines heading into Week 8: 1. You really can sit and look a…

Share Tweet

MLB.com

Oct 23, 2013

After eight seasons as a coach on Jim Leyland's staff with the Tigers, Lloyd McClendon, who managed the Pittsburgh Pirates from 2001-05, would jump at the opportunity to become Detroit's next skipper.

Share Tweet

ALLEN PARK, Mich. -- Wide receiver Calvin Johnson did not practice Wednesday for the Detroit Lions, although that shouldn't be a concern at this point. Earlier this season, he took some Wednesdays off. More pressing was Detroit's offensive tackle issue.…

Share Tweet

detnews.com

Oct 23, 2013

Fox, who has played parts of just two games because of groin and knee injuries, was back at Lions practice on Wednesday.

Share Tweet

The 10 Biggest Storylines Of The NBA Season: The Pacers Are The New "Bad Boys"

dimemag.com

Oct 23, 2013

With the NBA season less than a week away from officially starting, you've probably noticed we've been pumping out enough preview content to bury even Hasheem Thabeet. Over the next week, we'll be taking a look at the 10 biggest storylines of the 2013-1…

Share Tweet

MLB.com

Oct 23, 2013

After winning the American League Championship Series in six games over the Tigers, the Red Sox will take the same roster into the World Series against the Cardinals.

Share Tweet

ESPN.com detnews.com

Oct 23, 2013

Good morning and ROOOAARRRR!!!!! ALLEN PARK, Mich. -- He didn't have the accuracy he has displayed in other games this season and on Tuesday, Detroit Lions quarterback Matthew Stafford maintained he isn't having trouble hitting receivers. "I don't …

Share Tweet

Man banned from Fenway after allegedly sneaking into Red Sox clubhouse and grabbing Mike Napoli's mitt

yahoo.com

Oct 23, 2013

Security breach at Fenway Park! The Boston Red Sox clubhouse has been compromised. Reports out of Boston say team security found 23-year-old Thomas Robbins of Concord Mass. inside of the home clubhouse at Fenway about 2:30 a.m. Sunday, not long after th…

Share Tweet

Does Bryant Compare To Megatron?

Oct 23

Herm Edwards and Jerome Bettis compare Cowboys WR Dez Bryant to Lions WR Calvin Johnson and discuss each player's merits.