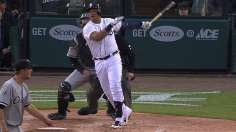 MLB.com
nytimes.com
Updated 7 hours ago
Miguel Cabrera homered during a five-run third inning and had three RBIs, Alex Avila had a three-hit night and the Tigers collected seven doubles to back Justin Verlander's seven strong innings as the Tigers evened their series against the White Sox wit…
Upvote
Share
Tweet
Jackson gets first day off of regular season

MLB.com

12 hours ago

After 16 games and 144 1/3 innings, Austin Jackson had a game off. It's not exactly a Prince Fielder-like streak, but it's part of Tigers manager Brad Ausmus' plan to rest his center fielder some early so that he can play him every day late.

Upvote Share Tweet

Danks pitches White Sox past Tigers in opener

John Danks allowed one run over over 6 1/3 innings in a duel with Detroit's Anibal Sanchez, and the White Sox tallied three runs in a review-filled seventh inning to secure a 3-1 victory over the Tigers on Monday in the opener of a four-game set at Come…

Upvote Share Tweet

Tigers call up power-hitting J.D. Martinez

The Tigers have called up hot-hitting Minor Leaguer J.D. Martinez from Triple-A Toledo, placed right-handed reliever Luke Putkonen on the 15-day disabled list and transferred outfielder Andy Dirks from the 15-day to the 60-day DL.

Upvote Share Tweet

Left-hander Chris Sale most likely will not take his scheduled start Tuesday night at Comerica Park against the Tigers and Justin Verlander. But how long the White Sox ace will be out of action remains to be decided.

Upvote Share Tweet

ESPN.com nytimes.com yahoo.com

Apr 20 (3 days ago)

Rick Porcello pitched seven sharp innings, and the Detroit Tigers took advantage of four Los Angeles errors in a 2-1 victory over the Angels on Sunday.

Upvote Share Tweet

Porcello's redemption leads Tigers to series win

MLB.com

Apr 20 (3 days ago)

Rick Porcello gave up three first-inning singles, but just two hits for the next six innings, pitching his way through a duel with Hector Santiago for a 2-1 Tigers win Sunday afternoon in the rubber match of the three-game series at Comerica Park.

Upvote Share Tweet

Alex Gonzalez's tenure as Tigers shortstop is over after three weeks. The Tigers released the 37-year-old on Sunday morning and called up infielder Danny Worth from Triple-A Toledo.

Upvote Share Tweet

MLB.com ESPN.com nytimes.com

Apr 19 (4 days ago)

After allowing a leadoff home run, Max Scherzer settled in, gave the bullpen some much-needed rest and earned his first win of the season as the Tigers topped the Angels, 5-2, on Saturday afternoon.

Upvote Share Tweet

ESPN.com nytimes.com MLB.com

Apr 18 (4 days ago)

Albert Pujols hit his 497th home run and Howie Kendrick added two of his own to lead the Los Angeles Angels to an 11-6 win over the Detroit Tigers on Friday night.

Upvote Share Tweet

Kendrick awarded home run following official review

MLB.com

Apr 18 (4 days ago)

Angels designated hitter Howie Kendrick was initially ruled to have hit a double in the fourth inning of Friday night's game against the Tigers, but after Angels manager Mike Scioscia asked for a review, the ball was ruled to have cleared the fence for …

Upvote Share Tweet

Boesch back in Detroit after getting called up

MLB.com

Apr 18 (4 days ago)

Angels outfielder Brennan Boesch was a big part of the Tigers from 2010-12, playing in a combined 380 games while posting a .259/.315/.414 slash line.

Upvote Share Tweet

Freese pulled from lineup with tightness in right quad

MLB.com

Apr 18 (5 days ago)

Angels third baseman David Freese was scratched from the lineup on Friday, hours before the series opener against the Tigers at Comerica Park. Freese is experiencing tightness in his right quad, an injury manager Mike Scioscia doesn't deem serious.

Upvote Share Tweet

Tigers promote righty Miller to bolster bullpen

MLB.com

Apr 18 (5 days ago)

The Tigers on Friday recalled right-hander Justin Miller from Triple-A Toledo to supplement a taxed bullpen and optioned rookie outfielder Tyler Collins to Triple-A.

Upvote Share Tweet

Behind Max Scherzer and company, Tigers boast MLB's best rotation

CNNSI.com

Apr 18 (5 days ago)

With defending Cy Young winner Max Scherzer leading it, Detroit's rotation is the envy of baseball.

Upvote Share Tweet

Kinsler's huge day leads Tigers over Tribe

Ian Kinsler continued his hot start with a three-run homer in a four-run fifth inning to propel Detroit to a 7-5 win on Thursday afternoon at Comerica Park. Kinsler later added an RBI single.

Upvote Share Tweet

Kipnis tossed for arguing balls and strikes

Indians second baseman Jason Kipnis expressed some frustration in the third inning on Thursday and promptly paid the price. Following a three-pitch strikeout at the hand of Tigers starter Justin Verlander, Kipnis received his first career ejection from …

Upvote Share Tweet

McAllister strong, and Indians close out Tigers

A crucial escape by Zach McAllister in the fourth inning helped pave the way for a 3-2 victory for the Indians on Wednesday night at Comerica Park.

Upvote Share Tweet

Safe call at first stands after Indians challenge

MLB.com

Apr 16 (6 days ago)

With the Tigers trailing the Indians 3-1 in the bottom of the eighth on Wednesday night at Comerica Park, Detroit second baseman Ian Kinsler laid down a bunt and was called safe on a bang-bang play at first. After Indians manager Terry Francona's challe…

Upvote Share Tweet

ESPN.com

Apr 15

The Indians activated outfielder Michael Bourn from the disabled list before their scheduled game with the Tigers was postponed by inclement weather.

Upvote Share Tweet

MLB.com

Apr 15

Tuesday's scheduled game between the Indians and Tigers at Comerica Park has been postponed due to inclement weather. The game will be rescheduled at a later date, but not during the current series, which is now scheduled to begin on Wednesday.

Upvote Share Tweet

MLB Daily Download: Tuesday

Apr 22

Antonietta Collins recaps Monday night's action from around the league including, a couple of walk-offs, a superb outing from Cliff Lee, and a first for Bryce Harper and Mike Trout.

Tigers Hold Off White Sox

Apr 22

Miguel Cabrera drove in three runs as the Tigers defeated the White Sox 8-6.

White Sox Rally Past Tigers

Apr 21

The White Sox beat the Tigers 3-1, scoring all their runs in the seventh inning.

Tigers Edge Angels

Apr 20

The Tigers took advantage of four Angels' errors to prevail for the 2-1 win.

Sports Columnists

2014 NBA playoffs - Chicago Bulls couldn't buy a basket in Game 2, need to…

Apr 23

Joakim Noah is a very worthy defensive player of the year, but he still needs to play alongside a true offensive star.

2014 NBA draft - ESPN Insider's 360-degree NBA draft prospect profiles

Apr 22

ESPN Insider's NBA draft experts offer a guide to their 20-plus prospect draft profiles.

NFL to release schedule Wednesday night

Apr 22

The NFL schedule is going to be officially announced and released at 8 p.m. ET Wednesday.