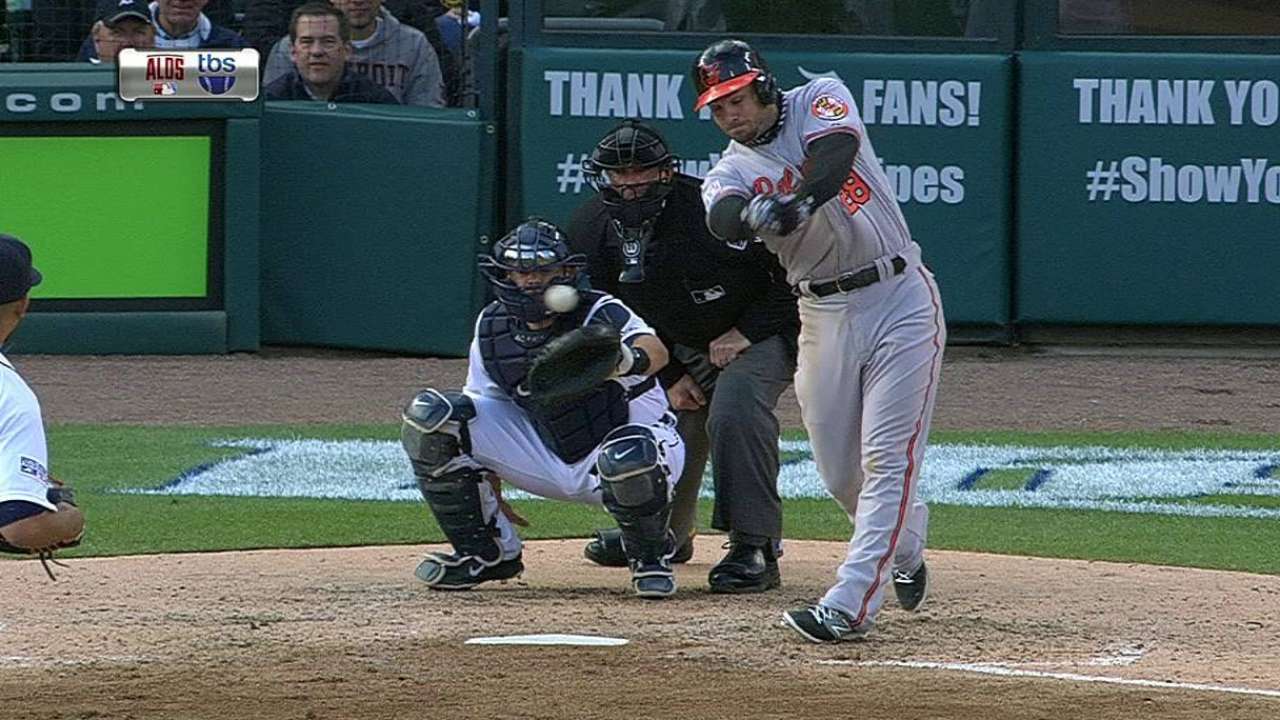 Due to concussions, Avila switching mask
MLB.com
Updated Jan 26 (yesterday)
Alex Avila is committed to making the hockey-style catching mask work for him, whether it's comfortable or not. After concussions in each of the last three seasons, the Tigers' backstop is making the switch.
Upvote
Share
Tweet
Tigers, P Alburquerque reach one-year deal

ESPN.com

Jan 25 (yesterday)

Relief pitcher Al Alburquerque and the Detroit Tigers have reached an agreement on a one-year contract.

Upvote Share Tweet

yahoo.com

Jan 25 (2 days ago)

After five seasons with the Detroit Tigers, which included four straight postseason appearances and one Cy Young award, Max Scherzer is headed east for the next seven seasons after signing a new seven-year, $210 million contract with the Washington Nati…

Upvote Share Tweet

Players, staff set for TigerFest at Comerica Park

MLB.com

Jan 23 (4 days ago)

The Tigers spent the last two days reaching out across Michigan to connect with their fan base. On Saturday, the fan base comes to Comerica Park to connect with the Tigers.

Upvote Share Tweet

nytimes.com MLB.com yahoo.com

Jan 22 (5 days ago)

Justin Verlander is doing his best to take Max Scherzer's departure in stride.

Upvote Share Tweet

Price likes Detroit, open to extension talks

MLB.com

Jan 22 (5 days ago)

As the industry ponders David Price's future and his potential market, he indicated he's open to discussions on a long-term contract with the Tigers, even as he acknowledged the strong lure of being able to pick his destination and see what his market v…

Upvote Share Tweet

MLB.com nytimes.com

Jan 19

Max Scherzer is the second pitcher that Tigers pitching coach Jeff Jones has coached who has ended up signing a seven-year contract worth $180 million or more, joining Justin Verlander. Once Rick Porcello's situation is resolved in Boston, Jones could h…

Upvote Share Tweet

Keeping Score: Two Unsigned Aces Play a Waiting Game

nytimes.com

Jan 17

Max Scherzer and James Shields are two high-profile free-agent pitchers who have not yet signed with a new club, even though pitchers and catchers are scheduled to report Feb. 19.

Upvote Share Tweet

MLB.com nytimes.com yahoo.com ESPN.com

Jan 17

David Price's final arbitration year will cost the Tigers a cool $19.75 million, the largest one-year deal in history for a player who filed for arbitration. While the club can do nothing else this winter and still have a team worthy of some top-of-the-…

Upvote Share Tweet

nytimes.com MLB.com

Jan 16

Detroit Tigers left-hander David Price set a record for the highest one-year contract for a player in salary arbitration, agreeing to a $19.75 million deal Friday as 95 players reached agreements on the busiest day of baseball's offseason.

Upvote Share Tweet

Deadline brings deluge of deals across baseball

MLB.com

Jan 16

The prospect of taking the arbitration process a step further brought a torrent of transactions Friday, as dozens of Major League players settled with their clubs on a salary for 2015, highlighted by an arbitration record for the Tigers' David Price.

Upvote Share Tweet

Miggy unlikely to be ready for start of Spring Training

MLB.com

Jan 12

The Tigers are hoping that Miguel Cabrera and his surgically repaired right foot will be healthy enough to be in their Opening Day lineup. His Spring Training readiness, however, is expected to be limited if not delayed.

Upvote Share Tweet

In playing days, Ausmus owned new Tigers lefty Gorzelanny

MLB.com

Jan 9

Tom Gorzelanny's signing, not surprisingly, was welcome news to Tigers manager Brad Ausmus, who now has a veteran lefty in his much-scrutinized bullpen. If anyone should know what he's getting with Gorzelanny, it's Ausmus.

Upvote Share Tweet

Ausmus, Avila to take part in Mud Hens' Tiger Talk

MLB.com

Jan 9

While the Tigers embark on their Winter Caravan trek through Michigan later this month, manager Brad Ausmus and catcher Alex Avila will be making a side trip to Toledo, Ohio, for charity. They'll take part in the Mud Hens' second annual Tiger Talk: A He…

Upvote Share Tweet

The Detroit Tigers and left-handed reliever Tom Gorzelanny have agreed to a $1 million, one-year contract.

Upvote Share Tweet

Lennerton returns to Tigers on Minor League deal

MLB.com

Jan 5

For three years, Jordan Lennerton was a sweet-hitting first baseman in the Tigers' farm system who had the misfortune of playing the same position as Prince Fielder and then Miguel Cabrera. With a chance to hit the open market this winter, Lennerton opt…

Upvote Share Tweet

Scherzer question remains for Tigers as new year begins

MLB.com

Jan 5

The holidays have come and gone, the calendar has changed and Spring Training is getting closer and closer. It's January, and the Tigers still have some work to do. It could be as minor as relief help on Minor League deals. It could be as big as a Max S…

Upvote Share Tweet

Scherzer: 'I Play This Game To Win'

Jan 21

Max Scherzer sits down with Britt McHenry after being introduced by the Nationals.

Nats Land Top Free Agent Scherzer

Jan 19

Buster Olney reacts to the news that Max Scherzer and the Nationals have agreed to a seven-year deal and the impact it will have on Washington's rotation.

Nationals Land Scherzer

Jan 18

ESPN's Curt Schilling reacts to Max Scherzer and the Nationals agreeing to a seven-year deal.

Does Price's Deal Prevent Scherzer's Return To Tigers?

Jan 16

ESPN senior MLB writer Jayson Stark discusses David Price's record deal with the Tigers and what it means for Max Scherzer.