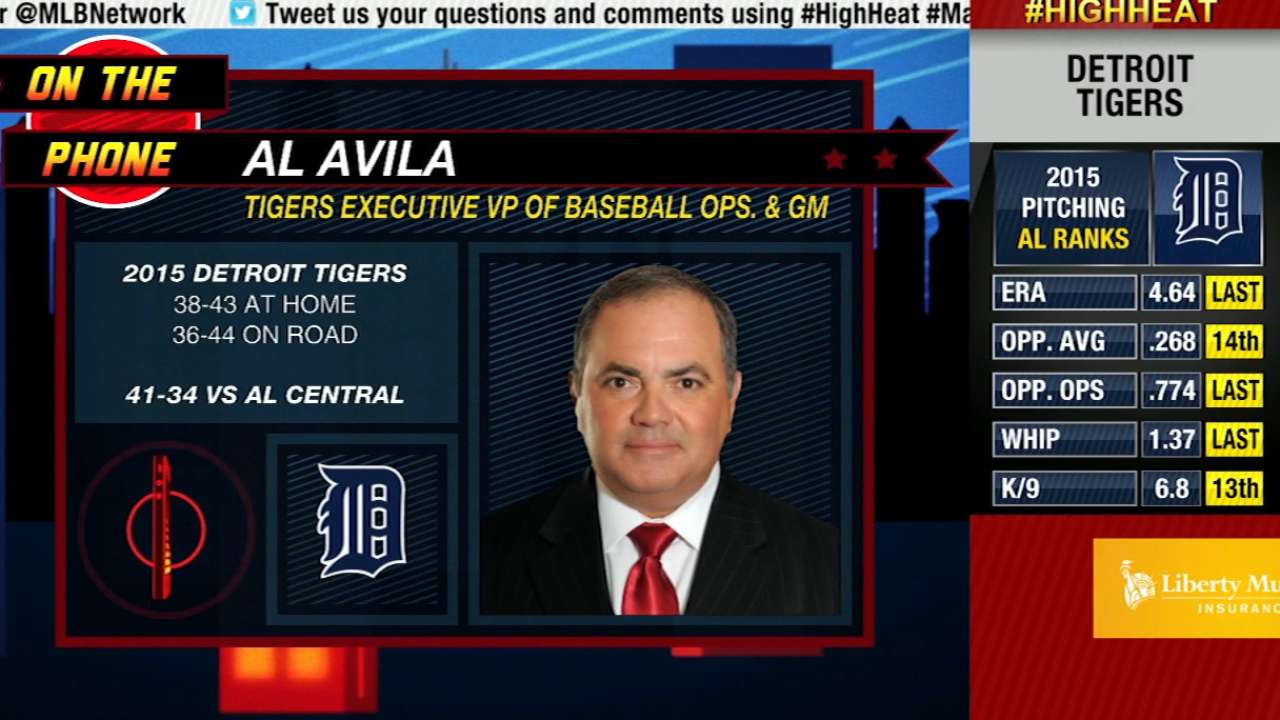 Tigers hope new faces help them return to postseason
MLB.com
Updated Feb 10 (yesterday)
The Tigers head to Spring Training with more prominent new faces than they've brought in over any offseason since 2009, the year after their previous last-place finish. GM Al Avila was part of that offseason, serving as then-general manager Dave Dombrow…
Share
Tweet
JD Martinez, Tigers Finalize $18.5 Million, 2-Year Deal

nytimes.com

Feb 10 (yesterday)

J.D. Martinez and the Detroit Tigers finalized their $18.5 million, two-year contract Wednesday, a deal that avoided salary arbitration.

Share Tweet

nytimes.com MLB.com

Feb 8 (3 days ago)

J.D. Martinez has agreed to an $18.5 million, two-year contract with the Detroit Tigers, according to a person with knowledge of the deal.

Share Tweet

Six Tigers primed for bounceback 2016 seasons

MLB.com

Feb 8 (3 days ago)

For all the buzz about the Tigers' offseason moves, the fate of their 2016 season rests more on three of the club's longest-tenured players.

Share Tweet

nytimes.com

Feb 5 (7 days ago)

Alex Romero, Jose Martinez and Sandy Leon drove in runs to lead Venezuela's Aragua Tigers over Cuba's Ciego de Avila 3-1 Thursday and advance to the Caribbean Series semifinals.

Share Tweet

Boyd sets sights on staying in Tigers' rotation

MLB.com

Feb 4 (7 days ago)

Matt Boyd spent the final nine weeks of last season in the Tigers' rotation. He will spend Spring Training competing for the chance to start in 2016.

Share Tweet

nytimes.com

Feb 3

Alejandro Soto pitched into the sixth inning, Yuniesky Betancourt hit a two-run double and the Mazatlan Venados of Mexico beat Venezuela's Aragua Tigers 6-4 Wednesday for a spot in the semifinal round of the Caribbean Series.

Share Tweet

yahoo.com

Jan 31

One of the more interesting storylines to follow this season will take place in the AL Central. That's where veteran catcher Alex Avila, formerly of the Detroit Tigers and currently of the Chicago White Sox, will do regular battle with father Al Avila, …

Share Tweet

yahoo.com

Jan 30

In our Homer History series, writers re-tell the stories of memorable home runs from their perspective. In this installment, Yahoo Sports NFL editor Al Toby, who grew up in Michigan, recalls the night — well, one of the nights — the Tigers bullpen blew …

Share Tweet

yahoo.com

Jan 28

Doug Fister, the ex-Washington Nationals and Detroit Tigers starter, came into the offseason with his stock at an all-time low. At one point, before a rough 2015 season, Fister figured to make big bucks in free agency. But on Thursday he signed a one-ye…

Share Tweet

MLB.com

Jan 28

It is almost time for Zack Greinke to suit up for the D-backs, Todd Frazier for the White Sox, David Price for the Red Sox, Justin Upton for the Tigers, Johnny Cueto for the Giants, Jason Heyward for the Cubs, and all those other new faces in new places…

Share Tweet

MLB.com

Jan 27

The Tigers regained some organizational infield depth Wednesday, acquiring infield prospect Kody Eaves from the Angels in exchange for corner infielder Jefry Marte.

Share Tweet

Avila makes mark, brings balance in first offseason

MLB.com

Jan 25

Like many first-time GMs in recent years, Al Avila's first offseason will be known for the big signings, committing nearly a quarter billion dollars in contracts for Justin Upton and Jordan Zimmermann. Still, the Tigers have had big-spending offseasons …

Share Tweet

Ilitch's passion apparent in Tigers' upgrades

MLB.com

Jan 22

Between selling pizza and running the Detroit Red Wings, Mike Ilitch has owned the Tigers since 1992. He's now 86, and he remains wonderfully obsessed with grabbing a fifth World Series championship for the Tigers and their first in 32 years.

Share Tweet

yahoo.com

Jan 21

It might be late January, but there's still plenty to talk about on this week's episode of the StewPod. On this episode, Mike and Chris talk about where Yoenis Cespedes should land, whether the Tigers are contenders with Justin Upton and we tackle the D…

Share Tweet

MLB.com nytimes.com ESPN.com

Jan 21

Torii Hunter was at home in Texas, enjoying his first offseason as a retired ballplayer. He hasn't been part of the Tigers organization in more than a year. Yet Hunter might have provided one more assist for the club out of left field.

Share Tweet

Fearsome foursomes: Best lineup quartets for '16

On Wednesday, the Tigers officially added Justin Upton to a lineup that already featured some accomplished offensive players.

Share Tweet

Tigers still looking to add pitching depth

The Tigers have spent just under $270 million in free agency this offseason, including the now-official six-year, $132.75 contract with outfielder Justin Upton. And yet, they might not be done.

Share Tweet

Justin Upton should capably fill the left-field hole in Detroit that opened when Yoenis Cespedes was traded last July.

Share Tweet

Harvey Tosses 2 Perfect Innings In Mets' Win

Mar 6

The Mets beat the Tigers 5-4 in Matt Harvey's return to the mound.

Price Excited For 2015 Season

Mar 3

Tigers pitcher David Price discusses the status of his contract situation in Detroit and what he did in the offseason to get better.

Cabrera, Tigers Focused On Title

Mar 3

Tigers first baseman Miguel Cabrera says the team is focused on winning a championship and discusses his performance during last season during an injury-riddled campaign, and the importance of DH Victor Martinez.

Verlander Confident, Ready To Go

Mar 3

Tigers pitcher Justin Verlander discusses his preparations for the season and the loss of pitcher Max Scherzer.