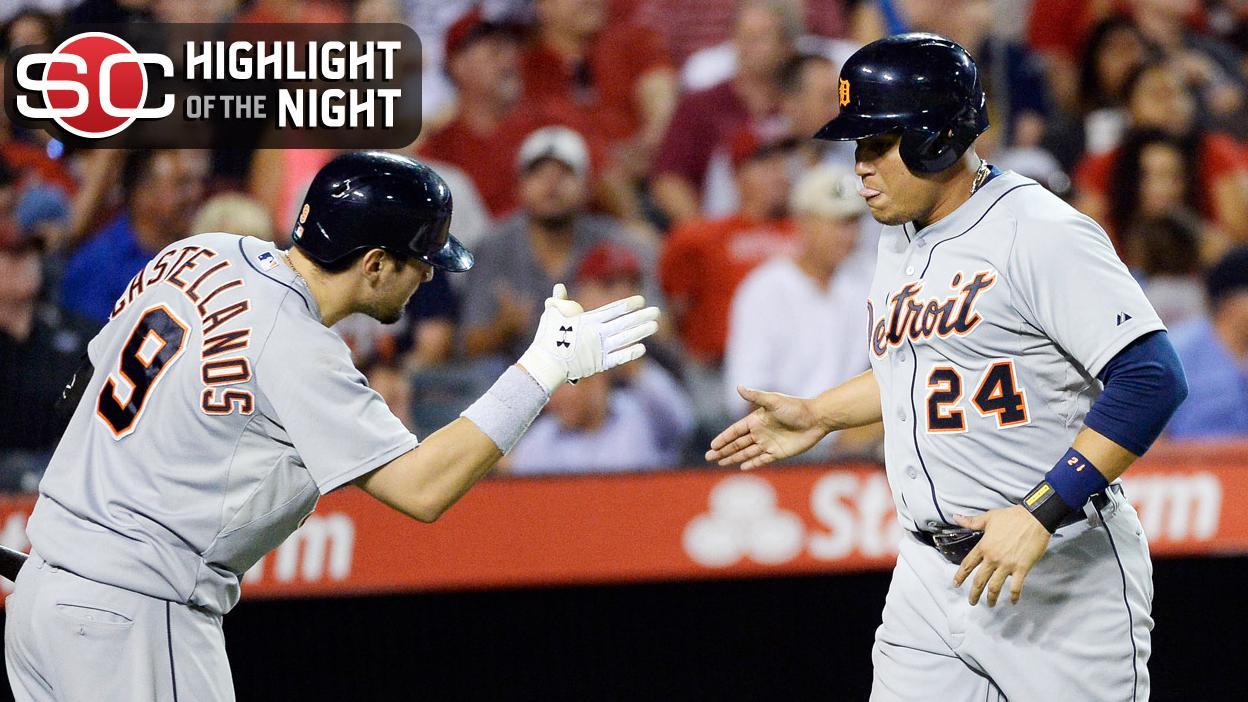 yahoo.com
MLB.com
ESPN.com
nytimes.com
Updated 9 hours ago
Los Angeles Angels pitcher Garrett Richards has been one of the breakout pitchers of the 2014 season, but as his matchup Thursday night against Max Scherzer and the Detroit Tigers showed us, there's a reason Scherzer is the reigning Cy Young winner and …
Upvote
Share
Tweet
ESPN.com MLB.com nytimes.com yahoo.com

16 hours ago

The Detroit Tigers had seen enough from their shaky bullpen to know something had to be done. So the American League Central leaders acquired right-hander Joakim Soria.

Upvote Share Tweet

Tigers not counting on help from Hanrahan

MLB.com

Jul 24 (yesterday)

Joel Hanrahan signed with the Tigers in May, less than a year after undergoing Tommy John surgery, and team president/GM Dave Dombrowski said Thursday the club isn't counting on the veteran right-hander to return the big leagues this year.

Upvote Share Tweet

Tigers flex muscles, erupt to pull away from D-backs

MLB.com

Jul 23 (yesterday)

Propelled by a five-run fourth and a four-run eighth, Detroit beat down Arizona at Chase Field.

Upvote Share Tweet

Montero's heroics leave D-backs atop seesaw affair

MLB.com

Jul 23 (2 days ago)

David Peralta tied a D-backs club record with two triples Tuesday night. Both were a key to Arizona's 5-4 victory over the American League Central-leading Tigers, but it was Miguel Montero's two-run, two-out bases loaded single in the eighth that proved…

Upvote Share Tweet

Tigers Wear Down Diamondbacks 11-5

nytimes.com

Jul 23 (3 days ago)

Miguel Cabrera hit a three-run homer, Austin Jackson a three-run double and the Detroit Tigers wore out the Arizona Diamondbacks 11-5 in a slugfest at Chase Field on Wednesday.

Upvote Share Tweet

D-backs send Ross back to DL with left calf strain

MLB.com

Jul 22 (3 days ago)

D-backs right fielder Cody Ross is back on the 15-day disabled list, this time because of a left calf strain. He was replaced on the roster prior to Tuesday night's game against the Tigers by Alfredo Marte.

Upvote Share Tweet

ESPN.com MLB.com nytimes.com

Jul 22 (3 days ago)

Torii Hunter and Austin Jackson homered, Justin Verlander moved into third place on Detroit's career strikeout list, and the Tigers opened their interleague series in Arizona by beating the Diamondbacks 4-3 on Monday night.

Upvote Share Tweet

Former D-back Scherzer returns to Chase Field

MLB.com

Jul 21 (4 days ago)

Despite being traded in the three-team deal that sent Curtis Granderson to the Yankees, Max Scherzer doesn't hold any grudges toward the D-backs. Since he was dealt to the Tigers, he has blossomed from a prospect into a bona fide Major League ace.

Upvote Share Tweet

Chamberlain's Arm and Beard Fitting in With Tigers

nytimes.com

Jul 21 (4 days ago)

The Detroit Tigers have gotten a good return on their short-term investment in right-hander Joba Chamberlain.

Upvote Share Tweet

yahoo.com

Jul 21 (4 days ago)

Torii Hunter hit an otherwise unremarkable home run Sunday, one that extended a lead for the Detroit Tigers in a 5-1 victory against the Cleveland Indians. It was the struggle for the souvenir that was most notable about Hunter's two-run blast in the bo…

Upvote Share Tweet

MLB.com nytimes.com ESPN.com

Jul 20 (5 days ago)

Drew Smyly didn't allow a hit until the fifth and Torii Hunter went deep as the Tigers snapped a four-game skid with a 5-1 win over the Indians on Sunday at Comerica Park.

Upvote Share Tweet

Tigers Claw Past Angels

Jul 24

SportsCenter Highlight of the Night: Max Scherzer struck out 11 to pick up his 12th victory of the season in the Tigers' 6-4 win over the Angels.

Tigers Crush Diamondbacks

Jul 23

The Tigers picked up their 30th road win of the season, beating the Diamondbacks 11-5.

Joakim Soria Traded To Tigers

Jul 23

The Baseball Tonight crew discusses the trade between the Rangers and the Tigers that sent Joakim Soria to Detroit for two pitching prospects.

Diamondbacks Rally Past Tigers

Jul 22

Miguel Montero's single in the bottom of the eighth lifted the Diamondbacks past the Tigers 5-4.