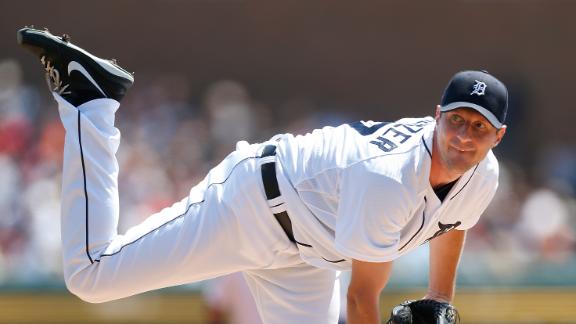 Miguel Cabrera hit his 40th home run and had an RBI single to help Max Scherzer become baseball's first 18-game winner this season as the Detroit Tigers beat the Kansas City Royals 6-3 to win the five-game series.
Share
Tweet
The Tigers' Max Scherzer tied the single-season winning percentage record on Sunday, another superlative in an already sterling year.

Share Tweet
Max Scherzer Improves To 18-1

Aug 18

Miguel Cabrera hit his 40th home run of the season and Max Scherzer pitched eight strong innings to lead the Tigers past the Royals 6-3.

BBTN Minute: Choosing The AL MVP

Aug 18

Barry Larkin and Adnan Virk discuss the top candidates for AL MVP, including Miguel Cabrera, Mike Trout and Chris Davis.

Web Gems

Aug 18

Does Alex Gordon's catch while running into the wall top Jose Iglesias' barehanded pick and throw?