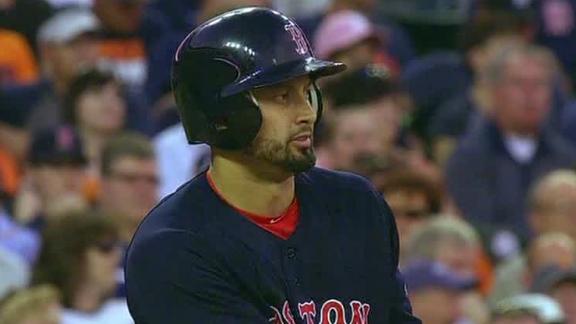 Shane Victorino homered and hit three singles, driving in five runs to lead the Boston Red Sox to a 10-6 win over the Detroit Tigers on Friday night.
Share
Tweet
As a free agent following a respectable, but not dominate 2012 season (35 saves, 3.78 ERA in 71 appearances), veteran closer Jose Valverde drew very little interest on the open market over the winter. The interest was so minimal, in fact, he eventually …

Share Tweet

Intercostal strain lands Tuiasosopo on disabled list

MLB.com

Jun 21, 2013

Matt Tuiasosopo was poised to become a bigger member of the Tigers' starting lineup, earning more playing time against right-handed pitchers in addition to the lefties he has been pummeling all year. Instead, with a bad swing in the batting cage, he bec…

Share Tweet

Former major leaguer C.J. Nitkowski uses family dog to instruct young son on sliding (video)

yahoo.com

Jun 21, 2013

Former major leaguer C.J. Nitkowski has pitched for 17 different organizations in four countries, most notably with the Detroit Tigers. At this point in his life, at age 40, he's probably more likely to be invited to a Yankees' Old-Timers' day than to m…

Share Tweet

The Juice returns for season No. 6! It's almost eligible for free-agency! Stop by daily for news from the action, along with great photos, stats, video highlights and more. This was a welcome role change for the Detroit Tigers — it wasn't their closer o…

Share Tweet

Closer Problems For Red Sox And Tigers

Jun 21

Baseball Tonight Minute: Baseball Tonight looks at which team has the bigger problem at closer, the Red Sox or the Tigers.

Victorino's Five RBI Night

Jun 21

Despite Miguel Cabrera capturing his 10th straight 20-plus home run season, Shane Victorino's five RBIs lifted the Red Sox to a 10-6 win over the Tigers.