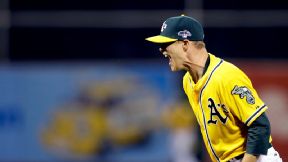 A's strive for happier end to Game 5 trend

Oakland's decisive affair with the Tigers on Thursday evening will mark the seventh time in 13 years the A's have played in Game 5 of the American League Division Series. Five of the previous six ended in a loss. Talk about heartbreaking.

Upvote Share Tweet

In a decisive Game 5 in Oakland on Thursday night, the Tigers will send Justin Verlander to the hill and the A's are turning to Sonny Gray as the two clubs try to punch a ticket to the ALCS.

Upvote Share Tweet

Champagne on ice, ready for four straight clinches

After the Pirates and Cardinals, and Tigers and A's, conclude their Division Series on Wednesday and Thursday, it will be the fourth time in the post-1994 postseason expansion era that Major League Baseball has had a series clincher on four consecutive …

Upvote Share Tweet

MLB.com

Oct 2, 2013

The road to the 109th World Series resumes at 8 p.m. ET on Thursday as Justin Verlander starts a decisive Game 5 for Detroit against the A's in Oakland for the second year in a row, in a game that completes the field for the League Championship Series. …

Upvote Share Tweet

MLB.com grantland.com

Oct 9, 2013

For the first time in five years, there will be American League Championship Series baseball in Boston. And for the second straight year, there will be an AL Division Series Game 5 between the Tigers and A's in Oakland.

Upvote Share Tweet

Verlander Peaking For Game 5

Oct 9

"Baseball Tonight" Minute: Curt Schilling and Karl Ravech discuss the Game 5 pitching matchup between Justin Verlander and Sonny Gray.

Who Should Oakland Start In Game 5?

Oct 9

Doug Glanville says the Athletics should start Bartolo Colon in the deciding Game 5 of the ALDS against the Tigers.