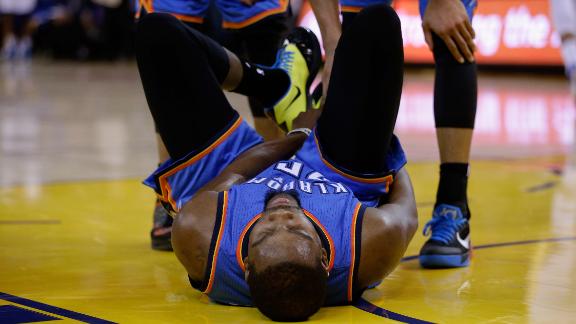 Curry rallies Warriors to win over Thunder
ESPN.com
Updated 1 hour ago
Stephen Curry had 34 points and nine assists, and the Golden State Warriors rallied from an early 17-point deficit to beat Oklahoma City 114-109 on Thursday night after Thunder star Kevin Durant left with a sprained right ankle.
Upvote
Share
Tweet
nba.com ESPN.com yahoo.com dimemag.com

3 hours ago

Oklahoma City Thunder star Kevin Durant sat out the second half of a 114-109 loss at the Golden State Warriors on Thursday night after spraining his right ankle.

Upvote Share Tweet

Watch Steph Curry Drill 3-Pointer After Getting Hand-Off From Andre Iguodala

dimemag.com

4 hours ago

Do you like football? Us neither – compared to hoops, at least. But it's still fun to see aspects of our two most popular games cross over. Watch Steph Curry drill an insanely difficult three-pointer after getting a hand-off from Andre Iguodala. Holy he…

Upvote Share Tweet

GIF: Serge Ibaka Gets Beautiful Block Of Harrison Barnes' Dunk

dimemag.com

4 hours ago

The Oklahoma City Thunder and Golden State Warriors combined for 72 points in the first quarter of tonight's headlining matchup. Kevin Durant was red hot from beyond the arc, Stephen Curry was splashing and dishing, and Russell Westbrook was attacking w…

Upvote Share Tweet

dimemag.com nba.com ESPN.com

11 hours ago

This isn't doomsday for the Golden State Warriors, but it's hardly encouraging, either. After Andrew Bogut said earlier this week that he should "probably" be worried about his suspiciously balky right knee, the Aussie center underwent platelet-rich pla…

Upvote Share Tweet

Videos: Vince Carter Catches Fire In Second Quarter Versus Warriors

dimemag.com

Dec 17 (yesterday)

It was Vinsanity during the second quarter of the Memphis Grizzlies' win over the streaking Golden State Warriors on Tuesday night. Watch Vince Carter live up to his nickname and get FedEx Forum rocking by hitting three treys in four possessions during …

Upvote Share Tweet

Watch Steph Curry Put Jrue Holiday On Skates And Drop 34 In Warriors Win

dimemag.com

Dec 15 (4 days ago)

There was no stopping Stephen Curry in the opening quarter against the Pelicans on Sunday afternoon when he went 5-of-7 from the field and 3-of-4 from deep for 13 points. The same could be said for Steph in the overtime session, when he scored eight of …

Upvote Share Tweet

dimemag.com ESPN.com

Dec 15 (4 days ago)

After a thrilling, closer-than-expected 128-122 win over the Pelicans on Sunday night to extend Golden State's winning streak to 16 games and give them a 21-2 start to the season — the best in NBA history for a rookie head coach — hyperbole, of course, …

Upvote Share Tweet

Stephen Curry scored eight of his 34 points in overtime, and the Golden State Warriors won their 16th straight game 128-122 over the New Orleans Pelicans on Sunday.

Upvote Share Tweet

Get that shoe outta here! That's the message Dallas Mavericks center Tyson Chandler delivered midway through the third quarter of Saturday's game against the Golden State Warriors, swatting Marreese Speights' shoe into the courtside seats.

Upvote Share Tweet

Mavs' Parsons sits vs. Warriors with sore back

nba.com

Dec 13 (6 days ago)

Mavericks forward Chandler Parsons sat out Saturday's game against Golden State with lower back soreness.

Upvote Share Tweet

ESPN.com

Dec 12 (7 days ago)

Add the Golden State Warriors to the list of teams interested in free-agent sharpshooter Ray Allen.

Upvote Share Tweet

Golden State center Andrew Bogut had his injured right knee drained and will sit out games Saturday and Sunday for the NBA-best Warriors.

Upvote Share Tweet

Warriors' Bogut Receives Plasma Therapy For Knee

Dec 18

Ethan Sherwood Strauss discusses how the Golden State Warriors' defense will be affected by the absence of center Andrew Bogut, who is recovering from a knee injury.

Durant Sprains Ankle In Thunder's Loss

Dec 18

Highlight Of The Night: Kevin Durant sprained his right ankle in the second quarter and didn't return as Stephen Curry scored 34 points to lead the Warriors to a 114-109 win over the Thunder.

NBA Top Plays

Dec 18

Stephen Curry's 3-pointer after the no-look pass from Klay Thompson is the top play in the NBA.

Tale Of Two Coaches

Dec 17

The "NBA Tonight" crew discuss if Steve Kerr would have taken the Knicks' head-coaching job rather than Derek Fisher, and if Fisher has what it takes to last in New York.

Sports Columnists

Rajon Rondo trade from Boston Celtics to Dallas Mavericks 'on course' to h…

Dec 18

A source with knowledge of the Rajon Rondo trade talks says a "deal is on course to happen tonight."

Every NBA Team's Chance Of Winning A Title By 2019

Dec 18

I can see Madison Square Garden from my Manhattan apartment. This year, the arena installed along the exterior columns of the building -- blue, red a...

Rajon Rondo subject of Boston Celtics-Dallas Mavericks trade talks

Dec 17

The Boston Celtics, after years of flirting with potential Rajon Rondo deals, are in substantive discussions on a trade that would send Rondo to the Dallas Mavericks, according to league sources.