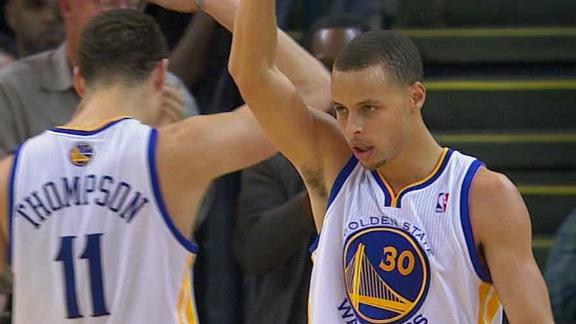 feltbot.com
ESPN.com
Updated Jan 24, 2013
A few short days after I watched the Lakers compete hard against the Miami Heat, took a look at the Warriors schedule, and pronounced that the Warriors still have a tough road  ahead to make the playoffs, I'm ready to take it all back. This Warriors te
Share
Tweet
dimemag.com

Jan 24, 2013

The results are in for the reserves for the 2013 NBA All-Star Game in Houston. In the Western Conference, coaches voted Oklahoma City's Russell Westbrook, Houston's James Harden, San Antonio's Tim Duncan and Tony Parker, Portland's LaMarcus Aldrid

Share Tweet

Stephen Curry Brings Back the Antoine Walker Shimmy (Video)

dimemag.com

Jan 24, 2013

Stephen Curry had it going on against the Oklahoma City Thunder last night. Actually, Steph's had it going on all season long [Here's why he deserves to be an NBA All-Star]. Last night against the Thunder though, he was special, racking up 31 points, se

Share Tweet

NBA All-Star Reserves

Jan 24

Spurs and Bulls get two All-Star reserves each.