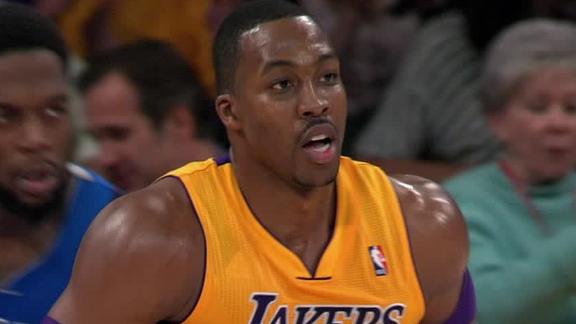 Updated Jul 1
Share
Tweet
As the Lakers finalized the pitch they will make to Dwight Howard Tuesday afternoon, the free-agent center met with his hometown team, the Hawks, Monday afternoon and met with the Warriors Monday night, sources told ESPNLosAngeles.com.
Source:
ESPN.com
Draft pick Nedovic ready to make NBA transition

Updated Jul 1

Share Tweet

Golden State Warriors first-round pick Nemanja Nedovic has had a dozen different coaches in the last six years. He went through three coaches last season alone playing for Lietuvos rytas of the Euroleague, and he has never had much stability in his life…

Source:

nba.com

NBA Rumor: Warriors Willing To Offer Andrew Bogut & Klay Thompson or Harrison Barnes For Dwight Howard

Updated Jul 1

Share Tweet

The Warriors are interested enough in acquiring Dwight Howard that they're willing to offer Andrew Bogut and either Klay Thompson or Harrison Barnes for him, according to The Contra Costa Times. Howard has already been linked to Houston and Dallas, as m…

Source:

dimemag.com

NBA Trade Rumors: Warriors Trying to Move David Lee to Multiple Teams

Updated Jul 1

Share Tweet

In a vacuum, you'd probably think the the Warriors would be crazy to be doing their best to unload David Lee this summer. The guy is coming off of what was arguably the best season of his career, averaging 18.5 points and 11.2 rebounds per game and maki…

Source:

dimemag.com

Courting Dwight Howard

Jul 1

Tom Penn discusses which team has the best chance to sign Dwight Howard.

Howard Met With Rockets

Jul 1

J.A. Adande discusses Dwight Howard's meeting with the Rockets and whether he'll re-sign with the Lakers.